RB Chris Johnson Available As Plan B Option
Re-signing Justin Forsett before the market opens is Plan A for the Ravens running back corps.
Head Coach John Harbaugh and the Ravens have made it clear they would like bring back their 2014 breakout star, but things don't always go as planned and there's a possibility they won't this time. Forsett is looking for a long-term commitment and this might be the 29-year-old's last opportunity for a big payday. He could find it elsewhere if he tests the market.
Meanwhile, a Plan B option opened up over the weekend, although some Baltimore pundits aren't very keen on the idea.
The New York Jets declined to pick up running back Chris Johnson's $500,000 option bonus Saturday, making him a free agent after one season with the team. Promptly, the New York Daily News' Manish Mehta linked the Ravens to Johnson.
The Baltimore Sun's Aaron Wilson reported that Johnson was reluctant to look at the Ravens as a free agent last year because of the depth chart. At the time, Ray Rice was to be the undisputed starter. This year, while Forsett is a "strong option," the Ravens have no guarantees and Wilson believes Johnson is at least worth considering.
Count CSNBaltimore.com's Clifton Brown and 105.7 The Fan's Ken Weinman as two against the idea of a Johnson-Ravens marriage.
"I would vote against that move," added Brown. "Johnson has plenty of wear and tear on his legs, and that is the main reason I would avoid him, even at a bargain price. Johnson will turn 30 years old in September and only five active NFL backs have more career carries than Johnson, who has 1,897 career attempts."
Johnson and Forsett are about the same age (Forsett is a month younger) and they both came into the league via the 2008 draft (first round and seventh round, respectively), but Johnson has considerably more mileage. Forsett has 1,315 fewer career carries and 5,670 fewer career yards, giving him much fresher legs.
Forsett is also a family man (see awesome story below) who is a model citizen-athlete, while Johnson was arrested last month for the open carrying of a handgun. The arrest is not the main reason Brown doesn't want Johnson in Baltimore, and it's not why he was cut from the Jets.
"Johnson was arrested in January on weapons charges, but the decision to move on from the former 2,000-yard back is more about his lack of on-field production," wrote NFL Media's Kevin Patra.
The two are on different production trajectories. Last season, Johnson had a career-low 663 yards and one touchdown, and Forsett had a career high 1,266 yards and eight touchdowns.
But this isn't a question about whether the Ravens should choose between Johnson and Forsett. The Ravens clearly want Forsett back. This is a question of whether Johnson is a solid backup plan over the draft or other pending free agent running backs such as Frank Gore, C.J. Spiller, Shane Vereen, Mark Ingram, etc.
"Johnson is going to draw interest in free agency, and if the Ravens lose Forsett, they are going to need a Plan B," Brown wrote. "However, with other options available, both in the draft and in free agency, I think the Ravens should pass on Johnson."
Forsett Almost Had To Deliver Baby In Car
Forsett officially had the craziest Valentine's Day.
He had been tweeting all week about finding dinner reservations for him and his wife, who both planned on going to a Lauryn Hill concert Saturday. But their soon-to-be-born son had different plans.
The couple instead had to race through the howling snow storm we saw in Baltimore Saturday night to get to the hospital in time to give birth to their second baby boy, who they named Zion.
"Driving in that snow storm definitely added a different element to the experience as well but it all worked out. Best Valentine's Day Gift ever! So Glad to have Zion J. Forsett home!"
Congratulations to the Forsetts on their beautiful, healthy baby son!
What Should Ravens Do With Jacoby?
Wide receiver/returner Jacoby Jones is being talked about around town by fans and media as a potential salary cap casualty, given his down offensive production in 2014 and his reported $3.375 million cap number (13th most on the Ravens) this season.
When the Ravens signed Jones last offseason on a reported four-year, $12 million deal, he was still considered the No. 3 receiver. But he was passed over by Kamar Aiken, Marlon Brown and Michael Campanaro after he dropped five of the 16 passes thrown his way.
Jones' main role became a kick and punt returner, but still a very dangerous one. He ranked in the top 10 in both kick (30.6-yard average) and punt returns (9.2-yard average) in 2014 and he returned a 108-yard kickoff against Pittsburgh.
"When you combine his $3.5 million signing bonus with his $1 million salary in 2014, Jones earned $63,380 per return and reception. That's an extremely steep price," wrote ESPN's Jamison Hensley.
So is Jones' $3 million cap hit too much for only performing on special teams?
It's actually on par with other top returners in the league, such as Devin Hester ($3.7 million) and Ted Ginn ($4 million). And the Ravens would have to consider whether they have another person on the team that could fill Jones' shoes.
"In order to make this move, the Ravens have to be confident that either Campanaro or Asa Jackson can stay healthy and replace Jones," Hensley wrote. "I'm not convinced the Ravens feel that way at this point. If Campanaro can stay on the field in 2015, the Ravens can release Jones next offseason, when they're able to free up $1.625 million. …
"Many believe the Ravens will cut Jones, and you can make a case for that considering his increased base salary and diminished role on offense. I just don't think there's enough incentive to make the move."
That's because releasing Jones would only create a reported $750,000 in cap space, or $2.5 million if he is a post-June 1 designation, but that won't help in March.
"Ravens keep Jones," Hensley predicted.
What Happened To Jimmy Smith's Face?
What the heck happened to your face?
The Ravens cornerback posted this picture of his swollen cheek/lower eye area without any explanation except simply this caption, "It's more swollen 6 days later."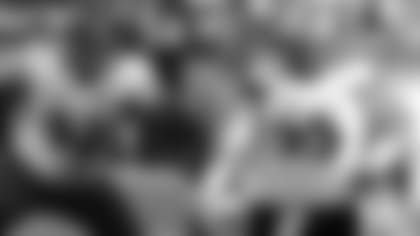 "[The Ravens] can't have Haloti Ngata count $16M against their cap since they are already tight against it. Is he worth $10M a year at this stage?" asked Jason La Canfora. "I suspect other teams believe so, and finding a two- or three-year deal that keeps him in Baltimore will be the focus at the combine. Losing him, Pernell McPhee and maybe releasing Chris Canty would be a big blow to that defensive line." [CBSSports.com]