Jim Harbaugh Nearly Traded To Browns
Could you imagine the Harbaugh vs. Harbaugh insanity of the Super Bowl twice a year, every year?
Apparently that was close to happening.
In a move that would have rocked the NFL world, Browns Owner Jimmy Haslam confirmed that Cleveland and San Francisco discussed a deal that would have shipped 49ers Head Coach Jim Harbaugh to the AFC North.
ProFootballTalk.com first reported Friday that during the Browns' long search for a new head coach in January, the team made a run at Harbaugh in exchange for multiple draft picks. It was Harbaugh who ultimately decided not to leave the 49ers.
The 49ers initially denied the report, including CEO Jed York who wrote on Twitter that the report "isn't true." Harbaugh echoed that sentiment.
But those denials came before Haslam confirmed the two teams did indeed discuss a deal.  York finally admitted per Sports Illustrated's Peter King Sunday: "The Browns reached out to me, and we had no interest in pursuing it."
A deal would have been stunning, not only because the Harbaugh brothers would be in the same division, but because Jim has had incredible success ever since he joined the franchise three years ago. Many have said he has outperformed his contract.
Why would the 49ers trade a head coach that has taken them to the NFC title game three consecutive years?
York admitted in December that his coach and General Manager Trent Baalke often "butt heads," but added that was all just part of being a decision maker in the NFL.  CBSSports.com's Jason La Canfora paints a more contentious picture.
"[T]here is increasing buzz that the team might have to decide between Harbaugh or GM Trent Baalke," he wrote. "The men are barely speaking, I'm told, and almost all communication is through email. Harbaugh also has a strained relationship with team president Paraag Marathe, sources said, and he has clashed with many within the organization. It could prove untenable.
"If anything, the impression I got this week was that the situation there is actually much worse than how it has been portrayed in the media, and helps explain the delay in giving a new deal to the coach, who has two years left on a contract he has outperformed."
Regardless, a trade did not go down and Harbaugh remains in the NFC, far away from brother John in Baltimore. The two did get some quality time watching offensive line prospects at the NFL Scouting Combine as seen in the 49ers.com picture below.
Now, 49ers brass and Jim will have to find a way to tame the reports and rumors as they move forward together.
"The Niners' quickest solution to this drama would be to sign Harbaugh to a rich contract extension that makes him one of the game's highest-paid coaches," wrote NFL.com's Dan Hanzus. "But that's working under the assumption that this is still a happy marriage.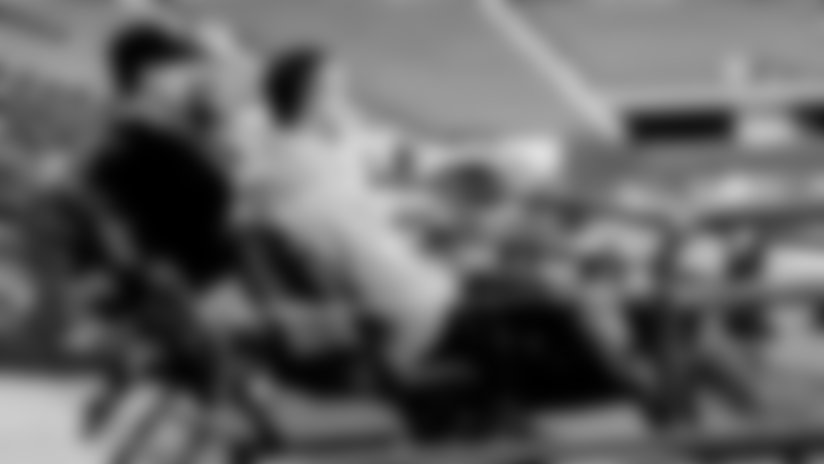 Ravens wide receiver Deonte Thompson was arrested and charged with suspicion of possessing marijuana and drug paraphernalia Friday night, according to the Gainesville, Fla., police department's* *Facebook page.
Police said an officer stopped a 2014 Chevy SUV just before midnight for driving without its headlights on, and noticed a "strong odor of burned cannabis" coming from the vehicle.
A search of the vehicle found a duffle bag containing multiple bags of marijuana inside, totaling 29 grams. Per the police, Thompson said the duffle bag was his but the marijuana inside was not. The driver and another passenger said the drugs were theirs.
"We are aware of the situation," Ravens team spokesman Chad Steele said, per The Baltimore Sun. "We are gathering more facts. There are two sides to every story."
Thompson is a reserve wide receiver known for his speed, but has yet to develop into one of the team's top targets. He caught 10 passes for 96 yards and no touchdowns last season after being sidelined for training camp and the start of the season with a foot injury.
With the news coming on the heels of running back Ray Rice's incident, ESPN's Jamison Hensley notes the bad timing of two Ravens arrests in seven days.
"Thompson's run-in with the police is another black mark for a Ravens team that had changed its image under coach John Harbaugh," Hensley wrote. "Last year at this time, the Ravens' biggest concern was signing Super Bowl Most Valuable Player Joe Flacco to a long-term deal. Now, it's not about defending the Super Bowl title. It's about defending their image."
Bad News Gets Headlines, Good Deeds Touch Lives
With Rice and Thompson commanding attention, WBAL's Gerry Sandusky isn't letting the good deeds from Ravens players go unnoticed.
"Bad news gets headlines, but good deeds touch lives," tweeted Sandusky. "Here's what Ravens receiver @TorreySmithWR has been up to."
Smith posted the Instagram photo below, enjoying his Saturday morning while helping feed the homeless with the Greater Gethsemane Missionary Baptist Church. (Mobile users tap "View in Browser" at the top of the page.)
Mason Unimpressed With Mike Evans
The 6-foot-5, 231-pounder ran the 40 in 4.5 seconds at the combine, an "excellent time for such an imposing receiver," tweeted The Sun's Aaron Wilson.
But former Ravens receiver Derrick Mason isn't very impressed with the young man.
"Mike Evans from Texas A&M ran and caught ball well but he's suspect at running routes and getting separation with his technique," Mason tweeted. "Played backyard ball bc [quarterback Johnny Manziel] ran around. In the nfl they will eat u alive if u can't get in and out of ur breaks. Separation is made with those that know how to run routes. Just my evaluation of the young man but he will b a first rounder."
Joe Flacco Is A Good Tipper
Remember all the hubbub Saints quarterback Drew Brees faced when he was accused of being a bad tipper after a receipt of a $3 tip on a $74 takeout order circulated social media?
Luckily, quarterback Joe Flacco will not have to face such scrutiny.
TerezOwens.com found the social media post below, noting: "Nowadays athletes are pretty conscious of their tipping habits. If they don't tip well, or try to cheap out, social media will expose them . … When it comes to tipping, now we know Joe is Elite."
"Met Baltimore Ravens QB Joe Flacco today on one of our last deliveries… Real cool guy and good tipper," the post read with the picture below.