Flacco Mindful Of Ravens Cap Crunch
Joe Flacco's agent says Tom Brady's three-year, $27 million deal with loads of guaranteed money, has "no impact whatsoever" on his client's negotiations with the Ravens.
However, he did tell USA Today that he and Flacco are similarly keeping Baltimore's suck-in-the-gut cap situation in mind when working out a new deal.
By all accounts coming out of negotiations, the Ravens are looking to get a deal done with Flacco before turning their attention to retaining free agents such as linebackers Dannell Ellerbe and Paul Kruger, safety Ed Reed and cornerback Cary Williams.
Linta said Flacco doesn't want to weaken the roster with his new contract.
"Joe's not that kind of guy," Linta said. "Joe absolutely wants to work with the Ravens to ensure that they're not impacted cap-wise. Joe doesn't want to see anybody get cut as a result of this deal."
That doesn't necessarily mean that Flacco's going to take* *a significant discount. Linta has also said he wants his quarterback to be the highest-paid quarterback in the league.
Linta said talks are "going fine," but that there's no new meeting on the schedule for now. Aaron Wilson of The Baltimore Sun reports that the next stage of talks are expected to unfold soon.
"Nobody yelled," Linta says of the combine talks. "We're moving forward. This thing could be done in three minutes or three years."
Brady's deal didn't help speed up the process, however.
"There's no impact whatsoever on what we're doing," Linta said. "It doesn't matter. It's an extension for cap purposes. And we don't know all the details at this point.
"The bottom line is, whether Brady took a pay cut or took $27 million a year, it wouldn't have an impact on what we're doing."
Jacoby Gets Dancing Partner And Odds
Jacoby Jones has his dance partner. I hope she can keep up.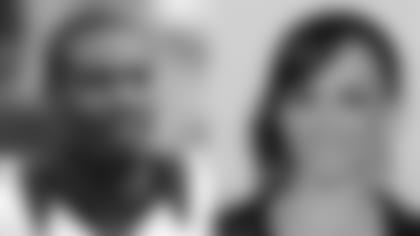 Jones has been paired up with pro dancer Karina Smirnoff, who won season 13 with soap opera star and Iraq war veteran J.R. Martinez. Smirnoff is in her 13th season of dancing.
The full cast was announced yesterday on ABC's "Good Morning America," and Jones won't be the only celebrity athlete involved.
He'll be competing against professional boxer Victor Ortiz, a former welterweight champion, U.S. Olympic gymnast Aly Raisman, who took home a gold medal for her performance on floor, and Dorothy Hamill, who won the 1976 Olympic gold medal in women's figure skating at age 19 (she's 56 now).
The other celebrity contestants are country music star Wynonna Judd, comedian and actor D.L. Hughley, "Real Houswives of Beverly Hills" star Lisa Vanderpump, comedian Andy Dick, 16-year-old Disney star Zendaya Coleman, soap opera actor Ingo Rademacher and country music singer Kellie Pickler.
Jones is fraternizing with the favorite to win.
One more thing. The ABC series is already digging up the dirt on Jones.
They're looking into finding out who his girlfriend is and that he's determined to be a good father because his father walked out when he was just 18 months old. They also found out that he loves to jet ski. I'm guessing there will be more to come when the show premieres on March 18.
Steelers' Differing Offseason Approach
The Steelers are also in a salary cap bind --  in fact they're in a tougher one already $14 million over.
But it's interesting to see how they deal with it as opposed to the Ravens.
The Steelers restructure contracts, then restructure again, and again to whittle their way under. Meanwhile, Ravens brass said they don't like to do that because it puts money on the credit card (stress on future years).
Yesterday it was reported that the Steelers are restructuring linebacker Lawrence Timmons' contract to create an estimated $9 million in cap room. They also restructured quarterback Ben Roethlisberger each of the past three years.
"The problem is it forces teams to deal with bloated cap numbers in the future, which often puts them over the cap (like this year for the Steelers)," writes ESPN blogger Jamison Hensley. "And this is something the Steelers do frequently."
The Steelers are reportedly trying to clear enough space to sign wide receiver Steve Breaston, who is scheduled to meet with them by the end of the week.
Grandview Prep's boys basketball team got an unexpected talk from via speakerphone before its Florida Class 2A state semifinal – and of course won. [Sun Sentinel]
If we're re-doing the 2008 NFL Draft, where would Flacco fall? Matt Vensel put him at the top to the Miami Dolphins, ahead of Matt Ryan. Ray Rice landed at No. 6 to the Jets. [The Baltimore Sun]
Torrey Smith was riling some people up on Twitter yesterday. "I still have folks mad at me for saying golf isn't a sport haha." [Twitter]
I remember this feeling from last year's AFC championship game. The Broncos remain haunted by "The Stumble" against the Ravens. [Denver Post]
Clark Judge lists five first-round prospects that should make teams wary, including linebackers Manti Te'o, Alec Ogletree and Jarvis Jones, three players the Ravens could be interested in. [CBS Sports]
Can NFL teams ask Te'o if he's gay? [Yahoo! Sports]
John Clayton provided his post-combine lessons learned, including this: "No one doubts that Te'o will have a nice career. He may not be Ray Lewis, but he could be James Laurinaitis, a second-round choice of the St. Louis Rams who has had a solid career." [ESPN]
Post-combine, Chris Burke provides his defensive positional rankings. [Sports Illustrated]
Florida State defensive end Brandon Jenkins is on the Ravens' radar. [The Baltimore Sun]

Vonta Leach

![](/team/roster/vonta-leach/44438bc1-984d-4af0-9d33-0089406183fe/ "Vonta Leach") revisited his old stomping grounds at East Carolina yesterday. [The East Carolinian]
NFL teams will use iPads to administer concussion tests on sidelines next year. [New York Times]