Ravens React To Seahawks' Dominant Defensive SB Win
Where does the 2013 Seattle Seahawks defense rank among other all-time greats like the 1985 Chicago Bears and the 2000 Baltimore Ravens?
"We're the best defense ever," Seattle defensive end Michael Bennett told Josh Katzowitz of CBS Sports. "We could have played anybody today and it would have been the same thing."
Of course, Bennett isn't biased at all.
And neither is former Baltimore linebacker Brad Jackson, who played for the Super Bowl-winning Ravens.
"2000 @Ravens defense STILL THE GREATEST in @nfl history!" Jackson tweeted after the game. "Only team to not allow an offensive touchdown in #SuperBowl #SBXXXV."
But we'll leave that debate for another time.
For now, there's no question the Seahawks deserve to be in the conversation as they absolutely dominated (43-8) what some were calling the greatest offense of all time in the Denver Broncos.
"We will talk about these Seahawks like we do the 1970s Pittsburgh Steelers and the 2000 Baltimore Ravens," wrote NFL.com's Gregg Rosenthal. "By beating a historic offense, the Seahawks wrote a legacy of their own."
Seattle's defensive unit swarmed quarterback Peyton Manning, forcing him into bad throws, and nearly shut him and his No. 1 offense out. Denver's first and only score didn't come until the third quarter. Manning's 12 postseason losses as a starting quarterback are the most in NFL history, according to ESPN Stats and Info.
So how did current Ravens react to the Seahawks defense? And what were their feelings as they watched another team lift the Lombardi Trophy one year after they did in New Orleans?
Below are some of their tweets during and after the game:
After picking the Broncos to win… @TheRealJacoby12: Seattle I apologize #SeahawksDefense
@Artj97: Congrats to the Seahawks.  Welcome to the elite class! rings don't lie!!!
As the confetti fell … @TorreySmithWR: Just got goosebumps....blessed to know what that feels like...congrats to the Seahawks
@TyrodTaylor: New season..... GRIND!
@jtuck9: Congrats to the Seahawks, great seasons from both teams. Can't wait to get started back up again!
After the Seahawks extended their huge lead with a kickoff return for a touchdown coming out of halftime just like the Ravens last year … @untouchablejay4: Get Ready to Que the Lights!!!!!
Jets Super Bowl-winning quarterback Joe Namath sported a fur coat as he flipped the coin before kickoff … @TorreySmithWR: Joe Namath is going to have PETA going crazy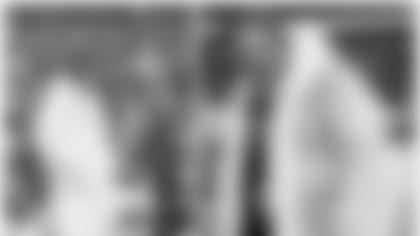 LB Smith Follows Flacco As Super Bowl MVP (Gets Interrupted By 9/11 Truther)
Never heard of linebacker Malcolm Smith? Join the club.
When you Googled his name prior to Sunday, the first result you got was Canadian off-road racer Malcolm Smith.
But he's your unlikely Super Bowl MVP after returning a Manning interception 69 yards for a touchdown in the first half and recovering a fumble in the second. He's only the third linebacker in NFL history to earn Super Bowl MVP honors, after retired Ravens linebacker Ray Lewis in 2001 and Chuck Howley of the Dallas Cowboys in 1971.
Smith follows Ravens quarterback Joe Flacco as Super Bowl MVP. But I'd say Flacco got the better prize, if you prefer a flashy sports car to a truck.
A bizarre moment came in the post-game press conference when Smith was reflecting on how he never thought he would be named MVP. Suddenly a "9/11 truther" jumped on the podium and grabbed the mic.
"Investigate 9/11," the man shouted. "9/11 was perpetrated by people in our own government."
The man was identified as Matthew Mills, a 30-year-old from Brooklyn, according to NewJersey.com. He apparently was arrested for trespassing.
Check out the awkward moment in the video below (Mobile users tap "View in Browser" at the top of the page.)
Harbaugh 'Fires Back' About Coordinator Search
The details of Gary Kubiak's hire were reviewed extensively in the Byrne Identity.
But if you want to hear the story straight from Head Coach John Harbaugh, he gave the same details to WNST in an interview at the Super Bowl in New York this weekend.
He "fired back" at those who say Owner Steve Bisciotti forced him to hire Kubiak.
"It's definitely insulting; it's really stupid," Harbaugh said. "It's reflective of not knowing the facts. People who are putting it out there know darn well what they're saying and they know it's not true."
Some of Harbaugh's detractors have accused him of not hiring assistant coaches with experience, but he pointed out that he's hired several former coordinators or head coaches including, Rex Ryan, Cam Cameron, Chuck Pagano, Jim Caldwell, Jim Zorn, and Steve Spagnuolo.
"I want to have the best coaches we possibly can," Harbaugh said. "If you go back over the last six years, all told, it'd be hard to find a better six years of coaching staffs than the Ravens have had. Criticize me the other way –- say that I need great coaches around me to be successful. But don't say that I'm hiring bad coaches or guys that won't speak their opinion."
Harbaugh Not Ready To Anoint Rice 'The Guy' In 2014
Despite his statistically worst NFL season in 2013, there's no question that running back Ray Rice will be back in 2014.
General Manager Ozzie Newsome and Harbaugh have said they expect a Pro Bowl-like season for Rice as he attempts a comeback year.
But even though Rice will be back, Harbaugh isn't ready to anoint him "the guy." He expects Rice to work hard this season and come back at a lighter weight.
"I think Ray's determined to be the best he can ever be, and I know Gary likes Ray," Harbaugh said in the exclusive interview with WNST. "It's going to be up to all our players. Everybody's going to have to come in and prove themselves. I'm not going to sit here and anoint anybody 'the guy.'
"Ray Rice is a heck of a back in this league, but Ray has said — and I totally agree — that he can't be playing at 216 pounds. He was 207 [pounds], I think, his first year. He's not gotten fat, [but] he's gotten thick through all the weightlifting. We've got to find a different way to train Ray."