Reed Returning 'Still Possible' … Really?
I don't mean to give false hope because, daaaaaaang, the Texans put on an impressive show yesterday for future Hall of Fame safety Ed Reed.
But something seemed to change late last night, and into the wee hours of this morning. Is the inevitable marriage between Reed and the Texans still … inevitable?
Check out the change in ESPN's Adam Schefter's tweets...
Then at 1:59 a.m. today: "One person in know said its "50-50 at best" that Ed Reed signs in Houston. A return to Balt. still possible. SF and IND loom as longshots."
Schefter wasn't the only one to change his tune.
There was this tweet from NFL Network's Albert Breer at 8:42 p.m. last night: "One thing people who know Ed Reed have always emphasized to me -- Only Ed knows what Ed's thinking. Marches to the beat of his own drummer."
A deal seemed to be in the bag (and maybe it still is) after the Texans spared no expense in trying to lure Reed.
Houston General Manager Rick Smith flew out to Atlanta to pick up Reed in Texans Chairman and CEO Bob McNair's private jet. Reed posed for pictures. Then came the tweets about his tour at Reliant Stadium. Even Texans Defensive Coordinator Wade Phillips got in on the Twitter action when Reed came to chat in his office.
Reed was impressed, to say the least, saying his visit was "classy" and it felt good to enjoy some southern hospitality.
In a Houston Chronicle article, Reed was talking as if his time in Baltimore was done, saying its "been a great ride," but after 11 years he understands certain things about the NFL business. He said the interest in a marriage with the Texans was "mutual" and a transition to another team would "be all right." He talked about living closer to family.
But maybe Reed will give the Ravens a chance to match what Houston is offering. The Baltimore Sun's Matt Vensel wonders whether Baltimore should do it.
"[I]f Reed is really looking for $6 million a year, that's a lot for Reed the player," Vensel wrote. "To keep Reed the icon, the Ravens will have another tough decision to ponder, one I'm thankful Ozzie Newsome must make, not me. Because either way, this decision is going to cost the Ravens one way or another."
Signs still point to an announcement that Reed is a Houston Texan, especially after comments he gave to Houston reporters.
But maybe he is just putting on his poker face. 
As Breer noted, only Ed knows what Ed is thinking.
NFL's Best Decision-Makers; Guess Where Ozzie Ranks
Sports Illustrated's Don Banks talked with current NFL club executives and veteran agents to get a cross section of opinions about the league's best decision-makers. The result is his Top 12 rankings list of NFL front offices.
Banks assures readers that General Manager Ozzie Newsome and his staff is not at the top because of a knee-jerk reaction to winning the Super Bowl. It's because the Ravens have been a "blueprint for success" since the franchise relocated to Baltimore in 1996.
The Ravens have won the Super Bowl twice during that span. They consistently make it to the playoffs, including the last five seasons while winning at least one game in each trip.
"The Ravens won with defense in 2000 and for many years after that, and now they're winning with offense, with Super Bowl MVP quarterback Joe Flacco taking on the reins of leadership as Ray Lewis exits stage left," Banks wrote. "That's the kind of versatility and adaptability every franchise covets for it roster.
"With another Lombardi in the trophy case, Newsome can afford to be more patient than ever.His legacy secure, his eventual replacement already on hand in the highly regarded Eric DeCosta, the team's assistant GM, Newsome can focus on keeping the NFL's best personnel department on task and running smoothly."
Top 12 NFL Decision-Makers
1)      Baltimore
2)      Green Bay
3)      New York Giants
4)      New England
5)      Seattle
6)      Atlanta
7)      San Francisco
8)      Indianapolis
9)      Pittsburgh
10)    Houston
11)    Denver
12)    New Orleans
Ravens, Ex-Steeler Harrison Still Talking
Ex-Steeler James Harrison donning purple and black is still a possibility.
While no contract discussions have begun, Newsome and agent Bill Parise are still communicating and another chat is scheduled for Saturday, according to The Sun's Aaron Wilson.
"I've talked to Ozzie and we're going to talk again Saturday," Parise told Wilson. "Their timeline is a little slower at this point, but Ozzie's going to have to sign at least a couple of linebackers. I know where we stand. He's made it clear that there's interest from the Ravens, and we have an interest. We would like that very much for James to wind up with a great organization like the Ravens. So, we'll wait and see where it goes."
Williams Has No Hard Feelings
The Ravens didn't attempt to match cornerback Cary Williams three-year deal from the Philadelphia Eagles reportedly worth $17 million ($2 million more than what Baltimore reportedly offered last year).
Williams has no hard feelings about the Ravens not trying to retain him.
"I completely understand," Williams told The Baltimore Sun. "I get it. They weren't trying to do anything at this point or bring back the old offer. No, there's no hard feelings. It's not something that you get upset about it. We won a Super Bowl, and now I'm moving on."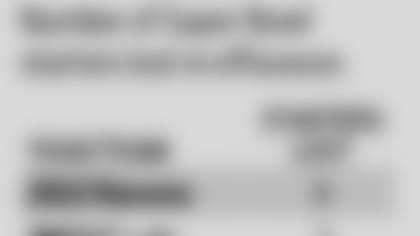 Take Your Trophy And Go**
The Ravens have lost a lot of starters compared to past World Champions, huh?
Well, that graphic is outdated.
The number of Ravens who started at least one time last season is now up to eight with cornerback Cary Williams headed to Philadelphia. The other seven are Matt Birk (retirement), Ray Lewis (retirement), Dannell Ellerbe (Miami), Paul Kruger (Cleveland), Bobbie Williams (released), Bernard Pollard (released) and Anquan Boldin (traded).
Breer texted a Ravens official after the frenzy of departures, asking, "What's next."
"I was later assured that Baltimore isn't done," Breer added. "Some lower-profile free-agent additions are possible. Reed might come back, too. But this much is clear: Newsome and Co. have put a premium on financial flexibility and youth early in 2013."
Billick: Ravens Won't Regret Moves
When asked if the Ravens will regret their offseason moves, NFL analyst and former Ravens Head Coach Brian Billick said, "No."
He believes the front office is making sound moves based off past experience. Billick and the Ravens went through the pains of gutting its roster in 2002, but he thinks the results will be different this time.
"In 2000, after the Super Bowl, we extended ourselves to keep key veterans to make another run, but did so knowing that in 2002 we would have to gut that team," Billick said.
The Ravens paid the price of trying to repeat. They came up short after forking out cash for key players, with their efforts ending in the divisional round. Then things got painful when Baltimore went on a roller coaster ride while going  7-9 (2002), 10-6, (2003) 9-7 (2004), 6-10 (2005), 13-3 (2006) and 5-11 (2007) the following seasons.
Guess when Baltimore got on back on track and started their five-year playoff streak – when Head Coach John Harbaugh was hired and Flacco was drafted in 2008.
"The difference is, 'We have our quarterback. We've got our guy in Joe Flacco.'" Billick said. "'Does this maybe not make us a favorite to repeat as Super Bowl champs? So be it. We've got our quarterback that's going to mitigate that.'"
Billick said the Ravens are actually in a "great" position. Maybe Baltimore won't repeat as World Champions this year, "but at the very least they are a team that has an opportunity to mitigate the idea of these peaks and valleys that so often teams have to deal with. I don't know that you're looking at a Ravens team that is going to fall to a 5-11, to a 6-10. They have the ability because of the stability at the quarterback position to maintain it and stay above that .500 level."
@mortreport: Tom Brady and Joe Flacco give their teams plenty of cap room with new deals. Their reward? Bye Bye Welker. Bye bye Boldin. [Twitter]
@Karina_Smirnoff Jacoby Jones' DWTS Partner]: Squirrel dance! [Learn it with us!  [Twitter]
@RavensInsider:

James Ihedigbo

![](/team/roster/james-ihedigbo/5a617442-c0aa-4a7e-8903-14c751f2ca04/ "James Ihedigbo") could emerge as a starter for Ravens depending on how draft, free agency unfolds. Has started previously for Patriots, Jets [Twitter]
@alexmarvez: New #Dolphins LB @ellerbe59 says it's "rough" 2 see #Ravens get torn apart but also thinks team will be better than what people think in '13 [Twitter]
Is the NFL salary cap too low? ESPN examines the topic after Flacco got his reported $120 million contract. [ESPN]