Reed Deserves To Go Out However He Wants
We're all anxiously awaiting Ed Reed's explanation for leaving Baltimore.
But those close to him say he "agonized" over the decision. 
No matter his reasoning, this much is true: One of the greatest safeties to ever play the game earned the right to finish his career how he sees fit.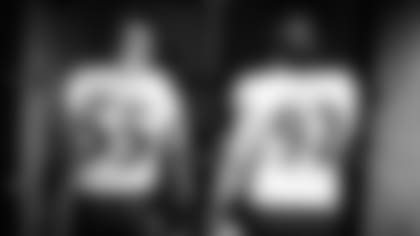 @jeffzrebiecsun: Sure would be interesting if scheduling conflict gets worked out and Ravens open against Ed Reed and the Texans at home. [Twitter]
@jasonlacanfora: On a personal note, as a lifelong Baltimorean, was pretty special seeing Ed Reed's career at close range. Few players ever more fun to watch [Twitter]
@pboulware: I hate to see the Ravens [lose] Ed Reed. One of the games best. [Twitter]
@markviviano: At WJZ reviewing Ed Reed's 2002 press conf after draft. He declined to touch Lombardi Trophy. Says he'll touch one when he wins it. He did. [Twitter]
@gerrysandusky: Ed Reed is one of the most enigmatic players I've ever been around. Brilliant, moody,  likable, insightful, standoffish, unpredictable. [Twitter]
Here's a good read written during the Ravens' Super Bowl run about Reed's addiction to football. [FoxSports.com]
In reference to the picture to the right … @untouchablejay4 [Terrell Suggs]: "THE BOND BETWEEN BROTHERS IS ONLY AS STRONG AS THE SWORD THAT DEFENDS IT!" [Twitter]