How Ravens Beat Broncos For Dumervil
$500,000 + 1 unhappy pass rusher + 1 patient Ravens GM + 1 LB coach = major coup for Ravens.
That appears to be the formula that has Charm City grinning from ear to ear on the morning after news broke that Baltimore landed the best pass rusher on the market in Elvis Dumervil.
Perhaps that formula could also be added up to equal "revenge on John Elway." At least, that's what SI.com's Peter King jokes.
"Revenge is best served cold, but this is ridiculous," he wrote. "It took 30 years for Baltimore to finally get revenge on John Elway."
Of course King is referring to Elway leaving Baltimore almost 30 years ago after the Colts drafted him with the first pick in the draft.
"It's tough to equate – no, not tough; impossible – Baltimore losing Elway to, 30 years later, Baltimore stealing one of Denver president Elway's 10 most important players," King wrote. "But in 2013, to Ravens fans, it'll do. In Baltimore, Elvis is about to enter the building."
So how did General Manager Ozzie Newsome pull off the coup?
The Ravens simply offered $500,000 more this year than the Broncos, according to King.
It didn't hurt that Dumervil was reportedly unhappy with his former team after they cut him following the notorious fax fiasco. He agreed to take a pay cut, but his agent faxed the contract into Denver six minutes after the deadline.  Dumervil and his agent are catching heat for leaving it to the last minute to send in the contract, but his agent has maintained that the Broncos changed part of the deal in the 11th hour, causing the delay.
"I've thought since that day – and it's certainly something Dumervil believed – that if the Broncos really wanted Dumervil back, they'd have been aggressively pursuing him to get the paperwork back before the deadline, particularly when they saw the minutes ticking down to the wire," wrote King. "Dumervil exited that process feeling like the Broncos didn't want him, and feeling unhappy anyway because the team was cutting his 2012 pay from $12 million to $8 million."
Dumervil switched representatives from Marty Magid to "power agents" Tom Condon, Ben Dogra and Jimmy Sexton. Per King, Condon doesn't "leave money on the table." So after Denver offered the same total cash in 2013 they offered before the fax mishap, Condon went out to find a better deal.
"I am also told Dumervil did not want to go back to Denver if he could find some team that would pay him more in 2013 ... even one dime more. Baltimore did it."
It wasn't a dime more. But $500,000 in the first year did the trick.
The overall five-year deal is reportedly worth $26 million with a max value of $35 million and a $7.5 million signing bonus. The Ravens only take a $2.5 million cap hit in 2013.
Showing some love toward Dumervil didn't hurt either.
"I just think they showed consistent interest," The Baltimore Sun's Jeff Zrebiec said in the video below. "The Ravens aren't really an organization that puts its business on the street. They do a lot of things behind closed doors.  They don't make a big show of their interest in different guys, but I do know from the day he became a free agent after the fax fiasco, the Ravens were in touch.
"They obviously made a pitch and let him know what a priority he is for them to sign. And they were able to get it done. It's a pretty big coup for them because I think the consensus was that he was headed back to Denver."
The other asset the Ravens had in their favor was Linebackers Coach Don "Wink" Martindale, who coached Dumervil when he had a career-high 17 sacks in 2009. The two share a close relationship, and Martindale vouched for Dumervil's work ethic and character.
Dumervil Cheaper Than Kruger
With Dumervil replacing Kruger, let's see how his contract and stats stack up against the former Raven.
The Ravens let Kruger walk to Cleveland where he will make $40.5 million over five years. Dumervil comes to Baltimore for the same amount of time, but for "up to" $35 million. But the base value of the contract is $26 million, per ProFootballTalk.com, which ends up being 64 percent of Kruger's deal.
Dumervil has averaged *double-digit sacks during his seven-year career. Kruger had a *total of 15.5 sacks in four seasons. You'd be hard-pressed to find an analyst say Kruger is the better pass rusher.
"Is this some kind of early April Fool's joke?" asked The Sun's Kevin Cowherd. "Could it be any more perfect for the Ravens?"
Pass Rush Could Be 'Scary'
Is there anyone more jacked with the signing of Dumervil than Terrell Suggs?
Pairing Dumervil with Suggs forces opposing defenses to pick their poison with what is looking to be one of the NFL's most dangerous pass-rushing tandems.
He added to BaltimoreRavens.com: "Not to take away from the pass rushers we already have, but it would be flattering to play with those other guys who have had success in this league."
While the 29-year-old veteran isn't known for his run defense – he graded out as Denver's third-worst run defender – the Ravens' 3-4 scheme should help minimize that weakness. Plus, Newsome already added free agents Chris Canty and Marcus Spears, who were brought in to stuff the run.
Hensley explains the Ravens could use Dumervil similarly to the way they used Kruger, and bring in the newly signed pass rusher on third downs "when he's at his best.  Twenty of Dumervil's sacks over the past five years have come on third down, seventh most (tied) in the league, according to ESPN Stats & Information.
With Suggs, Dumervil, Spears, Canty and a healthy Haloti Ngata, "this defensive front seven is built to cause some damage," wrote The Sun's Ron Fritz.  "You won't need Ed Reed playing safety if the quarterback is lying on his back."
Broncos Tired Of Losing To Ravens
The Ravens beat Denver for the second time this year.
First the miracle upset against the AFC'stop-seeded Broncos in the double-overtime victory, 38-35, in January.
And now the team that knocked Denver out of the playoffs has their pass rusher.
The Denver Post's Mike Klis tried to cheer up his readers.
The Broncos are poised to sign free agent Dwight Freeney, but Cowherd doesn't envision that addition will cool Broncos fans. The Sun columnist envisions some Mile High craziness after the fax fiasco that led to Dumervil's release.
The Sun columnist jokingly imagined up a scene outside of Dumervil's former agent's house.
"Meanwhile, his house is now surrounded by Broncos fans wielding pitchforks and flaming torches, with the police standing by and saying: "Angry mob? What angry mob?"
Broncos fans aren't the only ones upset. Dumervil's former teammates don't appear too pleased either.
"This is unbelievable to me that we lost Elvis in this way," Broncos defensive tackle Kevin Vickerson told The Denver Post. "I don't know what happened, but someone dropped the ball. When I talk to Elvis, I'm going to congratulate him. But we're going to miss him."
Reed's Classy Good-bye With Full-Page Ad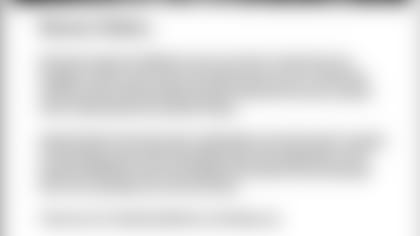 Had Ed Reed known last season would be his last in Baltimore, perhaps he would have joined Ray Lewis on that victory lap around M&T Bank Stadium.
But he still made a "classy gesture" by purchasing a full-page ad in The Baltimore Sun to express his gratitude to the city.
Fans will eventually be able to say good-bye too when Reed returns to M&T Bank Stadium in a Houston Texans uniform this season.
"Ravens Nation, My eleven seasons in Baltimore were more than I would have ever imagined, which is why I have such deep love for you all. I will forever cherish my time with the Ravens and the chills that ran down my spine when I finally kissed the Lombardi Trophy.
"Special thanks to the City, Team, Organization and all the Fans! I'm going to miss being a part of this tremendous team and organization, but I'll always be Baltimore and my Foundation will remain in this community, this is not a goodbye, but a See You Soon.
"Thank you for everything Baltimore, God Bless you.
In the one-on-one video interview with Reed below, NFL Network host Andrew Siciliano asks Reed to sing "Two Tickets to Paradise." At first, the former Raven declined, but then changed his mind.
"One more time for Baltimore? I can do it man."
It's as fun to listen to as it was the first time.
James Harrison Was Due In Town; Back-Up Plan
The Sun's Jeff Zrebiec reported that Harrison was the team's backup plan if it couldn't land Dumervil.
"But that obviously isn't a fit anymore," tweeted Zrebiec.
Harrison agent, Bill Parise, remains optimistic that his client will find work elsewhere.
If you like a good conspiracy theory, ProFootballTalk.com has one for you, wondering if Baltimore will still sign Harrison to give the Ravens flexibility with Suggs' reported $13 million cap number.