Get ready for a whole lot of Steve Bisciotti today.
Here's what you should know …
Bisciotti Gave Harbs Extension As Vote Of Confidence
Despite going 8-8 last season and missing the playoffs for the first time in six years, Bisciotti decided to add one year to Head Coach John Harbaugh's contract. 
Harbaugh already received a four-year contract last offseason after winning the Super Bowl, but Bisciotti indicated that he wanted to give his head coach a vote of confidence despite last season's struggles. Harbaugh is now under contract through the 2017 season.
"The only gesture I could make to John after us not making the playoffs was to extend him and I did when we were in Florida," Bisciotti told Zrebiec. "... When we were down in Florida [for organizational meetings], I just told him, 'I just want you to know that I think just as highly of you after this disappointment,' so I added a year on his contract so he's back to a four-year deal."
The one-year extension is a symbolic gesture of Bisciotti's faith in Harbaugh's ability to get the Ravens back to a winning record and the playoffs. Under Harbaugh, five playoff trips have led to three AFC championship games and a Super Bowl victory. He has won 62 regular-season games since 2008, the third-most in the NFL over that span.
"I expect him to rebound from this disappointment with the same tenacity he attacks everything else," Bisciotti told ESPN. "I just wanted him to know that disappointment is shared by all, and the only way I figured I could was to give him another year and start the clock over again."
Hensley says Bisciotti did the right thing by extending Harbaugh, and believes it sends a good message.
"Supporting Harbaugh after his most disappointing season is the strongest vote of confidence Bisciotti could give," Hensley wrote. "There are going to be doubts when the Ravens fail to make the playoffs in the same year when they lost Ray Lewis and Ed Reed in the locker room. There have been questions from the Baltimore media as to whether Harbaugh made the call in hiring Gary Kubiak as his offensive coordinator. 
Torrey Smith Could Get Extension Before Draft
Wide receiver Torrey Smith still has one more year left on his rookie four-year contract, but the Ravens want to lock him up long term before he plays out his existing deal.
Per Zenitz, Bisciotti briefly saw Smith's agent, Drew Rosenhaus, on his way to a meeting at the Ritz-Carlton Orlando, Grande Lakes and told him, "We've got to get [Torrey's deal] done."
The goal is to agree to a new deal very quickly, even before the NFL draft in May.
The Ravens want to button up the roster as much as possible – for this year and beyond –  to ensure that General Manager Ozzie Newsome can truly draft the best players available, rather than by position of need.
Smith, the Ravens' No. 1 receiver, is currently scheduled to make $837,168 this season, according to spotrac.com. There are 15 other players on the team that make more.
"He's scheduled to make very little money relative to his accomplishments in his fourth year of a second-round rookie deal, so we can give him a really good deal and not impact our salary cap negatively," Bisciotti said. "So nothing would make me happier if before the draft [that can be worked out].
"That would be it. If I can get Torrey signed to a long-term deal, then we can go into that draft and take the best available players no matter where they are."
Ray Lewis Statue To Be Unveiled Before Season
Shortly after the Super Bowl XLVII victory, the Ravens said they would erect a Ray Lewis statue at M&T Bank Stadium to honor the future Hall of Famer.
"Bisciotti wouldn't reveal details about how the Lewis statue will look," Hensley wrote. "Lewis will either be depicted in a linebacker pose or a celebratory pose. The Ravens left the decision up to Lewis."
The team hired Frederick Kail to create the statue, the same artist who sculpted the Johnny Unitas statue in 2002. 
"He's well into it," Bisciotti told Hensley. "I haven't seen any progress pictures, but the original stuff was just off the charts. We think we'll have it done before the season starts."  
Bisciotti Open To A Rolando Return
Linebacker Rolando McClain has told various outlets he plans on playing in the NFL next season. He even tweeted "I'll be back this year."
The Ravens retain his rights after he abruptly retired last offseason with off-the-filed issues plaguing him. He told reporters at the Alabama Pro Day that his agent has been in contact with the Ravens and Newsome. Newsome has also been in contact with Alabama Head Coach Nick Saban, who gave "glowing reports" on McClain.
But McClain has yet to make a formal announcement of his return. If the 24-year-old linebacker does come out of retirement, would the Ravens want him?
Bisciotti seemed to be open to the idea, according to Zenitz.
"If Ozzie wants to give him a shot, I'm all for it because I think that how he's handled the last year has been very impressive, very admirable," Bisciotti said.
Harbaugh told reporters early this morning that he is only interested in McClain if he has been working hard.
Marlon Leads Ravens In Performance-Based Pay
The NFL has a performance-based pay system that compensates players extra money for their playing time compared to their salary levels.
Per an NFL management council memo, via The Sun, undrafted rookie wide receiver Marlon Brown led all Ravens in performance-based pay by getting an additional $235,461, a big boost to the reported $410,000 he earned through his contract. The money teams dole out does not count against the NFL salary cap limit of $133 million.
Below are the top 10 performance-based pay Ravens:
Player Position Playtime Percentage Payout
1. Marlon Brown (wide receiver): $235,461
2. Gino Gradkowski(center): $230,105
3. James Ihedigbo(strong safety): $229,688
4. A.Q. Shipley(center-guard): $194,100
5. Josh Bynes(linebacker): $193,195
6. Torrey Smith(wide receiver): $141,883
7. Eugene Monroe (offensive tackle): $136,442
8. Anthony Levine (strong safety): $125,773
9. Matt Elam(free safety): $117,404
10. Kyle Juszczyk(fullback): $94,333
Consistency Key For Zuttah
With newly added Jeremy Zuttah slated to take over the starting center position from Gino Gradkowski, the consensus among media is that Zuttah is an upgrade, but still has some work to do.
Specifically, The Sun's Matt Vensel says that Zuttah needs to become more consistent.
Vensel points to Pro Football Focus' weekly 2013 season grades, as depicted in the graphics below with red indicating a negative performance and green indicating a positive performance. (Mobile users, tap "View in Browser" above.) Zuttah has better overall grades for the season than Gradkowski, but his weekly grades show inconsistency.
"Zuttah's grades fluctuated wildly during his time in Tampa Bay, " Vensel wrote. "So while Zuttah looks to be an upgrade over Gradkowski, who struggled in his second NFL season, the 27-year-old must be a more consistent performer in Baltimore for center to again be considered a position of strength for the Ravens."
Jeremy Zuttah 2013 Weekly PFF Grades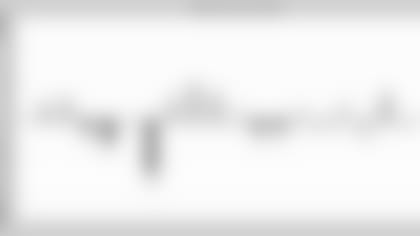 Gino Gradkowski 2013 Weekly PFF Grades