It's Ravens' World, We're Just Living In It 
Minutes after the Ravens announced they will add safety Michael Huff to their roster, NFL.com analyst Adam Schein tweeted:
"It is the Baltimore Ravens world and we are just living in it."
A gray cloud hung over Baltimore after the first wave of free agency with nine starters from last season departing. But the second wave of free agency has provided clarity to General Manager Ozzie Newsome's plan, which simply appears to get better on defense.
And he's doing it with veterans who have come at bargain deals and are looking for hardware of their own.
"The Ravens got] [guys who are hungry, guys who would like to get a Super Bowl ring of their own," said ProFootballTalk.com's Mike Florio. "I'm a firm believer that if a team truly wants to win more than one Super Bowl you need some veterans who don't have a Super Bowl ring to put that hunger into the locker room. They got two guys now in Elvis Dumervil and Michael Huff."
With Dumervil and Huff coming at cheaper prices than the players they'll replace – Paul Kruger and Ed Reed, respectively – and the potential to produce more this season, Newsome is getting plenty of praise.
ESPN's Adam Schefter admires Newsome's ability to stick to the principles for successful roster building, which includes letting the market come to him.
Nobody will ever be able to "replace" a future Hall of Famer. Reed was loved by Baltimore and the city will always hold a special place in its heart for No. 20.
But, as The Sun's Matt Vensel explained, Huff was brought in to play Reed's free safety position.
There's no doubt Huff doesn't compare to Reed in his prime, but the Ravens made their offseason decisions based on what they think each player will do in the future, not what they did in the past.
Given the breakdown of each player below, outsiders believe the Ravens will have the better safety this season.
"Ravens do it again," CBSSports.com's Pete Prisco tweeted yesterday. "Huff for Reed? Please."
"[Huff] won't be Reed in his prime," wrote Vensel. "But he should be better than Reed is right now."* *
Value
Reed: 3 years, $15 million
Huff: 3 years, $6 million
"At $2 million per, the Huff signing seems like another steal for the #Ravens," tweeted CSNBaltimore.com's Brent Harris.Edge: Huff
Age
Reed: 34 (Sept. 11 birthday)
Huff: 30 (March 6 birthday) Edge: Huff
2012 StatsReed: started 16 games,  58 tackles, 4 INTs, 16 PDs, 1 TD
Huff: started 16 games, 56 tackles, 2 INTs, 13 PDs, 0 TD
Edge: Reed
Coverage/Run DefenseReed: Pro Football Focus (PFF) grades Reed higher in coverage than Huff the last three years
Huff: PFF grades Huff higher in run defense than Reed the last three years
"Huff should be as solid as Reed would have been in coverage, though he does not have the same kind of instincts that the old ballhawk has," wrote Vensel. "Huff should be more reliable against the run, though."
Edge: Reed in coverage, Huff versus the run Presence
"The biggest knock on Huff has been his awareness and instincts," wrote Hensley. "What the Ravens lose in making the switch to Huff is Reed's presence. Quarterbacks would avoid throwing at Reed and think twice about throwing deep against the Ravens. It won't be the same with Huff playing back there."
Edge: Reed
Durability
Reed:  missed 16 games during 11-year career (played in 160 of 176 games); neck, hip and shoulder injuries have limited him the last several years, but he mostly played through
Huff: missed four games during seven-year career (played in 108 of 112 games); groin injury limited him in 2011
Edge: Huff
Tackling
Reed: Per PFF, Reed missed 21 tackles last season alone
Huff: Per PFF, Huff missed 18 tackles the past three seasonsEdge: Huff
There will be a press conference later today (which BaltimoreRavens.com will live stream followed by a fan chat) if Huff passes his physical, so we will get the Ravens' reaction to the signing then, but CSNBaltimore.com caught up with Head Coach John Harbaugh last night to get his thoughts:
Dumervil Took Less To Be With Ravens
And boy, he wasn't lying.
The details of Dumervil's contract weren't released immediately after his signing. We simply knew he could make "up to" $35 million with a base value of $26 million.
Here are the two contract offers, per Klis:
Ravens 2013: $1 million salary; $7.5 million signing bonus = $8.5 million (fully guaranteed)
2014: $1 million salary; $3.5 million option bonus (injury-only guarantee) = $4.5 million
2015: $4 million salary
2016: $4 million salary
2017: 5 million salary
Total: $26 million ($5.2 million/yr average)
Full guarantee: $8.5 million
Escalators: $7 million; incentives: $2 million
Broncos
2013: $5 million salary; $3 million signing bonus = $8 million (fully guaranteed)
2014: $5 million ($2 million fully guaranteed)
2015: $5 million
Total: $18 million ($6 million/yr average)
Full guarantee $10 million.
Escalators: At least $2 million; $1 million each of first two years with 12 sacks.
"Most agents and executives within the industry would say the Broncos offered a slightly better deal because they had more unconditional guaranteed money and a better three-year average," wrote Klis. "The escalators for both the Ravens and Broncos were built around a 12-sack season.
"Throughout the free-agent process, the Broncos had a better deal on the table than the Ravens in year one and two. If it was about the money, Dumervil would have signed back with the Broncos before Sunday. This was not about the money. This was about a broken relationship between the Broncos and Dumervil, and the Ravens showering Dumervil with love."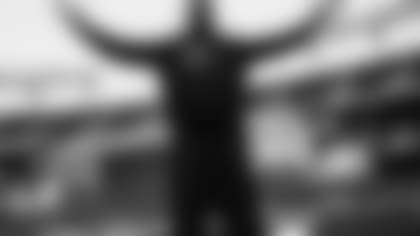 @Huffy247: #Ravensnation I'm home!!!!!!!!!!!!!!!!! [Twitter] * "Too early to assume where the Ravens'] [2014 compensatory picks will be, but I think Kruger and [Dannell] Ellerbe give them an excellent shot for at least one fourth-rounder and a fifth," wrote Peter King. "Look at how New England has done it. They've often focused on cut guys rather than players at the end of their contracts." [Sports Illustrated] * @MoveTheSticks former Ravens scout]: [Not surprised the Ravens signed Michael Huff…We had big grades on him the year he came out of TX...Thought he could matchup with TE's [Twitter] * @CoachBillick: Even with all their offseason roster changes...the #Ravens are still my early favorite to win the AFC North. [Twitter]