Browns To Pursue Kruger, Ravens Prepared
Imagine Paul Kruger chasing after Joe Flacco twice a season for years to come.
Mary Kay Cabot reports the AFC North rival will pursue two of the biggest-name pass rushers in free agency in Kruger and Detroit's Cliff Avril. Either player would come in handy as the team is expected to switch from a 4-3 to a 3-4 defensive scheme.
If the Browns want Kruger, they may have to fork out plenty of cash (which they can afford with an estimated $47 million in cap space). Jason Cole of Yahoo! Sports reported that Kruger could end up making about $10 million a season.
"I didn't believe this couple of weeks ago, but do now: LB/DE Paul Kruger looks like he's going to blow past $9m per, could get over $10m per," Cole tweeted Saturday.
With just $11.463 million reportedly available under the cap for the Ravens, it is widely believed they won't be able to compete with those types of offers. And with the negotiating period starting Saturday, it is possible more teams than just the Browns will be interested, potentially driving up his price.
Ravens brass is prepared to let Kruger go, according to reports. 
"The Ravens have pretty much resigned themselves to the likelihood that he's going to play for another team," ESPN's Ed Werder reported.
Why aren't the Ravens concerned? Werder points to last year's first-round draft selection in outside linebacker Courtney Upshaw, who could take over the reins full-time in 2013.
NFL Network's Albert Breer reported similar news, adding Baltimore is also prepared to let cornerback walk after using a first-round pick on Jimmy Smith and paying Lardarius Webb big bucks last year.
If the Ravens and Kruger can't work things out, the former second-round pick indicated it would be difficult to leave the team that drafted him.
"I'd love to stay in Baltimore," Kruger told ESPN's NFL Live after the Super Bowl. "It's a great place to play in every aspect. The organization, the facilities, the teammates. It would be hard to leave, for sure."
Ellerbe: I Want To Be Home In Baltimore
Dannell Ellerbe knows he is about to embark on an once-in-a-lifetime opportunity.
Once an undrafted free agent, the Ravens linebacker was arguably the best player on the Ravens' Super Bowl defense and is in line to get perhaps the biggest contract of his career.
It took five years to get here, but Ellerbe is speculated to get $20, $25 or even $30 million this offseason.
If he had it his way, Ellerbe would play in the city he calls home.
"I want to be home in Baltimore," Ellerbe told NFL Total Access yesterday. "That's all I know. I know the defense, I fit well in the scheme, I know the coaches, staff. That's all I know is Baltimore. I love the area. I love the defense. Everything is Baltimore, but I understand it's a business. No matter where I go, I'm going to give 110 percent and I'm only going to get better."
When asked if he is also prepared to leave Baltimore, the fifth-year linebacker acknowledged that reality.
"Yeah, I am [prepared]," Ellerbe said. "I'm not looking forward to it because I feel like Baltimore is home. It's a business and wherever I go, I promise you nothing is going to change."
Now that Flacco is under contract for the next six years, reports indicate that Ellerbe is the Ravens' top priority. They have until Tuesday to get a deal done before he can sign with another team.
Ravens Have Three Extra Days To Negotiate With Reed
Luckily for the Ravens, they may have an extra three days to get a hold of Reed before any other potential suitors – like the Patriots, who Reed has been linked to – can legally negotiate with him.
Under the league's new free-agency rules, clubs can now negotiate with other teams' free agents during a new three-day period, but only through players' agents. Reed currently represents himself.
If Reed doesn't hire an agent, only Baltimore can negotiate with him until free agency actually starts at 4 p.m. Tuesday, instead of midnight on Saturday.
Baltimore can't totally bank on those three days, however, as Reed could hire an agent.
An extra three days or not, ESPN's Jamison Hensley believes Baltimore needs make a "smart" offer without overspending, and then let Reed test the free-agent market to see what type of offers he receives. That strategy worked well when negotiating with Ray Lewis a few years back.
"The Ravens can only make their best offer to Reed before free agency begins Tuesday and hopes he either accepts the deal or doesn't get a significantly better offer later," Hensley wrote. "Baltimore was justified to overspend on Joe Flacco, a quarterback entering the prime of his career. The Ravens just can't do it with a 34-year-old safety, which would result in losing cap room to sign someone like linebacker Dannell Ellerbe.
"This is a delicate situation. The key for the Ravens is not letting it become an emotional one."
Details Of Offer Flacco Declined
We already know the Ravens offered a top-5 contract to Flacco prior to the 2012 season, but the details of that offer were unknown.
"I've also learned a little bit of history about the deal, and just how close the two sides came to making a five-year extension worth about $17 million a year happen last year," he wrote in his Monday Morning Quarterback column.
Seventeen million? For all you math-challenged readers out there, that's about $3 million less per year than the $20.1 million-a-year deal the two sides just agreed to Monday.
Apparently Flacco was "agonizingly close" with the Ravens, who offered $15.5 million in the last year (2017) of the proposed deal, not guaranteed, while agent Joe Linta wanted $17.5 million. King says that Linta probably would have split the difference at $16.5 million, but the Ravens wouldn't budge.
"Who could blame them?" asked King, noting Flacco hadn't thrown for 4,000 yards and only three players in football would have been paid higher. But Flacco gambled on himself … and won.
"The Ravens now probably wish they acceded to Linta's number last summer," wrote King. "But hindsight in contract talks is always 20-20. There's no way anyone (other than Flacco, maybe) could have forecast what Flacco did this postseason. So it's unfair to castigate Baltimore for not caving last year; I can't think of any team, given the same situation that would have caved."
Ravens Interested In Te'o As Two-Down Backer?
Despite his disappointing 40 time (4.83 seconds) at the combine last month, Notre Dame linebacker Manti Te'o is still projected to go in the first round, barely.
In his latest mock draft, ESPN's Todd McShay has the Ravens taking the controversial player with the final pick of the first round, noting that Te'o's slow 40 is raising questions about his potential to play three downs in the NFL.
King explained the importance of slow 40 times diminish for two-down players because most third downs are passing plays that need to be covered with speed. That type of player is someone the Ravens could be interested in, says King.
"There are some teams that would be interested in Te'o – Cincinnati, Baltimore, for instance – as a two‐down player early, and maybe developing into a full‐time player as he gets used to the NFL game," the columnist wrote. "One NFC scout told me at the combine Te'o had the instincts to develop into a three‐down linebacker after he got used to the feel of how much more developed NFL passing games are; he said Te'o had the kind of feel for football that could make up for 4.7 speed (which the scout thought he'd run in the 40)."
I pretty much have the best co-workers and boss in the world. I especially owe Ryan Minkster, Garrett Downing (G$) and @ravensgirl for picking up all my work duties and responsibilities while I was out for my third maternity leave since being hired by the team in 2005. Any (affordable) suggestions on how I thank them? I already have dinner on the docket, but I need something creative that really shows my gratitude.
We narrowed the gender gap (3 boys: 2 girls) in in my home when our sweet London Grace Ellison was born on Jan. 10. We brought her home from the hospital just hours before the divisional round matchup against the Broncos – one of the best days of my life. Here's a pic of the whole crew down in New Orleans for the Super Bowl. Blessed = me.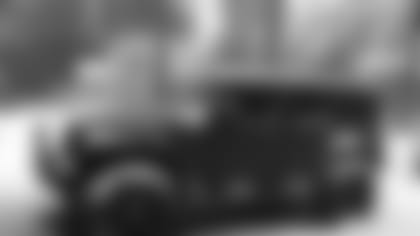 Chiefs released right tackle Eric Winston yesterday, but don't expect him to be a solution in Baltimore … @RavensInsider: Eric Winston was on Ravens' radar last year, but never visited. He's a right tackle, not a left, so don't think this is a link. We'll see [Twitter] * @RavensInsider: As far as Bryant McKinnie, he'll test free agency and Ravens will monitor how he does in market. Door not closed. [Twitter] * @RayRice27: Me and my new best friend are about to have some fun in the snow today #teamjeep [Twitter] * @RayRice27: I would of knocked leach out! RT @NFLfax: @vleach44 recorded 138 tackles as a SR in HS. He also rushed 4615 yards, 75 TDs in his HS carrier [Twitter] * Running back Bernard Pierce looking to improve next season. [The Baltimore Sun] *