Flacco Second Best Paid … After Maryland Taxes
Turns out, quarterback Joe Flacco won't bring home the most money of all NFL players.
As Americans for Tax Reform (atr.org) points out, there is a big difference between being the highest-paid player and the highest-earning player. Flacco received the former title after signing a reported six-year, $120.6 million contract Monday.
But by playing in Maryland, Flacco is scheduled to pay a combined marginal income tax rate of 51.98 percent, which is made up of the federal, Maryland, and Baltimore County income tax rate, as well as the Medicare tax.
Apparently, that will drop him to second place on the list of highest earners.
New Orleans quarterback Drew Brees stands to make $470,000 more than the "highest-paid" Flacco because of the 49.4 percent marginal income tax rate in Louisiana, according to atr.org's Matt Blumenfeld.
Blumenfeld further explains that had Flacco signed a similar contract with a team in a no-income-tax state like Florida or Texas, he would have saved $1.72 million in total marginal tax liability.
Something tells me that Flacco will still survive without that $1.72 million, buuut …
"For now, by virtue of living in tax-heavy Maryland, he'll just have to settle for being compensated second best," wrote Blumenfeld.
Gradkwoski Knows Competition Coming
With center Matt Birk retiring last month, the only remaining center on the Ravens' active roster isGino Gradkowski.
"I know nothing is handed to you, especially in this league," Gradkowski told 105.7 The Fan's Mark Zinno Tuesday.
"They're going to bring a guy in and I'm going to have to compete for a job and that's fine. That's how it should be. But I'm just excited about the opportunity to win that job and I can't wait to get started. I look forward to it."
Gradkowski couldn't have asked for a better rookie season to prepare for an ensuing competition. He was mentored by 15-year, six-time veteran in Birk, a smart and community-minded Harvard graduate. Gradkowski was able watch and learn what it took to become a Super Bowl-winning starting center.
With Birk taking the lead last season, fans weren't able to get a feel for what Gradkowski brings to the table. Agent Joe Linta described his young client as the type of guy you want your daughter to marry, but a ferocious, nasty animal on the football field.
"I like that description," Gradkowski said. "I really believe that you need to flip a switch and you need to be a whole different person when you walk on a field and that's kind of the motto that I live by."
Expect Ravens-Inspired Dance Costume For Jacoby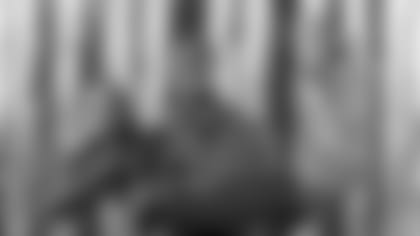 Dance rehearsals are underway for receiver Jacoby Jones.
And so is costume design.
ABC released portraits of all the duos for this season's "Dancing with the Stars," including Jones and his professional dance partner Karina Smirnoff. The two are sporting Ravens black and purple colors, which will serve as inspiration for the first week's costume.
"I just finished my first week's dance consult, and I can't wait to see the finished costumes," Smirnoff told InStyle.com. "The inspiration for week one is Fashion Couture meet Super Bowl Ravens. And guess what colors we are using?"
Costumes seem to be the last thing on Jones' mind, as Smirnoff put the 6-foot-2, 212-pounder through what appeared to be an intense workout in their first rehearsal yesterday.
"This #dwts rehearsal is no joke!!!! #grindmode," Jones tweeted.
Check Out Ray Rice's Younger Brother
Ravens running back Ray Rice is planning a trip to his former stomping grounds at Rutgers to watch his younger brother, Markell Rice, try out for NFL scouts at the school's Pro Day on March 13.
Markell is a defensive back from American International College. Check out his 95-yard interception return for a touchdown in overtime to win. Should the Ravens be interested?
Did receiver Anquan Boldin really mean what he said about retiring rather than playing for another team? Yup. "I'm not playing for money," Boldin told Eddie Matz. "I'm not chasing a championship. I don't play for individual accolades. I'm set. There's nothing else I have to prove." [ESPN The Magazine]
OK, so if he's not playing for money, how about approaching him about reducing his salary to help the Ravens' tight cap situation? Uh no, says Jamison Hensley. "Ravens can't ask him to take a pay cut after that monster postseason. I see him playing out this season under the current deal, which I believe pays him $6M." [ESPN] * Flacco and the Ravens were only $1 million away from a deal in 2012. [USA Today] * @TeamFlacco: Looking forward to participating in Kurt Warner's Ultimate Football Experience this weekend. @AmwayUS [Twitter] * @RayRice27: Your boy @vleach44 is sharp lol #not * @Artj97: Next stop Baltimore. :-) * If you're one of the many who dislikes Skip Bayless for his seemingly endless Flacco bashing, you might want to watch this. Seattle Seahawks All-Pro cornerback Richard Sherman blasts Bayless for his "ignorant pollution" in the video below. Here's a taste of one of the many rips Sherman inflicts on the "First Take" host: "Whenever you refer to me, whenever you speak to me, whenever you address me, address me as All-Pro Stanford graduate because those are some accomplishments you will aspire to but never accomplish. You have never accomplished anything."