Ravens Interested In WR Mellette, LB Pough
The most glaring need for the Ravens on offense is at wide receiver. One of the more stacked positions on defense is at outside linebacker.
Either way, the team is doing its due diligence at both spots by showing "considerable" interest in Elon wide receiver Aaron Mellette and (moderate?) interest in Howard University linebacker Keith Pough, according to The Baltimore Sun's Aaron Wilson.
While Ravens brass is likely "interested" in many, many prospects, these two have been specifically linked, so let's take a quick look at their profiles.
WR Aaron Mellette, Elon University
Senior, 6-foot-2, 217 pounds
2012 stats: started all 11 games, 97 catches, 1,398 yards, 18 touchdowns
Combine results: 4.54-second 40-yard dash, 9-rep bench press, 33.5-inch vertical jump, 123.0-inch broad jump, 7.11-second three cone drill, 4.41-second, 20-yard shuffle
Expected draft round: fourth or fifth
Overview:  Mellette is a strong possession receiver, which is what Baltimore could use after trading Anquan Boldin to the 49ers. He has good size and reliable hands, and isn't afraid to go over the middle and grab balls in traffic. Draftniks knock his speed and ability to separate from defenders, but he can win jump balls, shows good body control and picks up yards after the catch.
NFL.com:  "He won't win with long speed or athleticism, but Mellette has displayed the ability to make catches in traffic and win with technical route running."
OLB Keith Pough, Howard UniversitySenior,*6-foot-2, 239 pounds 2012 Stats:72 tackles, 10 tackles for loss, 3.5 sacks, 4 pass breakups, MEAC Conference Defensive Player of the Year *Combine results: *4.90-second 40-yard dash, 17-rep bench press, 33.0-inch vertical jump, 118.0-inch broad jump, 7.28-second three cone drill, 4.47-second 20-yard shuffle *Expected draft round:fourth* Overview:* Pough started his high school career as a shorter wide receiver, but ended up as a tall all-state linebacker in South Carolina. He became one of the most productive linebackers in college and has the ability to play either Will or Sam 'backer. With a leaner build, analysts wonder if he is strong enough to take on NFL linemen, but he has the speed to close in on quarterbacks and track down ball* carriers. *NFL.com:"Pough is a tackles-for-loss machine, using his length and speed to chase ball* *carriers from behind, as well as attitude to attack them in the hole. His tall, lean build and movement skills could make him a mid-round pick for teams looking for a coverage 'backer or potential blitzing threat on the weak or strong sides of the formation."
Romo Gets Less $$ Than Flacco, More Guaranteed (Kinda)
If there is a starting quarterback out there who is criticized more than Joe Flacco, it might be the Cowboys' Tony Romo, who just got a blockbuster six-year extension worth $108 million.
Former NFL quarterback Donovan McNabb blasted Romo's new deal on Twitter.
McNabb has a point, which is probably why Flacco is still the highest-paid quarterback in NFL history (but that won't last for long with Aaron Rodgers negotiating with the Packers). Critics were saying Flacco's deal was too much, even though he's won nine playoff games in his five-year career and was Super Bowl XLVII MVP.
Romo got less overall money than Flacco's $120.6 million, but got more guaranteed money ... technically.
Romo's $55 million in guaranteed money is about $3 million more than Flacco, but that is over seven years compared to six years for Flacco. So Flacco got more guaranteed per year. Plus …
"Romo already was destined to make $11.5 million in 2013," wrote ProFootballTalk.com's Mike Florio. "So the 'new' guarantee for Romo is only (only?) $44 million for the six extra years of commitment."
Ravens Could Try To Nab Dansby After Draft
Free agent linebacker Karlos Dansby has become a buzz-worthy prospect in Baltimore, even though he hasn't been linked to the team thus far.
That could be because there are enough inside linebackers on the market that General Manager Ozzie Newsome knows he can wait until after the draft to get one, says ESPN's Jamison Hensley.
 "Baltimore can see if a highly rated ILB falls to the bottom of the first round. If not, there should be options out there post-draft," he wrote in a fan chat.
The Ravens have enough needs that they could also take an offensive tackle, defensive tackle, safety or wide receiver in the first round. If that's the case, Dansby (who is ESPN's top-rated linebacker left on the market) could become a higher priority.
Ravens React To Ware's Gruesome Leg Injury
During last night's NCAA Elite Eight basketball game against Duke, Louisville guard Kevin Ware suffered a gruesome broken leg that made his entire bench of teammates grab each other and involuntarily look away in horror. Some were seen crying.
Ware tweeted he had a successful surgery, and his team went on to knock Duke out of the tournament.
Twitterverse responded as soon as the injury occurred,* *and a few Ravens players reacted
@BPierce_30: Contact sports= exactly that... Seen that too many times. Prayers go up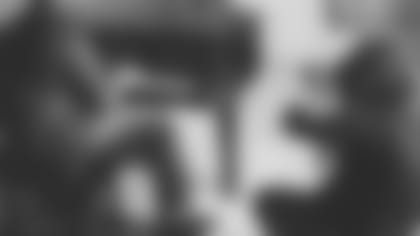 @EKD92 [Elvis Dumervile]: Big S/O to my #Cardinals advancing to the Final Four. Great team win...ATL here we come! #L'ville [Twitter] * @AlbertBreer: Teams looking to bail out of Top 10 already making calls. Makes sense with the makeup of this class, few elite guys, many w/Late-1st grades. [Twitter] * Remember the "mutiny" story during last season? Former Ravens safety Bernard Pollard said "there's no truth to it at all."[CSNBaltimore.com] * Can we expect to see a shot of Torrey Smith in the DWTS audience cheering for Jacoby? … @TorreySmithWR: Wheels up to LA ✈✈✈ [Twitter] * Is Jones just posing, or can he really play? Need to look into this … @Artj97: #Multitalented  [Twitter]