McKinnie Has A Condition Before Re-Signing
The Baltimore Ravens "definitely" want Bryant McKinnie back, according to the left tackle.
And the 33-year-old veteran is open to returning.
But he has one condition.
"I definitely want a starting job," McKinnie said yesterday during an interview with WNST. "I want it to be fair for somebody to beat me out of my position instead of saying you want to try something new. Give me the opportunity to actually be fair and let somebody beat me out for the position."
After starting all 16 games in his first year in Baltimore, McKinnie lost his starting job in 2012 after he reported to training camp late and out of shape. He was nearly cut – McKinnie even tweeted about his time being up in Baltimore – but then suddenly accepted a restructured contract with a reported $1 million pay cut.
McKinnie didn't start again until the playoffs began and was credited as a major factor behind quarterback Joe Flacco's amazing Super Bowl run.
On the eve of free agency in March, McKinnie declared that the Ravens needed to buy insurance for Flacco, but wasn't interested in taking a hometown discount. But almost a month later, the tackle market is at a standstill.
Free agent Eric Winston, who is rated ahead of McKinnie on ESPN's free agency tracker and is four years younger, said on Sirius XM NFL Radio yesterday that free agency is "frustrating" because he can't get anything in the $3 to $4 million range. One wonders how far under $3 million teams are offering Winston, and by extension, McKinnie.
That answer likely won't come until after April 27.
"Coming back there is an option; we are just trying to work some things out," McKinnie said, noting that he's spoken to a few other teams.
"I think [the Ravens] probably want to see what they get out of the draft and then maybe go from there," he added.
Lewis No. 3 In NFL Jersey Sales
The nostalgia of Ray Lewis' retirement helped catapult the future Hall of Famer from No. 17 in jersey sales last year to No. 3 during this fiscal year (April 1, 2012 to March 31, 2013), according to NFL.com.
Lewis was the only non-quarterback to make the top seven of jersey sales on NFLShop.com, with Redskins quarterback Robert Griffin III leading the way not only this year, but in any year in league history.
While the exact sales numbers were not released, below are the top 10 best sellers.
Redskins quarterback Robert Griffin III
Broncos quarterback Peyton Manning
Ravens linebacker Ray Lewis
49ers quarterback Colin Kaepernick
Patriots quarterback Tom Brady
Colts quarterback Andrew Luck
Packers quarterback Aaron Rodgers
Giants receiver Victor Cruz
Giants quarterback Eli Manning
49ers linebacker Patrick Willis
The NFL also tracks overall team sales, and the 49ers topped the list (for the first time since 1979), edging out the Ravens.
The rest of the top-six selling teams include: the New York Giants, Washington Redskins, Pittsburgh Steelers and New England Patriots.
Flacco Showed Sneak Peek of Super Bowl Ring
It appears the design of the Ravens Super Bowl ring is complete.
The last we heard about the ring was back in February when Owner Steve Bisciotti said it would be made of white gold, but the final design was still being determined.
Apparently it has since been determined and at least one player, Flacco, has a copy of it.
WNST's Nestor Aparicio told McKinnie yesterday that a very enthusiastic Flacco gave him a sneak peek.
"I was with Flacco two weeks ago and he had a picture of the ring on his phone," Aparicio said. "And he could not stop smiling [while] showing it to me and telling me, 'It's going to be this big and it's going to have this and it's going to have that.' [It's nice] just seeing the excitement level for all you guys that have worked so hard for it."
Jameel McClain Planning On Season-Opening Return
Linebacker Jameel McClain is rehabbing a spinal cord contusion he sustained in the Week 14 loss to the Redskins last season, and surgery isn't required.
Does that mean McClain, who started more the last three years than the departed Dannell Ellerbe, will be back for the season opener?
McClain answered that question and others in a Q&A with fans via his Twitter handle @Jameel McClain:
For those of you that are big fans of Notre Dame linebacker Manti Te'o, you'll like this "Game Changers" video. For those of you that don't like him after the catfish girlfriend debacle, the video shows a completely different side to his personality. [NFL.com]
Te'o had an official visit with the Detroit Lions yesterday, and was asked by the team's website about his rough outing against Alabama in the BCS championship. "It's a little frustrating people judge you on one game … but I don't feel it defines my career at Notre Dame." [DetroitLions.com]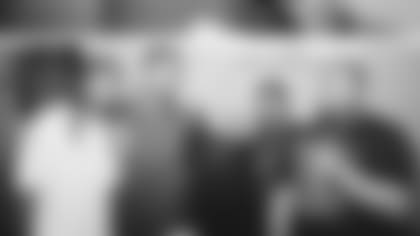 Several teammates and friends supported Ramon Harewood's youth football clinic in Barbados, as can be seen in the pic to the right … @mvpbig Ramon Harewood]: #privachillin #[nightlifebarbados #theturnupthatfollowed@torreysmithwr @G3_CEO [Twitter/Instagram]
Tavon Austin's travels continue this week with the Bengals, Browns and Rams. [The Baltimore Sun]
@RavensInsider: Nothing has been decided on the schedule, including the Ravens' season-opening opponent, according to the NFL [Twitter]