M&T Bank Stadium To Be Transformed Into Baseball Field
Ah, this brings back memories of old Memorial Stadium, which hosted both baseball and football (and other sports) games in Baltimore.
Now M&T Bank Stadium will be temporality transformed into a baseball field at the request of cornerback Lardarius Webb.
Webb teased fans for a few days on social media earlier this month, letting them know a big announcement was coming. He finally revealed last week that instead of holding his popular annual Ravens charity softball game at Ripken Stadium in Aberdeen, he will hold it at M&T Bank Stadium in downtown Baltimore.
Of course, the Ravens' stadium was mainly constructed for football games.
So Webb and his peeps are getting to work on transforming it to a baseball diamond.
"For those wondering how we will turn M&T Bank Stadium into a baseball field," Webb tweeted yesterday with the diagram below.
Webb got some surprised, yet excited, reactions from fans to the news.
"wait what? Why? When?" tweeted @TheRealBigSean. 
"Whaaaaat," added @shianne_01. 
"Yo this is gonna be so dope!" wrote @ObsequioGalante.
"That's a helluva shot in left field to hit a homer!" wrote @mikeimboden. Webb responded to explain that he is bringing in a shorter fence for left field.
How did Webb convince the stadium authorities to undertake such transformation?
"I guess I'm coming up in the world," Webb told 105.7 The Fan. Yes, and being the starting Ravens cornerback doesn't hurt either.  It's obviously for a good cause,* *too.
United Way is pairing with The Lardarius Webb Foundation for the event and proceeds will help the Boys & Girls Club of Baltimore. The date of the eighth-annual event is June 1. Former offensive lineman Ben Grubbs used to host the event when he was in Baltimore.
It is usually a star-filled event, and Webb announced that new receiver Steve Smith, Sr. will be one of the participants. In the past, Ray Lewis, Jacoby Jones and Torrey Smith have also been in attendance.
Once the transformation is underway, you can be sure BaltimoreRavens.com will have photos and video for you.
Ed Dickson Visiting Panthers
The Ravens were once interested in re-signing tight end Ed Dickson, but that reportedly changed when they struck a deal with Pro Bowler Owen Daniels.
So Dickson is moving on and looking for a new home.
The Ravens former third-round pick announced on Twitter yesterday that he is flying out to Carolina to meet with the Panthers, who need depth behind Greg Olsen and Richie Brockel.
Dickson started 14 of 16 games last season, reeling in 25 passes for 273 yards and one touchdown.
"Dickson drew interest from other NFL teams, including the Jacksonville Jaguars, Buffalo Bills, New York Jets and New York Giants," reported The Baltimore Sun's Aaron Wilson.
Speed Kills! Rice, Chykie, Jimmy Run Sprints
That's what trainer Kyle Jakobe wrote with this Instagram video of running back Ray Rice and cornerbacks* *Chykie Brown and Jimmy Smith running sprints. Jets free safety Antonio Allen is in there too.
Who would win a race between the three Ravens?
Well, just using the eyeball test while examining this clip, Smith would get smoked. He definitely isn't showing speed that kills, as he acknowledged himself.
But apparently there is a reason for that.
"not even top 5. I was still salty from hand eye drills," Jakobe responded with two laughing emoticons.
For a better indication of which of the three Ravens is the fastest, we can look back to their NFL Scouting Combine 40-yard dash times.
Smith and Rice had identical times, and Brown was separated by seven hundredths of a second.
So basically it's a wash.
Jimmy Smith: 4.42 seconds
Ray Rice: 4.42 seconds
Chykie Brown: 4.49 seconds
Check out the video (mobile users click "Tap in Browser" at the top of the page to watch).
Additions Don't Change Super Bowl Odds
The Ravens have been busy this offseason, re-signing core players and adding new blood like Smith, Daniels and center Jeremy Zuttah.
The roster has improved from last season, but not enough to convince Vegas to change the team's Super Bowl odds.
The Ravens' odds to win the Super Bowl are 30-to-1, which was their same odds on Feb. 2, according to ESPN's Jamison Hensley.
Eleven teams have better odds, including the Pittsburgh Steelers, per ESPN:
Seattle Seahawks (4-to-1)
Denver Broncos (5-to-1)
San Francisco 49ers (6-to-1)
New England Patriots (8-to-1)
Green Bay Packers (12-to-1)
New Orleans Saints (20-to-1)
Cincinnati Bengals (20-to-1)
Carolina Panthers (25-to-1)
Indianapolis Colts (25-to-1)
Philadelphia Eagles (25-to-1)
Pittsburgh Steelers (25-to-1)
@jamisonhensley: #Ravens likely to start training camp on July 23. Teams can begin camp 15 days prior to preseason opener, which is Aug. 7.
Hey Jamison, how much gas is left in the tank for Terrell Suggs and Haloti Ngata? "Suggs still has something left, and the Ravens believe that," Hensley wrote. "It's why he got an extension. I'm not sure about Ngata. He was a dominant defensive tackle a few years ago. Ngata still draws attention but he doesn't make the same plays." [ESPN]
Pro Bowl center Alex Mack, who the Ravens were reportedly interested in before trading for Zuttah, signed a five-year offer sheet with the Jaguars that would make him the highest-paid center in the league by a wide margin. The Browns put the transition tag on Mack, which means they have the choice of matching the offer to keep him in Cleveland. The Jags think there's a 50-50 shot they can pry him out of the Browns hands. Will they match the offer? [ESPN | ProFootballTalk]
@mzenitz: Former Ravens safety Christian Thompson will work out for the Redskins today, according to a source  … Thompson was a fourth-round pick of the Ravens in 2012, but he has been out of football since Baltimore released him in October [Twitter]
@WNST: @CoachBillick on expectations for Flacco prior to OTAs: "If [people] are being critical of what Joe's doing right now, my God, get a life." [Twitter]
@TorreySmithWR: RT @JuicyKi89: @TorreySmithWR good morning!  How's baby TJ? He keeping yall up all night lol ?....the entire night [Twitter]
@jtuck9: Had a great time in LV w/ some good friends! Got to roll out to the airport in style ... [Twitter]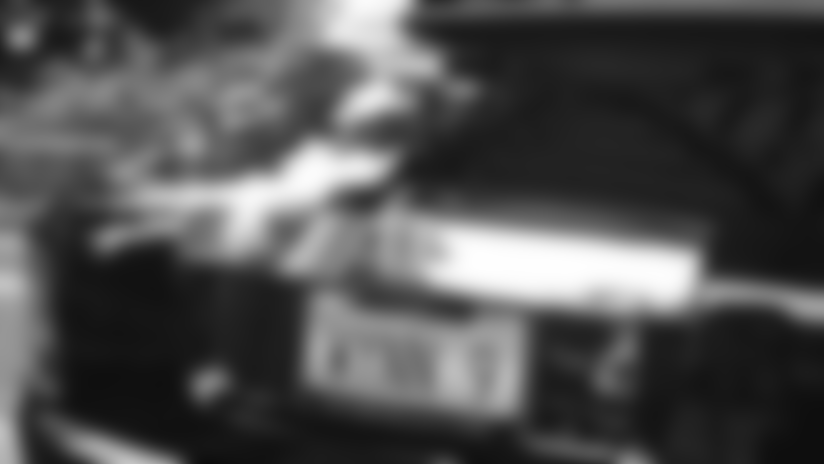 @BPierce_30: Me and the lil bro @Terrancewest28 vibin right before we go live at 4:25 wnst [Instagram]