Webb Taking His Time With ACL Recovery
Lardarius Webb has been through this before. He knows what he's doing.
The Ravens cornerback suffered his second season-ending anterior cruciate ligament injury in his four-year career last October against the Dallas Cowboys. The same injury, except in his left knee, ended his rookie season in 2009.
Webb made a full recovery the first time around, and is preaching patience as he continues rehab the second time.
"I'm taking my time and I'm working hard," Webb told The Baltimore Sun's Aaron Wilson. "It's going really well. I've stayed positive throughout this whole process. I'm going to be Lardarius Webb out there. I'm going to have the same heart I've always played with.
"I'm going to do all my part. I like being in this situation. I'm coming off a little adversity, but it just puts a chip on my shoulder. It's about determination and how bad I want to get back on that field. I missed out last season and I was there for the ride, but I want to go to the Super Bowl again. The Lord won't put me through anything I can't handle. I take everything in stride."
Webb, who is entering the second year of a six-year contract extension reportedly worth $50 million, told Wilson that he won't rush recovery and risk a setback but "emphasized that the prognosis is good."
While Webb was rehabbing, he suddenly became the veteran leader in the defensive backfield this offseason. The Ravens said goodbye to safeties Ed Reed (Houston Texans) and Bernard Pollard (released) and cornerback Cary Williams (Philadelphia Eagles) as part of a major defensive renovation in an effort to get younger and faster.
Webb tried to take advantage of his time with Reed, who* *is known for his dedication to studying film and mentoring younger players. After paying close attention to Reed, Webb says he soaked up everything he could and is ready to pay it forward.
"I've already got it. I looked. I paid attention. I watched him," Webb said. "I watched great leaders like Ray Lewis and Ed Reed. They show you how to do it. I'm going to do all of my part to help this team win."
Even with the loss of three starters in the secondary, Webb isn't worried because he still has Jimmy Smith, Corey Graham and Chykie Brown around him. Plus, he's amped to start practicing with the new additions the Ravens have made this offseason, including safety Michael Huff, outside linebacker Elvis Dumervil and potentially inside linebacker Rolando McClain.
"I'm excited to get with the new guys, some great ballplayers," Webb said. "We're going to mold together and we'll be a great squad. My mindset is, 'We're still a great team. We're still the best team in this league.'
"They want to say we're not, but we're the champs and they can see it until they come take it. I'm not just talking stuff. We're the champs, and I want to be a part of that, so that's my motivation to get back on that field."
McClain Chose Ravens Over More Lucrative Offers
Part of the excitement about the Ravens' reported deal with former Butkus Award winner Rolando McClain is the low investment they're making in a potentially high-reward linebacker.
For his part, McClain is showing he's serious about making his second chance count by choosing to start over in a proven environment rather than chase money.
McClain reportedly agreed in principle to a one-year deal with a base salary of $700,000, and can make up to a maximum of $1.1 million in playing time incentives.
Miller On Loss Of Dumervil: 'He Was Our Rock'
Von Miller and Dumervil were a nightmare pass-rushing duo in Denver.
The pair became known by the nickname, "Doom & Gloom."
So how does "Gloom" feel about losing "Doom" to the Ravens, the team that knocked the Broncos out of the playoffs last season?
"He was our leader in the locker room," Miller said of Dumervil on the NFL Network.  "He was our rock.  He showed me how to be a technician on the field. … He showed me so much stuff … how to be a professional, how to conduct myself off the field. 
"He is truly going to be missed.  It will take guys in the locker room to pick up a small piece of that percentage that we can make up and get our defense back."
Despite the strange circumstances surrounding the infamous fax failure and Dumervil's decision to play for Baltimore rather than return to Denver, Miller emphasized he is happy for his friend.
"No it didn't [make me angry]," Miller said. "Before anything, me and Elvis, we're brothers. I wanted what's best for him and going to the Baltimore Ravens was a better fit for him."
Ravens' Scenario-Based Mock Draft
ESPN's draft guru Todd McShay laid out three possibilities for the Ravens' No 32. pick, with the first scenario being their ideal pick, and the other two based on how the first 31 picks unfold.
And while McShay does take trades* *into consideration, he doesn't project General Manager Ozzie Newsome doing so in any of the three scenarios.
Scenario 1: LB Manti Te'o, Notre Dame"The retirement of Ray Lewis leaves a huge void in the middle of the Raven's defense, and Te'o's overall skill set could help offset that loss.
Scenario 2: Keenan Allen, University of California
"Baltimore made a long-term commitment to QB Joe Flacco this offseason, and providing him with weapons will be a priority. Keenan Allen could function as a nice complement to the speedy Torrey Smith."
Scenario 3: Matt Elam, Florida
"With Ed Reed having left for Houston via free agency, the Ravens could opt for the best available safety on the board. In this case, that's Elam."
What has life been like since Jonathan Ogden was voted into the Hall of Fame? [Profootballhof.com]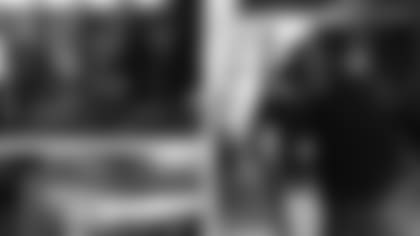 Torrey Smith shot an Under Armour commercial at the Ravens practice facility yesterday … @TorreySmithWR: Last sneak peak before I get in trouble haha  [Twitter] * NFL eases up on restricting crowd noise. [ProFootballTalk.com] * Former Steelers linebacker James Harrison is touring the AFC North in an attempt to join one of Pittsburgh's rivals. He visited with the Bengals yesterday, after talking with the Ravens last month. [USA Today] * You can thank former Raven and NFL Players Association President Domonique Foxworth for the big changes in the Pro Bowl. [CBSSports.com] *
Are the Ravens now better than the Super Bowl-winning team? Brian Billick and Charley Casserly discuss in the video below. [NFL Network]