Webb Shows Off Crazy Good Hands
Perhaps the Ravens will want to give Lardarius Webb a chance to fill the receiver slot left open by the departed Anquan Boldin.
OK, OK, that was a little hyperbole only to illustrate how impressive Webb's hand-eye coordination is. (Seriously, if he can return to form after rehabbing his torn ACL this offseason, Webb has the potential to make the Pro Bowl.)
NFL defensive backs are notorious for their slippery hands, but Webb clearly doesn't fit that description.
In the YouTube video below, entitled "Best Hands in Football" posted by strength and conditioning trainer Kyle Jakobe, Webb catches what looks to be racquetball-sized white balls off a wall and throws them into a bucket.
His trainer starts off throwing them at a slow speed with both arms and Webb responds and catches with both hands. The speed steadily increases until they look like a blur in the video, and then Webb even puts one hand behind his back as he catches balls his trainer is still rapidly throwing with both arms. 
Webb's concentration and lightning-fast reaction is impressive.
On another note, this video provides the first chance for fans to see Webb participate in any sort of activity since injuring his knee Week 6 against the Dallas Cowboys.
Wearing a black knee brace, Webb is squatting down at about a 90 degree angle and pushing off his knee quickly. While this drill is nothing compared to the sprints, back-peddling and cuts he'll make on a football field against the league's fastest receivers, it's good to see him participate in some sort of action.
Ravens' 2013 Breakout Player: Osemele
Who will the Ravens' breakout player be next season?
ESPN's Matt Williamson believes it will be offensive lineman and last year's second-round pick Kelechi Osemele.
Williamson notes that Osemele already had a breakout of sorts when he moved from right tackle to left guard in the playoffs, but the NFL scout sees even more to come.
The question remains, however, where Osemele will play next year. Williamson believes the second-year youngster can be a Pro Bowl guard, but he could end up playing right tackle again if Michael Oher has to protect quarterback Joe Flacco's blindside.
Tucker's Next Goal? Perfection
How does Justin Tucker outdo his rookie season?
After unseating incumbent Pro Bowl kicker Billy Cundiff, the undrafted Tucker went on to make 30 of his 33 field goals, the second-best mark by a rookie kicker in NFL history. He sent the Ravens to the AFC championship by nailing a 47-yarder in double overtime in the freezing-cold temperatures of Denver.
With the 2013 season around the corner, the only thing Tucker can do is try to raise the bar. That's why his goal is to be perfect in 2013.
"You win a Super Bowl and the next day you wake up and say, 'That was fun, I would really like to do that again,'" Tucker told The Baltimore Sun's Aaron Wilson. "You always want to get to the big dance. Individually, I would like to make it to the Pro Bowl and make 100 percent of my kicks. I always try to set lofty goals.
"I want to leave it at that, I want to make all my kicks. That's something I was pretty close to last year, so it's definitely an attainable feat. There's no sense in setting goals you've already reached."
Basketball Player Makes Late Entry Into Draft, Visits Ravens
Head Coach John Harbaugh said last month there's a "good chance" the Ravens select a tight end in the upcoming draft.
One potential tight end prospect is coming out of nowhere. He hasn't played any college football, but reportedly visited the Ravens Sunday.
Chiefs General Manager John Dorsey first learned of Harris, a 6-foot-5, 237-pound post player, in 2011 when he was the Packers' director of football operations. The Chiefs put Harris through a workout where he ran the 40-yard dash in 4.52 seconds and recorded a 36½ vertical jump.
 "Things are happening very quickly for Demetrius," University of Wisconsin-Milwaukee coach Rob Jeter said last week. "Like I told all the [NFL] coaches, if you want him to shoot free throws, that's not your man.  But if you want him to catch a football, he can do that."
Harris was a high school all-state athlete in football and basketball, and was recruited to play both at Arkansas State. But he failed to qualify academically, so he played basketball at a community college for two years. He turned down another offer from Arkansas State to return to football.
While Harris isn't expected to be drafted, he will likely get a chance as a free agent and could boost his stock at his pro day workout on April 20.
"NFL personnel people used to complain that all the best tight end prospects were playing power forward in basketball," wrote McGinn. "But after tight end Antonio Gates, a free agent who played basketball only at Kent State, went on to stardom in San Diego, teams have searched for others like him."
Is Tavon Austin Overrated?
In this NFL Network video below, NFL Films senior producer and draft aficionado Greg Cosell says he would be surprised if West Virginia wide receiver and Dunbar High School product Tavon Austin dropped out of the top 10 of the draft.
Austin had a "spectacular" showing at the combine in February. He has an impressive resume tape. He compares to Percy Harvin and DeSean Jackson. And he has an impressive combination of versatility, playmaking ability and explosiveness.
But NFL.com's Bucky Brooks just isn't buying all the hype.
To Brooks, Austin is certainly an impressive talent, but he sees him as a No. 2 receiver because of his smaller size.
"I definitely see the similarities in playing styles, but neither Harvin nor Jackson has made a significant impact as a No. 1 receiver in the NFL," Brooks wrote. "And there haven't been many 5-foot-8, 174-pound receivers who have taken the league by storm. That's why I can't fully endorse Austin's rise as a potential top-10 pick, even with his ability to score from anywhere on the field.
"The NFL remains a big man's game, and it's hard for a diminutive pass catcher to function as a legitimate No. 1 receiver. I believe Austin can be an explosive complementary player, but you don't take role players early in the draft."
Of course, that's music to the ears of Ravens fans who like the idea of Austin complementing speedy deep threat Torrey Smith. But do NFL executives agree with Brooks enough to let the receiver fall to No. 32?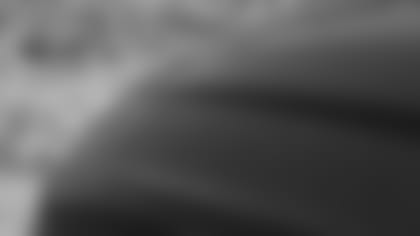 Jones Appears OK After Car Accident
It appears defensive lineman Arthur Jones is OK after being in a car accident.
His car will need a little work, though.
"Thank you lord for saving my life today," Jones tweeted yesterday afternoon. "He has a plan for me. And I guess today wasn't the day to die. … Not worried about the car. It can be replaced.  I'm just happy I'm still breathing.  Sooo...grateful.
"Some guy wasn't paying attention & swerve into my lane hitting my car causing me to lose control. My car did a 180 and I ended in a ditch."