No Schedule Today; Best Guesses For Release
The NFL usually releases the league's entire regular-season schedule the Tuesday the week prior to the draft.
But NFL spokesman Greg Aiello released a video statement saying that's not the case this year.
"The schedule will be released as soon as we have one. We don't have one yet. We're working on it – should be soon. Stay tuned," he said.
And if his words weren't clear enough, Aiello also held up a piece of paper while he was talking, which read: "The schedule is not finalized and no release dates has been determined."
So, when can it be expected?
The trend of unveiling the schedule a week before the draft was broken in 2010 when the league moved to a Thursday night primetime draft format. That year, the schedule was revealed two days before the draft.
"If you're looking for a best guess as to the schedule's release, April 23 would be it," NFL.com's Gregg Rosenthal wrote. "But that's just a guess. The schedule also might come out after the draft in another effort to 'stretch out' the NFL calendar and keep football high in the headline stacks." '
The other thing to keep in mind is that the league usually announces the season-opening game prior to unveiling the rest of the schedule. But Aiello told The Baltimore Sun there are no plans to announce that matchup in advance of the full schedule.
We already know that game will feature the Ravens as the defending Super Bowl champs, and we know it will be on the road on Sept. 5. We just don't know Baltimore's opponent.
Many are predicting a Ravens-Broncos rematch of the AFC divisional playoff game. That game already has so much hype surrounding it, NFL.com put together the movie trailer below entitled "Sprint to the Summit."
The race to the top of the AFC starts this fall: Baltimore Ravens vs. Denver Broncos.
Ravens To Sign Veteran QB Caleb Hanie
The Ravens are expected to sign former Bears and Broncos quarterback Caleb Hanie, according to ESPN Chicago's Jeff Dickerson.
It isn't unusual for Baltimore to add a third quarterback (and even more) to the roster prior to training camp as the team needs more than two arms throwing balls to a larger roster throughout the offseason workouts and activities.
The signing shouldn't be thought of as an indication of dissatisfaction with backup quarterback Tyrod Taylor. However, the Ravens do like to have competition at every position.
"Caleb Hanie provides depth, another arm for offseason, preseason," tweeted Aaron Wilson. "Ravens are happy with backup Tyrod Taylor. Competition keeps people sharp."
Hanie, 27, started four games for the Chicago Bears in 2011, but didn't start any games for the Broncos last year as he backed up Peyton Manning.
The Bears lost all four games in which Hanie started and he was replaced by Josh McCowen.
"Hanie will be in a similar situation that Curtis Painter was in last year's training camp," Wilson wrote. "The Ravens signed Painter, a former starter with the Indianapolis Colts, to provide competition for Taylor and to make sure the team had enough quarterbacks to get through the preseason and all the training camp workouts. Painter was released after the final preseason game as coach John Harbaugh opted to go with only two quarterbacks on the roster for the second consecutive season."
Harbaugh Thought Ravens Would Keep Boldin
While John Harbaugh helped determine the Ravens' offseason business plan and knew they wouldn't be able to keep all players, the head coach said he was surprised that the team couldn't hold onto one player: Anquan Boldin.
"I thought that was going to work out in all honesty.  I thought we'd find a way to keep Anquan and it just didn't [happen]," Harbaugh told WBAL's Brett Hollander yesterday.
The Ravens had until 3:55 p.m. that day to make a decision on Boldin. Harbaugh said he didn't make a call to another team to gauge trade interest until they were right up against that deadline. After he saw that neither side could budge, he phoned Minnesota at 3:15 p.m. and then his brother, Jim, at the 49ers at 3:25 p.m. Jim made the better offer and got Boldin.
"That's how late it came to trying to get it accomplished," he said. "It wasn't a happy call."
"We had a number that we felt we could work with Anquan this year and try to extend that out into future years and try to make it happen. I think when he sat down with his agent and they looked at the business side of it, it wasn't in their best interest to do that.  How can you argue with that? Our business side, we felt like we had to stand firm and Anquan felt like he had to stand firm and then it just became that it wasn't going to work out."
Here are a few other tidbits from Harbaugh's interview:
There were close to 55 players that attended yesterday's start to the Ravens' voluntary offseason conditioning program.
He didn't want to do the interview with David Letterman after the Super Bowl, but was happy that PR guru Kevin Byrne talked him into going because it ended up being a great experience.
He wasn't happy at first with Jacoby Jones' decision to participate in "Dancing With The Stars" and told his wide receiver as much. But now that he's seen how much Jones is training – about eight hours a day – Harbaugh believes that it's "the best training [Jones] could possibly get." Harbaugh added with a laugh, "At least that's what I'm telling myself."
Harvard Fullback Visited Ravens
Even though they have one of the NFL's best fullbacks – Vonta Leach – on their roster, the Ravens are doing their due diligence with college fullback prospects.
Harvard fullback Kyle Juszczyk, a mid-to-late-round* *target, visited the Ravens, according to The Sun.
He was didn't attend the NFL combine, but ran a 4.71-second, 40-yard dash at his pro day workout, notched a 37-inch vertical leap and benched pressed 225 pounds 24 times.
Juszczyk also played tight end last year, catching 52 passes for 706 yards and eight touchdowns.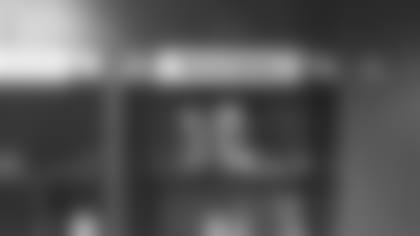 @GerrySandusky: Marcus Spears tweeted a photo today of his new Ravens locker and number, 96. Doesn't bode well for who wore 96 last yr. [Twitter]
Elliot Harrison named the Ravens-Texans matchup as one of the top-13 games of the 2013 season, with Ed Reed set to return to M&T Bank Stadium for the first time in a Houston uniform. Harrison did not name the Ravens-Broncos matchup in his top 13, and it didn't make the "just missed the cut" list either. [NFL.com]
Bryant McKinnie said the Miami Dolphins have not reached out to him despite their glaring hole at the left tackle position.  McKinnie said the Ravens, Saints and Chargers are the three teams that have expressed interest. "[The Ravens] have also been hitting me up and keeping me in the loop," he said. "They also want me to keep them in the loop to make sure I don't make any decisions before anything is final." [ESPN]
Ravens defensive lineman Chris Canty is speaking out at "A Call to Men" seminar to prevent domestic violence. "The culture of football rewards physical aggression and violence, but that's not the way you should work out your emotional issues or personal issues with peers, the opposite sex or people at home," Canty said. "We want them to take out their emotions on the weights or conditioning, not in a negative way. You can show your emotions and be vulnerable and you're not being weak. We need to break that stigma." [The Baltimore Sun]
Falcons quarterback Matt Ryan isn't focusing on contract talks as he appears destined to become the NFL's next $100 million quarterback. [Associated Press]
Todd McShay, Mel Kiper, Chris Sprow and Field Yates teamed up to give a full Ravens breakdown as they enter the draft. [ESPN]