Interpreting Ravens' Poker Game
It's draft time, which means it's also time to put on your poker face.
All 32 teams know which prospects they like, but they don't want anyone else to know.
So the Ravens' top priority during Tuesday's pre-draft press conference surely must have been to not tip their hand. Both Assistant General Manager Eric DeCosta and Head Coach John Harbaugh said they weren't going to give away any "secrets."
"Absolutely, it's a poker game. They're playing poker right now," my colleague John Eisenberg told WNST yesterday. "It's a 32-man table and they're tipping some stuff, bluffing some stuff so you always take it with a grain of salt."
One example of trying to throw off the competition, said Eisenberg, was when General Manager Ozzie Newsome said he has a safety on the draft board that he could pick in every round. It's safe to say the Ravens will have a new one by the end of the selections Saturday, but which round are they really targeting?
"Does that mean they're going to take one in the first round? No," Eisenberg said. "They might take him in the seventh round. Whether some people think that means they're leaning toward some safety in the first round … there's nothing like putting out a little disinformation, right?"
The Ravens may not only be playing poker with other NFL teams, but the game could be extending into free agency.
Two topics still buzzing from Tuesday are Newsome's comments on offensive lineman Kelechi Osemele potentially taking over the left tackle position and linebacker Rolando McClain simply "getting an opportunity to come and make our 53-man squad. That's it."
Eisenberg said the Osemele statement sent two messages:
"That's the most surprising thing I got out of that [conference]," the BaltimoreRavens.com columnist said. "It means that I think they'd like to keep [Michael] Oher on the right side. … And of course they're daring [free agent Bryant] McKinnie. But it's anyone's guess as to what will happen with McKinnie. They're going to let that thing play out."
Oher started all 16 games at left tackle during the regular season, but moved to the right side when the Ravens reinserted McKinnie on the blind side during the playoffs. While the offensive line seemed to be at its best with Oher on the right and McKinnie on the left, Eisenberg believes the Ravens have their doubts about whether McKinnie can play an entire season.
And then there's the McClain signing …
The 23-year-old McClain could be a major steal for the Ravens as a former Butkus Award winner and eighth-overall pick. Some have applauded Newsome for the move because it's a low risk (one-year for a reported $700,000) for a potentially high reward (finding a solid replacement for Ray Lewis).
But Eisenberg says that Newsome is downplaying the situation.
"I think the way Ozzie sort of said it, he almost distanced himself from it yesterday with his comments, 'We're just going to give him a chance to compete for his job.'" Eisenberg said. "I think what that is, is the Ravens trying to control the narrative with him."
"They don't want high expectations. If he comes in to play, he's replacing Ray Lewis," Eisenberg said. He repeated the sentiment with more emphasis: "He's the guy that is replacing Ray Lewis.
"That becomes a pretty interesting career move there. And so I think they're trying to low key that, and him, as much as possible and try to take some pressure off of him both on the field and off the field."
Ravens Three-Round Mock Draft Missing WR
While the first round gets all the attention, many times drafts are made in the second and third rounds.
Go back just one year. The Ravens had two second-round picks, after trading out of the first, and picked up linebacker Courtney Upshaw and Osemele. Both were starters in the Super Bowl.
Then Baltimore nabbed running back Bernard Pierce, who turned out to be the perfect complement to Ray Rice and impacted the Ravens run game immediately.
As Eisenberg said, "you can find gold" in the second and third rounds.
With that, let's take a look at ESPN draft guru Mel Kiper's three-round mock draft (which he says isn't really a mock draft, but his "preference for each team at each slot") for the Ravens.
Round 1 (32): LB Kevin Minter, LSU Round 2 (62): OT Terron Armstead, Arkansas-Pine Bluff Round 3 (94): S Phillip Thomas, Fresno St.
Kiper's Analysis: "The Ravens suffered what some might call some big losses in the offseason, but they also 'lost' a lot of guys they were really content to let go. And this draft will make them better and deeper at a few key spots. For starters, as the GM I'm getting my middle linebacker in Round 1 in Minter. I have Manti Te'o and Alec Ogletree coming off the board earlier, but am plenty content with this pick. I also grab an athletic offensive tackle prospect in Round 2. Michael Oher might have to play left tackle this season, which is problematic for the offense, but Armstead has a chance to develop, and if Oher moves, right tackle becomes just another void to fill. Lastly, I take advantage of a deep safety class and with the last pick in Round 3, get one capable of starting. Three big needs are covered here for Baltimore."
While he likes the Minter and Thomas picks, Hensley believes that Armstead is a "project who would be a reach in the second round."
Also, there is one position of need clearly missing: wide receiver.
"My only problem is the lack of a wide receiver," Hensley wrote. "The Ravens haven't replaced Anquan Boldin and need to find a pass-catcher in the first couple of rounds."
If the Ravens do target a receiver early, The Baltimore Sun's Jeff Zrebiec believes an ideal fit could be Clemson's DeAndre Hopkins because he would complement the speed of Torrey Smith and Jacoby Jones. Hopkins could make the tough catches underneath and in traffic.
"Hopkins would certainly fit the mold and the Ravens have hosted him on a visit to their team facility," Zrebiec wrote. "It's not an incredibly deep wide receiver draft, but there should be enough available for the Ravens to upgrade at the position.
"There will probably be a run at wide receiver on Day Two of the draft, meaning the Ravens may have to strike for a pass catcher in the second or third round. It is a really strong draft for tight ends and the Ravens should benefit. It will be an investment for their future because both Pitta and Dickson could hit free agency following the 2013-14 season."
Who Threatens To Dethrone Ravens?
Consider the target fixed directly on the Ravens' back.
As the Super Bowl champs, all 31 teams are looking to dethrone Baltimore.
Who should the Ravens be most worried about?
In the video below, NFL analysts Willie McGinest says both the New England Patriots and Denver Broncos are dangerous, but the Patriots are the most likely to knock Baltimore from its perch.
Prisco Changes 2010 Draft Grade From A to B
With three years of hindsight, CBSSports.com's Pete Prisco re-graded the Ravens' 2010 draft selections.
Round 2 (43) Sergio Kindle
Round 2 (57) Terrence Cody
Round 3 (70) Ed Dickson
Round 4 (114) Dennis Pitta
Round 5 (156) David Reed
Round 5 (157) Arthur Jones
Round 6 (194) Ramon Harewood
While the first two picks didn't pan out as expected, the Ravens found diamonds in the fourth and fifth rounds with Pitta and Jones. Overall, Prisco dropped Baltimore a full letter grade from an A, which he gave them in 2010, to a B.
"[T]hey used two second-round picks on Alabama nose tackle Terrance Cody and Texas linebacker Sergio Kindle," Prisco wrote. "Cody hasn't been as good as hoped and Kindle was in a car wreck that impacted his career before joining the Ravens. They did land tight ends Ed Dickson (third round) and Dennis Pitta (fourth round). And defensive end Arthur Jones came in the fifth round."
Should we dock Prisco a letter grade for citing a car crash, not a fall down the stairs, for impacting Kindle's career?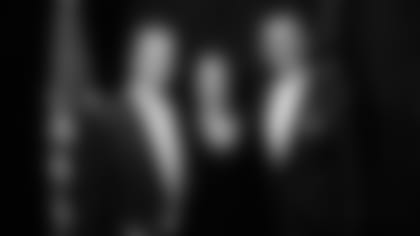 @RavensInsider: Caleb Hanie's one-year Ravens deal: $715,000 salary, split salary is $383,000. Salary-cap figure: $555,000 under minimum salary benefit [Twitter]
@RavensSalaryCap: With QB Caleb Hanie now on the books, the Ravens are $3,845,252 under the Salary Cap. Will get an additional $2.5M for Pollard on 6/2. [Twitter]
@TeamFlacco: Doing a public appearance before the season - Saturday, April 20 (4-6 pm) - DoubleTree By Hilton in Pikesville, MD. [Twitter]
@Huffy247: Thank you RT @gregroach @Huffy247 congrats on induction to Irving ISD athletics HOF. Well deserved! [Twitter]
Check out Coach Harbaugh in his fancy tux and his wife Ingrid meeting President Barack Obama at the Gridiron Dinner last month.
@RapSheet Ian Rapoport]: While [talks with James Harrison/#Bengals have broken off, the team remains interested in Karlos Dansby. Nothing has ramped up yet tho [Twitter]
Broncos move on without Elvis Dumervil. [The Associated Press]
New Ravens defensive lineman Chris Canty helps "A Call to Men" to end domestic violence. [WJZ]