Sportsbook Sets Smith's Receiving Yards Total
How much steam does receiver Steve Smith, Sr. have left in those 35-year-old legs?
That's been the debated question since the Ravens signed him to a three-year deal last month. After all, he's been through 13 grueling NFL seasons and churned out more than 12,000 yards.
Oddsmakers are a pretty good source to turn to for predictions, given their affinity for winning money. And it turns out, those oddsmakers are expecting Smith to have a rather big year.
Sportsbook and betting website Bovada set the over/under on Smith's total receiving yards at 950½.
If Smith finished the season anywhere near that number, I'd say the Ravens would be extremely happy and General Manager Ozzie Newsome would be praised once again for betting correctly on an aging receiver.
To put 950 receiving yards in perspective, only No. 1 receiver Torrey Smith topped that mark last season with 1,128 yards. Nobody else came close. 
Anquan Boldin, who many believe Smith will replace in terms of grit and production, led all Ravens receivers in 2012 with 921 yards.
Below are the yards totals for Ravens pass catchers in 2013:
Torrey Smith: 1,128 yards
Marlon Brown: 524 yards
Jacoby Jones: 455 yards
Dallas Clark: 343 yards
Ray Rice: 321 yards
Ed Dickson: 273 yards
I've never been a gambler, but what do you think?
Are you taking the over or under on Smith hitting 950½ yards in 2014?
Ray Rice Wedding Reception Set For June
Running back Ray Rice got married Friday, but he's going to wait a few months to officially celebrate.
"Now, we know the couple is planning to celebrate the occasion with a standard reception – but it won't go down for another couple of months.  The reason for the delay is unclear," TMZ staff wrote.
Rice was indicted Thursday on third-degree aggravated assault for allegedly assaulting Palmer at an Atlantic City casino in February.
Poll Results: Confidence Level In Tyrod Taylor
The Ravens are looking to bring in a third quarterback to compete with Tyrod Taylor as he heads into the final year of his rookie contract.
Taylor has beat out competition many times in the past, but after the team reportedly expressed interest Brandon Weeden, a more experienced starter, Taylor's future has become more uncertain.
"We've been very happy with Tyrod, and we feel like he has a great future, but we have been a little disappointed how he's played in games certainly. We feel like he's a lot better than he's showed," Head Coach John Harbaugh said at the NFL owners meetings. "I know he feels that way too."
A SportsNation poll revealed that only 12 percent of 926 voters have a "high" confidence level.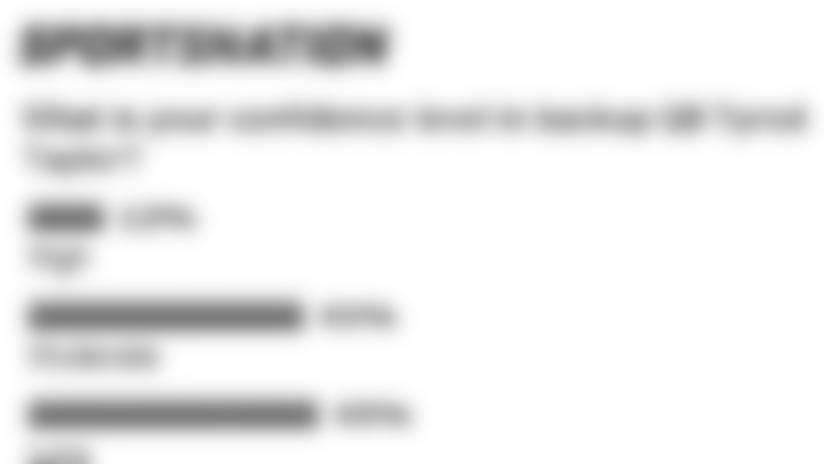 Keep An Eye On Texans QBs
Harbaugh told reporters yesterday that the team is in discussions with a couple veteran quarterbacks, and that one or some have worked with Offensive Coordinator Gary Kubiak.
The Baltimore Sun's Jeff Zrebiec says it might be worth keeping an eye on the Houston Texans quarterback situation.
"Ravens could draft a QB in mid to late rounds. But - and these are my words  - probably worth keeping eye on Texans QB situation," he tweeted. "Texans already have 3 QBs on roster (Fitzpatrick, Yates, Keenum) and are likely to draft 1. Could lead to one of their QBs getting released."
The Texans traded quarterback Matt Schaub to the Oakland Raiders earlier this offseason and later signed Ryan Fitzpatrick to replace him. Even though Fitzpatrick has been a regular starter in since 2008, Texans Head Coach Bill O'Brien said Fitzpatrick will compete for the No. 1 spot and the team could draft one or even two quarterbacks.
After finishing last season with the league's worst record (2-14), the Texans hold No. 1 overall pick in May's NFL Draft. Texas A&M's Johnny Manziel and UCF's Blake Bortles are considered the favorites for the selection.
With Fitzpatrick on the roster, the Texans could decide to ease their rookie into NFL action. If they don't use the top pick on a quarterback, Fitz is considered the favorite to beat out Case Keenum and T.J. Yates for the starting job.
Jah Reid Pleads Not Guilty
Jah Reid pleaded not guilty to two misdemeanor counts of battery stemming from an alleged altercation at a Key West, Fla. strip club, according to Aaron Wilson of The Baltimore Sun.
Reid is scheduled for a pre-trial conference on April 30.
According to police, Reid allegedly head-butted, punched and kicked a man following an argument that was prompted by Reid being bumped into. Per an affidavit, the incident was captured on video surveillance.
Reid is entering the 2014 season in a competition for the starting right tackle position with Rick Wagner and a potential draft pick.