Ravens Free Agency Grades
Do you give high grades to teams that have little activity because they rely on the draft? Or do you give high grades to teams that forked out cash to fill needs? Or do you give high grades for allowing guys to walk instead of overspending?
ESPN's Matt Williamson put together his grades yesterday, and was specific about his system.
For a team to earn a high grade from Williamson, they had to do *something *in free agency.  He also factored in organizations' track records, free agent value, overspending, player retention, overall roster improvement and positioning for the draft.
Below is a summary of the Ravens' key signings and losses thus far (with reported value), plus Williamson's grade with colleague Jamison Hensley giving his second opinion:
| | |
| --- | --- |
| Key Signings | Key Losses |
| QB Joe Flacco (6 years, $120.6 million) | WR Anquan Boldin (traded for 6th-rounder) |
| OLB Elvis Dumervil (5 years, $35 million) | DE Paul Kruger (Browns, 5 years, $40 million) |
| S Michael Huff (3 years, $6 million) | LB Dannell Ellerbe (Dolphins, 5 years, $35 million) |
| DT Chris Canty (3 years, $8 million) | S Ed Reed (Texans, 3 years, $15 million) |
| DT Marcus Spears (2 years, $3.55 million) | CB Cary Williams (Eagles, 3 years, $17 million) |
| DT Art Jones (1 year, 2nd-round tender) | LB Ray Lewis (retired) |
| LB Albert McClellan (1 year) | C Matt Birk(retired) |
| Safety James Ihedigbo (1 year) | S Bernard Pollard (released) |
| WR/KR David Reed (2 years) |   |
| OL Ramon Harewood (1 year) |   |
Williamson's Ravens Grade: C-plus
"The Ravens roster has been noticeably weakened, but when analyzing their offseason, we can't overlook that the Super Bowl champions have locked up Flacco. And while they have lost many of their own, Baltimore brought in quality talent as well. Dumervil very well might be every bit the pass rusher that Kruger was last year, and guys like Williams are replaceable. If Terrell Suggs is the Suggs of old, the rotation of Dumervil on passing downs and Courtney Upshaw on early downs could be very effective and keep the Ravens' exceptional edge rush alive.
"I also love the addition of Canty, a versatile defensive lineman with great length who consistently gets an interior push in the passing game. Baltimore loves to align its defensive linemen in a variety of ways, which is exactly what Canty can provide in either a 4-3 or 3-4. It could be argued that Huff is actually the superior player to Reed right now, and Huff is very well suited for that center-field duty. This is an extremely strong organization, and it should find some bargain free agents going forward, but you have to question what the effect of losing leaders like Ray Lewis, Reed, Matt Birk and Anquan Boldin will have on the entire organization."
Hensley's Ravens Grade:  B-minus"The Ravens couldn't overpay for linebacker Dannell Ellerbe and safety Ed Reed, and in return, they got great value on pass rusher Elvis Dumervil and safety Michael Huff. The worst decision was trading wide receiver Anquan Boldin."
Safety Depth Gets Even Thinner
After the Ravens announced yesterday that safety Christian Thompson was suspended for violating the NFL's substance abuse policy, Fox Sports' Jason Butt tweeted, "Wouldn't be surprised if Bernard Pollard is chuckling at the #Ravens need for more safety depth when 2013 season opens."
But I wouldn't be surprised if Newsome knew the suspension could potentially happen when he released Pollard less than three weeks ago.
"We have been aware of this situation for some time," Newsome said of Thompson.
All the same, the Ravens are now thinner at an already thin position. They only have three experienced safeties that can suit up for the first four games of the season – Huff, Ihedigbo and Omar Brown.
"Some are probably asking: Who's Christian Thompson?" wrote Hensley. "He's a fourth-round pick from last year. And last season, this wouldn't be a big deal. But, after the Ravens parted ways with both starting safeties, Thompson had been considered one of the top backups for 2013."
Smith Not Scared By Offseason Losses, Says Flacco Unfairly Blamed
Receiver Torrey Smith dropped by the NFL Network studios in L.A. yesterday while he was in town to support teammate Jacoby Jones, who danced the rumba on "Dancing with the Stars" last night.
Smith was asked if he was worried by the Ravens' offseason losses. The third-year veteran said he might be if he hadn't already seen the team go through this before.
"It would scare me if I have not seen it, but when I first came in they cut Todd Heap, Derrick Mason, Willis McGahee – three great players," Smith said. "We ended up in the AFC Championship with me playing as a rookie, Jimmy Smith playing a lot as a rookie. It was a bunch of guys they plugged in. It has happened before and we bounced back fine.
"Ozzie knows what he is doing. He has two Super Bowl rings. You have to trust him. More than anything, I think they learned from their last time being at the Super Bowl; [now] trying to do something different. I say it all the time, if they were to cut me, I'd still trust in that guy. We have a great organization and I am proud to be a part of it."
Smith said that Flacco and his NFL record-breaking contract are unfairly blamed for some of the team's losses thus far.
He believes the criticism comes from those who don't understand how Flacco's contract was structured, especially in the first year of the deal which only makes a reported $6.8 million cap hit.
"All you see is that one person got paid, you don't know how it works or how the money is spread out," Smith said. "All you know is that he has been paid so you just assume all these guys who have been let go is because of Joe,* *which is unfair to Joe. That is not the case at all. He has a very salary cap friendly deal, at least for this year. So it was clearly a move by the guys on top. More than anything you have to trust in Ozzie."
Huff's Cap Friendly 2013 Number
The details of Huff's new deal have emerged, and he has a cap friendly number for 2013.
His three-year, $6 million deal only carries a cap number of $1.35 million this year, according to ProFootballTalk.com's Mike Florio.
"Huff received a $1.5 million signing bonus, and he'll earn base salaries of $850,000, $1.75 million, and $1.9 million in each of the next three seasons." Florio wrote. "Escalators could expand the base deal in 2014 and 2015.
"Of course, if the salary escalates too high, the Ravens could decide to move on.  For now, they'll move forward with a former top-10 pick under a contract that, relatively speaking, pays peanuts."
Florio Reminds Pollard That Harbs Did Speak Up
"Coach Harbaugh opened up the floor.  He asked us our opinion on things that were going good and things that wasn't going good and things that we needed to change," Pollard told 610 SportsRadio in Houston, via CSNBaltimore.com.
Pollard didn't like the idea that reporters linked his release from the team to that story, saying he was "a little offended" that Head Coach John Harbaugh didn't set the record straight.
But Florio says that's exactly what Harbaugh did.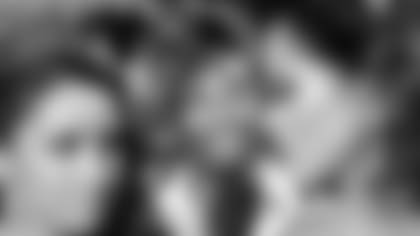 around with Torrey tackling Jacoby. The goofing around didn't end when the cameras came,* *as can be seen in the pic to the right … @TorreySmithWR: Typical Jacoby [Twitter]  * @RavensInsider: Penn defensive end-linebacker Brandon Copeland to visit Ravens on Thursday for local Pro Day. Copeland is from Sykesville [Twitter] * @334Upshaw41: Feels so good to be back! #ravennation * A heartwarming story with Jones spending time with children battling cancer … @Artj97: Thanks to @CaseyBaynes and  @CaseyCares for letting me spend time with such brave inspiring children at the circus [Twitter/YouTube]