Smith's Dislike For Steelers Already Growing
No. 89 is coming for ya, Pittsburgh.
Wide receiver Steve Smith, Sr. hopped on a Baltimore-bound flight last night to attend the Ravens' first voluntary offseason activity this morning. Smith will begin his work learning the offensive playbook, developing a rapport with teammates, getting into football shape and … learning to despise the Pittsburgh Steelers.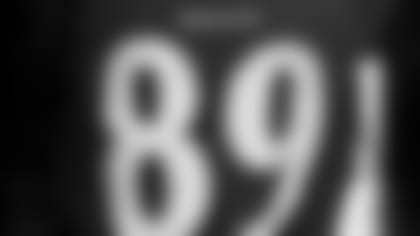 "Trophy case at the house. Return policy has expired. Flight to #ravennation is tonight. #agent89 #iceupson 89 comin," he tweeted.
There's the fire this rivalry needs after both teams finished last season with a lackluster .500 mark and missed the playoffs. It's also lost some key trash talkers over the past few years in Ray Lewis, Ed Reed, Hines Ward and James Harrison.
"They don't like us, and we damn for sure don't like them," Ward said in the video below.
I have a feeling Smith can aptly help fill the void for that kind of talk.
It's only been about a month since Smith became a Raven, but he certainly understands he's joining arguably the best rivalry in the NFL, if not in all of sports. That's an exciting prospect when coming from the Carolina Panthers, where the biggest rivalry may be with the Atlanta Falcons.
Panthers-Falcons, a.k.a. the I-85 rivalry, is a solid matchup, but it just doesn't compare to Ravens-Steelers, where 14 of the last 15 games have been decided by a single digit. And there's no dominant winner either, with the Ravens winning seven of those 15 games.
Smith will have no shortage of teammates willing to tell him stories of past fireworks between the two challengers. Several key veterans are expected at the voluntary conditioning program today, including quarterback Joe Flacco, linebacker Terrell Suggs and running back Ray Rice.
The 14-year veteran promised "blood and guts" when he gets a shot at his former Panthers team, and he can be guaranteed of two more blood baths next season against the Steelers.
For those craving a dose of hardcore football in April, here's an injection with the NFL Films video below dissecting the great rivalry.
Plan Is For McClain To Attend Workout Today
Rolando McClain is expected at the Castle today. In fact, by the time this story is posted, he'll probably already be hard at work.
The Ravens activated McClain from the reserve-retired list last week, making many wonder whether that was the first step to cutting the 24-year-old linebacker, or the first step to allowing him to get back into football shape at the Ravens conditioning program.
It appears to be the latter.
The plan is for McClain to join the Ravens as early as today, according to The Baltimore Sun's Aaron Wilson.
"At this point, he's a low-risk/no-risk investment," wrote ProFootballTalk.com's Darin Gantt. "If he's interested in being a football player again, Ravens General Manager Ozzie Newsome (a fellow Alabama man) appears inclined to give him a chance. If McClain doesn't get in shape, the only thing they've wasted is time and a roster spot, of which there are 90."
Count Ravens defensive tackle Terrence Cody, who was a consensus All-American with McClain for the Alabama team that won the national championship, as one who is enthusiastically waiting to see McClain in Baltimore.
"I'm real excited to have Rolando back, one of my old teammates and a guy I battled with and went to war with every day," Cody told Wilson. "To have him back with me is awesome. He's ready to do what he's got to do to get back on the field. He's humbled himself a lot. The previous things he's been through, I think he's learned from them and is ready to move on."
Cody vouched for McClain's ability to get into football shape and called him a "genius," noting he was on the Dean's list at Alabama and easily understands plays. Cody feels that if McClain can finally just get in the right environment, he will excel.
"The Ravens will get a really good guy and a really good player, an overall good teammate," Cody said. "When he's surrounded by good guys, he's a different guy. When he's surrounded by guys who want to play football and teammates ready to give up everything they have for him, he'll be different about everything. When he was in Oakland, he felt like the guys weren't playing for the team. He felt like they were playing for themselves.
"The Ravens will give him a fair chance, for sure. It's just up to him to use that opportunity. He wants to make the most of this chance, I know that for a fact. This is very important to Rolando."
Expect Ravens To Return Favor To 49ers
The Harbaugh brothers are spicing up the preseason, announcing they will participate in a joint week of practice following their preseason opener.
After making the cross-country trip, the 49ers will stay four extra days for one practice at M&T Bank Stadium and three more at the Under Armour Performance Center.
It is a big operation that the 49ers will have to move to Baltimore, and don't think John won't have to return the favor to Jim in the future, says 105.7 The Fan's Jerry Coleman.
"Don't be surprised when #Ravens train @49ers next summer, after playing in Preseason. In exchange for this year's arrangement. #reciprocity," he tweeted.
Cornerback Dark Horse First-Round Pick
Most analysts foresee the Ravens selecting an offensive lineman or safety with their No. 17 pick.
But one position that is flying under the radar that Baltimore could choose to solidify is cornerback.
"I believe cornerback is the dark horse choice for the Ravens in the first two rounds,' wrote ESPN's Jamison Hensley. "Darqueze Dennard and Justin Gilbert are the top two corners in the draft. There's a chance both will be gone before the Ravens select at No. 17. I wouldn't have a problem with the Ravens taking either one in the first round.
"The Ravens need a nickel back this year and could use a starter in 2015, when Lardarius Webb's cap number increases to $11 million." 
Ravens Interested In WRs Latimer, Bryant
With the signing of Smith, analysts have laid off the idea of the Raven picking a wide receiver in the first round.
But there are two projected pass catchers for the second or third rounds that Wilson indicated the Ravens are interested in: Indiana's Cody Latimer and Clemson's Martavis Bryant.
"Hearing Ravens' interest growing in Indiana WR Cody Latimer with buzz surrounding him as a rising draft prospect," wrote Wilson.