Vegas Predicts AFC North Finish, Ravens Go 8-8
The two biggest complaints about the Ravens schedule from what I can gather are: 1) the AFC North may be determined by Thanksgiving and 2) the stretch of four road games in five weeks starting on Oct. 5.
No, that distinction in the division belongs to the Cincinnati Bengals, says NFL.com.
The Bengals face a three-game road trip starting in Week 11 with New Orleans, Houston and Tampa Bay. Additionally, many of their toughest games – New England, Indianapolis and New Orleans – are on the road. Then their season could be decided in Pittsburgh with a short week of rest after a brutal Monday night game against Denver.
With the Ravens starting the season with three AFC North games in the span of 15 days, we will know very quickly who will have the edge.
"I view that as a positive for the Ravens who could send a message early that regardless of what happened last year, they are still the team to beat in the AFC North," wrote The Baltimore Sun's Jeff Zrebiec.
The teams are ready to start.
"Hey @Ravens, see you Sept. 7th to kick off the season #WhoDey," the Bengals official Twitter account wrote.
Can the Ravens send the message that they still reign in the division, as Zrebiec suggested?
If Vegas is right, the Bengals will win the division and the Ravens will go 8-8 for the second year in a row. The over/under win total for the Ravens is 8.5 games. Ravens fans will think an 8-8 prediction is ludicrous, but before you run to the betting window, ESPN Insider and betting guru Dave Tuley advises you to pass on the bet.
Cincinnati Bengals
2014 over/under: 9.5 (over 110/under -130)
ESPN blogger Coley Harvey's record prediction:10-6
Analysis: "Because of how weak the Bengals' strength of schedule is – 23rd – it's hard to think they'll have anything worse than a nine-win season," wrote Harvey. "With a rather favorable mix of challenging prime-time home games and a few lengthy stretches of home and road games (they play three straight at home across October and November before going on the road for three straight in November), 10 wins are possible for the Bengals."
Tuley's betting advice: Over 9.5 (like getting plus-money at 9.5 instead of laying heavy juice to get 9)
Pittsburgh Steelers 2014 over/under: 8.5 (over -120/under EV)
ESPN blogger Scott Brown's record prediction:10-6
Analysis:"The schedule is favorable with only one game out of the Eastern time zone and only two road contests against teams that had a winning record last season," Brown wrote. "The offense will carry a defense that is in transition and the Steelers will return to the playoffs after missing it in consecutive seasons for the first time under coach Mike Tomlin."
Tuley's betting advice: Under 8.5
Baltimore Ravens
2014 over/under: 8.5 (over -120/under EV)
ESPN blogger Jamison Hensley's record prediction:10-6
Analysis:"The Ravens still have the look of an 8-8 team, although a lot can happen in the draft," Hensley wrote. "What really helps the Ravens is playing against the AFC South and NFC South, two of the weaker divisions in the league. The Ravens could face three teams starting rookie quarterbacks (Houston, Jacksonville and Cleveland), which will inflate the win total."Tuley's betting advice: Pass on 8.5
Cleveland Browns
2014 over/under: 6.5 (over -160/under 140)
ESPN blogger Pat McManamon's record prediction:6-10
Analysis: "The Browns have made some improvements, but until the draft and until we see Brian Hoyer play, it's tough to say they're greatly improved," McManamon wrote. "The schedule appeared favorable until the dates were released, but it's tough to be overly positive about a team that has not given reason for optimism for 15 years."
Tuley's betting advice: Under 6.5
Secret Process Behind How Schedule Made
Want to know how the schedule is made?
Take a look at the four men in charge in the picture below (mobile users tap "View in Brower").
 NFL VP of Broadcasting Onnie Bose, NFL Senior Manager Of Broadcasting Jonathan Payne, NFL Senior VP of Broadcasting Howard Katz and NFL Senior Director Of Broadcasting Michael North.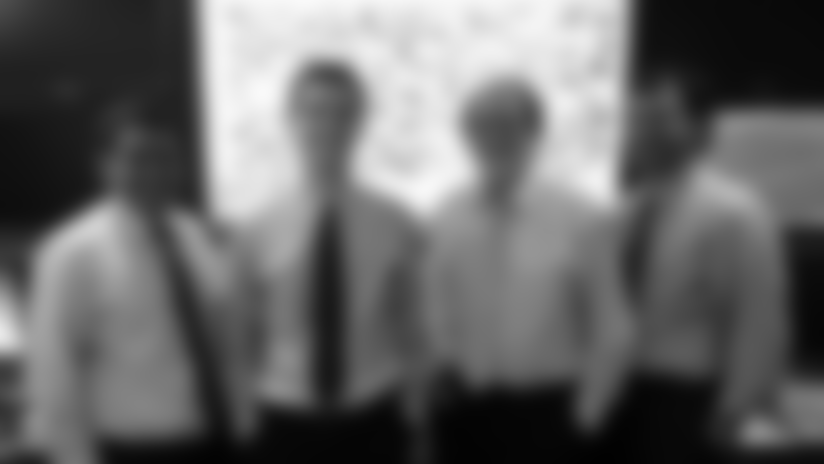 These four men are stuck in an NFL office with 40 computers for 70 days.
They sift through half a MILLION schedule possibilities, hoping to find just one 256-game masterpiece. They may have a near perfect schedule, but even trying to fix one problem could create a domino effect that leads to 12 new problems.
The office is kept under lock and key, where not even cleaning crews are allowed to venture.
MMQB.com's Peter King sets the scene, and you can read the full story here:
"In the fifth floor of the NFL's Park Avenue offices in Manhattan, there is a small, rectangular room with frosted glass," King wrote. "You cannot see inside with the stainless-steel VAL PINCHBECK ROOM sign on the outside, and you cannot enter without a keycard. With good reason: This is where four men assigned to sift through more than 500,000 schedule possibilities worked almost every day (including from 4 p.m. to 1 a.m. on Easter Sunday) for the past 10 weeks until completing the 2014 NFL schedule Tuesday night. No one without permission enters but them.  
"Not even the cleaning people at night. Three hours before the schedule was announced Wednesday, there was a garbage can in one corner of the room overflowing with Vitamin Water bottles, Pepsi cans and Starbucks cups. Across the room: an industrial-strength shredder with the remnants of the schedules that didn't make the cut. The NFL offices are white-glove tidy, but this place … not so much. As the four men of the schedule did their post-mortem, and shared it with The MMQB, it was a little gamey in the room. That's what happens when four men and 40 computers work for 70 days to invent what they hope will be a 256-game masterpiece—but which they know will bring charges of favoritism and cronyism from teams, TV networks and stadium operators."
Breakdown Of Ravens Draft Needs
For those of you that prefer to hold off on making any predictions on the Ravens season until the roster is set, you'd be counted as wise.
Hensley pointed out we still have 136 days until the regular season gets underway, and the roster is far from complete with the NFL Draft – GM Ozzie Newsome's major roster-building tool – still two weeks away.
As we look forward to May's draft, Hensley examines the Ravens' offensive depth chart, and his colleague Mel Kiper breaks down the team needs.
Wide Receiver: Torrey Smith; Marlon Brown; Aaron Mellette 
Wide Receiver: Steve Smith; Jacoby Jones; Deonte Thompson 
Left Tackle: Eugene Monroe; Kelechi Osemele 
Left Guard: Kelechi Osemele; Ryan Jensen; A.Q. Shipley 
Center: Jeremy Zuttah; Gino Gradkowski; A.Q. Shipley 
Right Guard: Marshal Yanda; Jah Reid 
Right Tackle: Rick Wagner; Jah Reid 
Tight End: Dennis Pitta; Owen Daniels; Matt Furstenburg 
Quarterback: Joe Flacco; Tyrod Taylor 
Fullback: Kyle Juszczyk 
Running Back: Ray Rice; Bernard Pierce; Justin Forsett  The biggest team needs include: free safety, tight end, right tackle and wide receiver, says Kiper.
"What stood out the most while compiling the depth chart was the Ravens' lack of depth at offensive tackle, which is why right tackle is the biggest question mark on offense," added Hensley.
"What the Ravens do in the draft could bump Forsett, Furstenburg and either Mellette or Thompson off the three-deep chart. If the Ravens take a wide receiver in the early to middle rounds, it would put the roster spots of Mellette and Thompson in jeopardy. The Ravens only carried five wide receivers last season. It could also be tough for Furstenburg to make the team as well. Even if the Ravens don't draft a tight end, it's expected that they'll pick up a blocking tight end at some point."