Jacoby Jones Looks Buff In Gun Show
When you put a tall string bean like the 6-foot-2, 212-pound Jacoby Jones on a football field with beastly linebackers, giant offensive tackles and big-bellied defensive linemen, he looks … well, scrawny.
Don't let the on-field comparisons fool you, though. Jones has got some guns and he wasn't afraid to show them off during his NFL AM interview Thursday.
The always hilarious wide receiver was kind enough to sneak in an interview prior to one of his beastly early-morning workouts at the Under Armour Performance Center, and Steve Wyche was sure to thank him, while stroking his ego a lil' bit with a small compliment.
"Alright Jacoby, I know you have to go lift some weights right there. You're looking buff as it is," Wyche said.
"Yeah, I've been in the weight room," Jones replied.
And then he flashed to the cameras the sweet pose in the image above, flexing his hulking biceps for all to see.
Thank you, J.J. Thank you.
Mobile users tap "View in Browser" at the top of the page to check out the gun show in the video below.
Jones: I See It On Smith's Face – Panthers Circled On Calendar
OK, now for the real reason Jones was on NFL AM.
He was there to give his reaction to the Ravens 2014 schedule – although, he mostly talked about Steve Smith, Sr.'s reaction.
The Week 4 matchup against the Carolina Panthers has been dubbed one of the best revenge games of the season after Smith was cut from the team and said, with tongue firmly planted in cheek, there would be "blood and guts" everywhere.
Naturally, everyone wants to know how Smith feels about getting the chance to face his former team early in the season. Jones can already see Smith's eagerness ... for a game 156 days away.
"I just think that he's got a chip on his shoulder. He's ready to work, I can tell you that," Jones said.
"He hasn't mentioned [the game], but I can just see it in his face. I think he's got it saved in his 'notes' in his phone; he's been looking at it for weeks."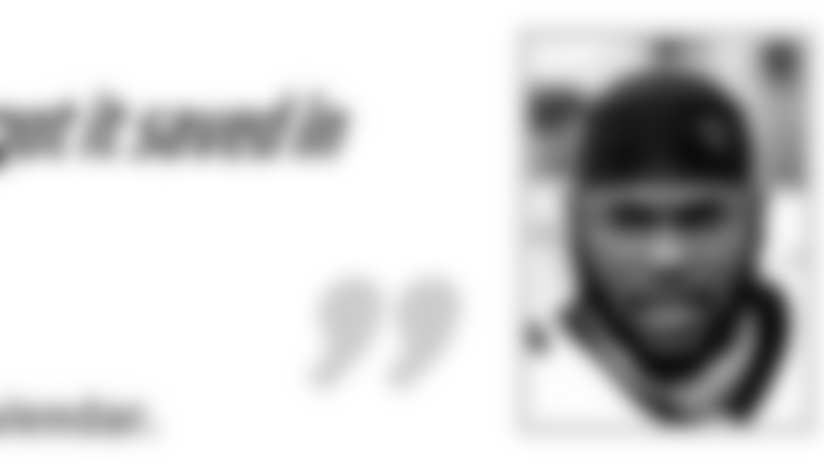 You don't have to read Smith's face to get an idea of how fired up he is. You can just read his Twitter account.
When the schedule was released Wednesday night, Smith re-tweeted one of our Ravens posts highlighting the grudge match and sarcastically asking fans if they think he will be ready come Sept. 28.
He then engaged in an unprompted, entertaining back-and-forth with former teammate DeAngelo Williams.
"@DeAngeloRB week 4 don't come in with dancers or deep 826 ain't going to work lol," Smith wrote.
 "@89SteveSmith hey we will have a game plan and i will make sure I have my goggles just in case things get ugly but panthers win big dog lol," Williams replied.
If this is the talk we're getting in April, I can't wait for September.
@89SteveSmith hey we will have a game plan and i will make sure I have my goggles just incase things get ugly but panthers win big dog lol — DeAngelo Williams (@DeAngeloRB) April 24, 2014
Saban: McClain In 'Great State Of Mind' Before Workout
Prior to Rolando McClain's curious second retirement from football, Alabama Head Coach Nick Saban met with the young man and thought he was ready for his Ravens workout.
Saban had served as a mentor and coach during the year McClain planned on using to temporarily step away from the game to get his personal life in order. Those encounters made Saban think the 24-year-old linebacker was ready to get back in the game.
"He was in a great state of mind and seemed like he was excited about going to play," Saban said Tuesday, per AL.com.
"He'd been in Tuscaloosa and done a really good job in school. We just want the guy to be successful and want him to be happy. And anything we can do to help him, I think he knows we're there for him."
Eugene Monroe Baby Boy Pics
I have to admit, for some reason I got a little anxious when Ravens left tackle Eugene Monroe tweeted this yesterday afternoon:
Perhaps it brought back all the memories of going through the experience three times myself. Perhaps I was worried for Monroe's wife. Who wants to give birth to the child of a 6-foot-5, 306-pound mammoth?
Turns out, everything went well and at least the baby was only eight pounds, seven ounces. That's still a pretty hefty baby, but he didn't beat the world-record 22-pound Italian baby. Something I wouldn't put past the child of Monroe. Shoot, a Boston baby born yesterday was 14 pounds.
In the end, the baby is healthy and mom, dad and big sister seem to be enjoying little Xavier Stone Monroe.
Check out the pics Monroe posted on Instagram last night.
Even Great Franchises Have Bad Drafts … Anniversary Of Ravens' Worst
You know you nailed a pick when analysts conduct a "draft do-over" and have you taking the same player. It's even more impressive when you have the last pick in the first round.
That's what happened when NFL.com's Bucky Brooks re-did the 2013 draft. Brooks leaves safety Matt Elam with the Ravens at No. 32, noting "Elam was a solid contributor to the Ravens' defense as a rookie starter."
General Manager Ozzie Newsome and company are known for their draft prowess, but not even his team can get it right *all *the time.
The date was April 24, 2004. Baltimore selected defensive tackle Dwan Edwards, wide receiver Devard Darling and linebacker Roderick Green with its first three picks. The draft class ended an eight-year streak of selecting at least one Pro Bowler, says Hensley.
"The problems with the 2004 draft class actually started a year earlier," Hensley wrote. "The Ravens didn't have a first-round pick in 2004 because they traded it to the New England Patriots to move back in the first round of the 2003 draft to take quarterback Kyle Boller. The Patriots used that first-round pick to select nose tackle Vince Wilfork, a five-time Pro Bowl player. 
"In 2004, Baltimore had targeted safety Bob Sanders in the second round, but the Indianapolis Colts selected him seven picks before the Ravens were on the clock. The Ravens eventually used the 51st overall pick on defensive tackle Edwards, a serviceable player who didn't become a full-time starter until his fourth year in the league." 
Below is the full 2004 draft class:
1st round -- None (traded to New England)
2nd round -- Dwan Edwards, defensive tackle, Oregon State
3rd round -- Devard Darling, wide receiver, Washington State
5th round -- Roderick Green, outside linebacker, Central Missouri State
6th round -- Josh Harris, quarterback, Bowling Green
6th round -- Clarence Moore, wide receiver, Northern Arizona
7th round -- Derek Abney, wide receiver, Kentucky
7th round -- Brian Rimpf, guard, East Carolina
NFL Commissioner Roger Goodell said owners will discuss expanded playoffs at league meetings on May 20. Goodell noted it is possible owners could approve expanding playoffs as early as this season, unless a vote is not taken. [NFL.com]
After the league voted last month  to move PATs to the 20-yard line during the first two weeks of the preseason, those plans have changed. The NFL Vice President of Officiating Dean Blandino confirmed that extra points now be set at the 15-yard line, the equivalent of a 33-yard field goal. [NFL.com]
@Ravens: Ray Lewis will join @espn's coverage for the first round of this year's #NFLDraft. [Twitter]
@RavensInsider: It's a one-year contract for former Maryland wide receiver LaQuan Williams to rejoin the Ravens [Twitter]
@RavensSalaryCap: LQWilliams deal likely 2 b a min deal of $570K, as he didn't accrue season of service time last yr. Basically same he would have made in '13 [Twitter]
@JonMeoli [The Baltimore Sun]: The advantages of the Ravens' third-place schedule are lessened by tough road games at New Orleans, Indianapolis. [Twitter]
@TorreySmithWR: RT @ufc: @TorreySmithWR Who you going for at #UFC172? Main & co-main picks: @JonnyBones or @gloverteixeira?.....going with the home team JBJ [Twitter]
@baltimoresun: @JonnyBones: "Arthur has won a Super Bowl here in Baltimore, and now I'll get to win my world title here." [Twitter]
Wow … @TyrodTaylor: #TBT senior year. TD toss to 4stillrunning [Instagram]