Take A Bow, Ravens. Move Nobody's Talking About
You rarely hear Eric DeCosta says things like, "we started to sweat a little bit" and things got "pretty scary."
But that's how the Ravens' assistant general manager described the war room atmosphere in the second round of the NFL draft when executives saw that coveted Kansas State linebacker Arthur Brown was about to be taken off the board before the Ravens got on the clock.
That's when General Manager Ozzie Newsome and his team decided to pull the trigger to move up six spots, and dealt their 62nd pick along with fifth- and sixth-rounders to Seattle. (The sixth-rounder was the one Baltimore acquired from the Anquan Boldin trade.)
The move isn't getting much attention on the national level, but long-respected Sports Illustrated columnist Peter King thinks it was the kind of trade that could end up being a big deal when we look back on it in a couple of years.
"It's well-known how smart Ravens GM Ozzie Newsome and his staff are at working the draft. But on Friday, they quietly made a deal that could pay dividends for years."
King revealed that the teams making the Ravens sweat were AFC playoff contenders Houston Texans and Denver Broncos. Baltimore will face off against both during the regular season, and there's a good chance for a rematch in the playoffs.
Houston was set to take Brown with their 57th pick, and he was a "strong consideration" for Denver at 58. With the Ravens moving ahead, the Texans decided to take South Carolina safety D.J. Swearinger and the Broncos selected Wisconsin running back Montee Ball.
Not only did the Ravens prevent their rivals from getting better at the linebacker spot, but they got somebody who King thinks could aptly fill in for departed future Hall of Famer Ray Lewis.
"Brown's a potential captain, the kind of leader the Ravens hope two or three years down the road will start to fill the void left by Ray Lewis," King wrote.
Added The Baltimore Sun's Matt Vensel: "Years later, if Brown becomes a Pro Bowler, we may be talking about how close he came to being a big part of another team."
McKinnie Visit To Miami 'WENT PRETTY GOOD'
Interest for Ravens free agent Bryant McKinnie is starting to heat up, as was expected with the conclusion of the draft.
The Super Bowl-starting left tackle visited the Miami Dolphins yesterday, and is scheduled to meet with the San Diego Chargers today, according to multiple reports.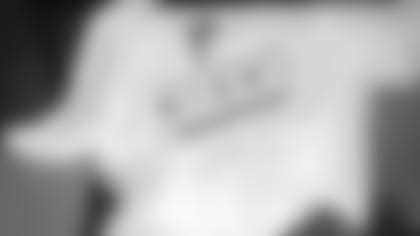 "Just finished a good day of meetings & workouts! This was the gear of choice 4 2day!  Nothing final…" tweeted McKinnie with the picture to the right.
The Miami native only needed to make a short trip to meet with Dolphins brass and took a physical.
When asked how his visit went, McKinnie appeared very enthusiastic by texting The Sun's Aaron Wilson in all caps, "WENT PRETTY GOOD."
McKinnie left without a deal, and CBSSports.com's Jason La Canfora said he is still in contact with the Ravens and there's a chance he could return to Baltimore "if the price is right."
It's not entirely clear how interested the Dolphins really are in the 33 year old. They are exploring more than one option, including taking another run at trading for Chiefs tackle Branden Albert or signing free agent Eric Winston.
The Miami Herald's Armando Salguero believes the Dolphins are just "kicking the tires" on McKinnie to see if he is "even a remote option." Plus, they could be creating leverage with other negotiations.
Salguero wrote last week the Dolphins had no interest in McKinnie because of 1) weight concerns 2) culture concerns (he likes to do things his own way) 3) off-field concerns (penchant for partying) and 4) age concerns.
Hindsight: Cut Leach, But Keep Boldin?
Two clear-cut holes still to be filled on the Ravens roster following the draft are left tackle and wide receiver with McKinnie on the market and Boldin traded to the 49ers.
With hindsight, ESPN's Jamison Hensley thinks the Ravens should have made a few different moves, both in the draft and maybe long before it.
"No one really believed the Ravens were going to find the answer at left tackle when drafting at the bottom of each round," the AFC North blogger wrote. "There was hope, however, the Ravens would bring in someone to complement Torrey Smith. But Baltimore didn't draft a wide receiver until the seventh round."
Right now the Ravens have several young unproven options that will compete for the No. 2 receiver spot, including Tandon Doss, David Reed and Deonte Thompson. They could also give Jacoby Jones a shot or use more two tight-ends set with Dennis Pitta in a receiver role.
But Hensley isn't sold on any of those options and thinks Baltimore could have been more aggressive in getting a receiver or made different decisions prior to free agency.
"The Ravens moved up to get the inside linebacker they wanted in the second round (Arthur Brown), but they weren't aggressive in addressing wide receiver," he wrote. "West Virginia's Stedman Bailey was taken two picks before the Ravens' selection in the third round, and Louisiana Tech's Quinton Patton was drafted one pick before the Ravens were on the clock in the fourth round.
"It makes you wonder whether the Ravens should have released some players (like fullback Vonta Leach) to keep wide receiver Anquan Boldin and his $6 million salary."
Arthur Jones Ecstatic About Birth Of Baby Girl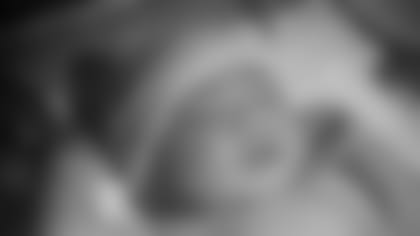 Congratulations to Ravens defensive lineman Arthur Jones, who welcomed his baby daughter, Skylar, into the world last night.
Jones tweeted about the delivery early in the evening, saying he was about to "pass out" when it was time to push.
Easy there, big fella. Doctors don't need to be catching a 6-foot-3, 313-pounder while delivering an 8-pound baby.
"She got me wrap around her fingers already. Look how she winking at me Lol sunnyjean02"
Congrats to you and #teambabyskylar!