Elam Tackles Own Teammate. C'mon Man!
Draft guru Mel Kiper Jr. just named Matt Elam as a rookie that could have an early impact next season.
Let's just hope Elam's opponents feel that impact, and not his own teammates.
Elam made a reputation for himself at Florida as a HARD hitter, but he let his penchant for contact get carried away last season.
After teammate Louchiez Purifoy made an outstanding tackle on a punt return, he looked up to fans in the stadium and began to motion for them to stand up and cheer. But his celebration was cut short.
In comes Elam to join the celebration, but he ended up lowering his shoulder and laid the wood on Purifoy from behind, knocking him to the ground.
The play made ESPN's "C'Mon Man!" segment.
And for good measure, enjoy the running GIF of the play to the right.
While the clip is hilarious to watch, it also illustrates a point Kiper was trying to make with his prediction of Elam becoming an early-impact player. Kiper specifically pointed out that Elam is not replacing Ed Reed because the roaming free safety position will technically be filled by newly signed Michael Huff.
Elam is slated to take over the strong safety spot formerly manned by Bernard Pollard, who was dubbed "The Bonecrusher" for his crushing hits while at Purdue. The two have similar styles of play in that sense (although don't sleep on Elam's coverage skills, which Ryan Mink will write about later today).
"[W]here Elam becomes hugely important is as that safety who can make plays not just in the passing game, but in the box," Kiper wrote. "He has a fearless style and loves to make hits at the line of scrimmage – this for a team that didn't lose just Reed, but also a pair of linebackers. Elam won't replace Reed, but he has traits that can help fill the void of several departures."
Tebow 'Not Likely' To Land In Baltimore
You can bet fans from 30 NFL teams are curious as to whether the uber-popular Tim Tebow could land in their city, now that he has been released by the New York Jets.
Heck, make that 31. Tebow was a polarizing figure in Denver, and many got behind him, even when it seemed Broncos executives didn't.
Whether the Ravens like Tebow is unknown, but The Baltimore Sun's Aaron Wilson got ahead of curious fans' questions and wrote that it's "not likely" Tebow ends up in a Ravens uniform.
"Tebow is a charismatic, athletic scrambler who makes plays happen with his feet, but he's also an inaccurate passer who's not suited for a Ravens offense that already has a franchise quarterback in Joe Flacco and a mobile dual-threat backup in Tyrod Taylor," Wilson wrote. "This isn't a fit, and the Ravens already have a third quarterback in Caleb Hanie."
Wilson believes that Tebow's reluctance to switch positions from quarterback to something like fullback, tight end or slot receiver is limiting his options.
Post-Draft Power Rankings
Even though analysts are praising the Ravens for their draft selections last weekend, the additions didn't do much to improve the team's status in ESPN's power rankings.
Baltimore remains at the No. 8 spot behind the Seattle Seahawks, San Francisco 49ers, Denver Broncos, Atlanta Falcons, Green Bay Packers, New England Patriots and Houston Texans (listed from No. 1 to 7).
The Ravens lead the AFC North, but the Cincinnati Bengals are right behind at No. 9, followed by the Pittsburgh Steelers (No. 16) and Cleveland Browns (No. 28).
AFC North blogger Jamison Hensley, who is one of the power rankings voters, did write that he pushed the Ravens up six spots. It wasn't enough to move the needle when combined with the other voters, however.
"In my rankings right after the first wave of free agency, I had the Ravens at No. 11 because they had lost seven starters from their Super Bowl team," Hensley wrote. "Since that time, the Ravens added pass rusher Elvis Dumervil, Michael Huff as well as two potential starters in the draft (safety Matt Elam and inside linebacker Arthur Brown). There's still a major question mark at the No. 2 wide receiver spot, but the Ravens have been impressive in rebuilding their defense.
"That's why I moved them to No. 5, which is higher than any other voter. NFC East blogger Dan Graziano has the Ravens at No. 10, their lowest ranking."
La Canfora: Just Get McKinnie Deal Done
Ravens free agent left tackle Bryant McKinnie was tweeting updates from his visit to San Diego yesterday, fresh off his visit to Miami.
McKinnie hasn't struck a deal with either team, and Jason La Canfora doesn't think he should either.
The CBS Sports reporter lined up nine remaining free agents with a team that he thinks would make most sense for a marriage.
And even though McKinnie has battled weight issues and hasn't always been dependable, La Canfora thinks the Ravens need to pull the trigger and re-sign him based on his performance in last year's Super Bowl run.
"The Ravens continue to talk to him, and frankly, they should give him a few million with some weight clauses and get this done," La Canfora wrote. "Baltimore is dabbling with moving guard Kelechi Osemele to left tackle, but that's not his natural fit. Miami and San Diego are also interested, and either could use him."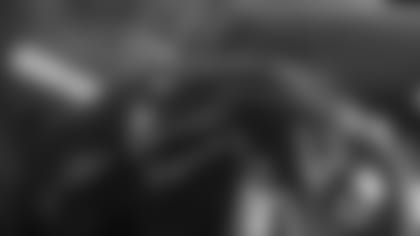 @BryantMckinnie: Heading back to my hotel from the dinner meeting I just had! #SD [Twitter] * Ray Rice is aiding in the rally to bring back dismissed Rutgers Director of Athletics Tim Pernetti. @TimPernetti: The Pernetti family is so proud of this man and grateful for his friendship. Thanks @rayrice27 we are always behind u [Rutgers' former director of intercollegiate athletics, who Rice said shouldn't have been fired for the basketball coach's treatment of players] [Twitter] * Rice featured on AOL web series 'My Ink'[The Baltimore Sun] * @Huffy247: About to go watch this warriors game with @ChrisJohnson37 @JamesIhedigbo @LWebb21 and I hope they know I'm not payin [Twitter * @bynestime56: Having a great time @KennedyKrieger with the kids, doctors, and staff!! [Twitter] * @BaltSunSports: Sports Blitz: The Ravens are suddenly young on the offensive line [Twitter] * @Ravens: MT @MoveTheSticks: My definition of a good draft-- 3 solid starters. Great draft-- 4 solid starters. > Will #Ravens find that in 2013 class? [Twitter *