9 Injured Ravens May Not Be Ready For OTAs
With the Ravens Organized Team Activities (OTAs) officially underway, you can expect plenty of headlines about who will not be attending the voluntary sessions.
That list could include several of the injured Ravens who are still working themselves back to health.
The Baltimore Sun's Jeff Zrebiec takes a look at nine recovering Ravens who may not be ready to participate in the "scaled down workouts."
One thing to remember as you peruse this list – it will be far more important to note who *is *participating in the voluntary camps (May 21-23, May 29-31 and June 4-6) as opposed to who is not, says Zrebiec.
"[T]he reality is the OTAs are more important for the younger players to get more repetitions and gain more familiarity with the coaching staff," Zrebiec wrote. "Coaches know what [Terrell] Suggs can do, but they need to continue to evaluate rookie John Simon and see if there are potential roles for Michael McAdoo and Adrian Hamilton.
"No position battles will be won over the next three weeks. There will be no spirited one-on-one duels between wide receivers and cornerbacks or brawl-inducing hits. … The intensity is entirely different, as is what teams are allowed to do during the sessions."
That said, let's look at the nine Ravens who are on the road to recovery and their outlook for return:
OLB Terrell Suggs
11-year veteran, reported $13 million cap hit in 2013
Tore Achilles tendon last offseason (returned after 6 games), tore biceps in December
Zrebiec's outlook: "He played through the [biceps] injury and then opted not to have surgery this offseason, choosing instead to go the rehab route. Harbaugh and other team officials have expressed hope that a healthier Suggs will return to the form that he showed the previous season when he was the NFL's Defensive Player of the Year."   
DE Chris Canty
9-year veteran, signed three-year deal in March
Suffered MCL sprain in December
Zrebiec's outlook: "His knee didn't pass the scrutiny of Green Bay Packers' team doctors who reportedly wouldn't sign off on his physical after the team hosted Canty on a free-agent visit. The Ravens' top decision makers voiced no such concern and all signs point to Canty being ready to go."   
DT Haloti Ngata8-year veteran, a reported $11.5 million cap hit in 2013
Suffered sprained knee in Super Bowl
Zrebiec's outlook: "[His injury isn't]expected to affect his preparation for the upcoming season. … His conditioning will be watched closely heading into the 2013 season as the Ravens' new-look defense needs Ngata to return to his dominant form." 
ILB Jameel McClain
6-year veteran, signed three-year deal in 2012 offseason
Suffered spinal cord contusion in December
Zrebiec's outlook: "[McClain is the] favorite to start alongside rookie second-round pick Arthur Brown. … McClain has had no restrictions in his workout program and he recently spent some time in California with a specialized trainer. As of early this month, he had yet to be given full medical clearance."
CB Lardarius Webb5-year veteran, heading into second year of reported $50 million deal signed last offseason
Tore ACL in Week 6*"[Webb] has made nice strides by all accounts and suffered no setbacks. … [T]he Ravens obviously are going to proceed with caution with him in the hope that he'll be ready at some point during training camp."  *
NT Terrence Cody4-year veteran, in final year of rookie contract
Underwent hip surgery this offseason
Zrebiec's outlook: "Training camp will be big for Cody who had a disappointing season last year and could be challenged for his roster spot. The Ravens added several defensive linemen, including nose tackle Brandon Williams, a third-round pick."
DE Pernell McPhee3-year veteran, 2011 fifth-round draft pick
Underwent groin surgery after Super Bowl win
Zrebiec's outlook: "In late February, he was noncommittal about whether he would be ready to take part in OTAs and training camp and team officials haven't recently updated his status."
T/G Jah Reid3-year veteran, started 7 games at left guard last season
Placed on injured reserve before playoffs, underwent surgery to repair dislocated toe
Zrebiec's outlook: "By having the surgery when he did, Reid expressed optimism that he'll be ready to go in time for the OTAs. He has been a fixture at the team facility this offseason, rehabbing the injury."
DE Kapron Lewis-MooreRookie
Tore ACL in BCS national championship game
Zrebiec's outlook: "The Ravens drafted the former Notre Dame standout in the sixth round last month, knowing that they were unlikely to get much out of him this year. … [H]e's expected to start the season either on injured reserve or the physically unable to perform list."
Look Who Really Won The Preakness
I was chillin' in the Caribbean on vacation when The Preakness went down Saturday.
Upon my return late last night, I was happy to see the winner was … workhorse Ray Rice.
For evidence, check out the picture that the Ravens running back posted on Facebook. There's no way Oxbow caught up with Rice by the time they crossed the finish line, right?
Maybe Oxbow would have been closer had Rice photoshopped an image from this year's Preakness. Check out the banner, this race is from four years ago. Lol.
Rice cheered up many people's day with this great image; it was liked by nearly 13,000 people.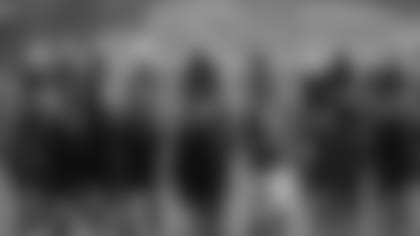 Six Degrees Of Separation – Harbs/Gillman Long Ball
ESPN tracked John Harbaugh's successful deep-pass formula in the Ravens' Super Bowl run back to Chargers great Sid Gillman.
The San Diego pass-happy coach used the long ball a half century ago to win the American Football League championship.
"Keen students of NFL history weren't terribly surprised [by the Ravens win], for Ravens coach John Harbaugh, in a back-to-the-future kind of way, has Gillman's down-the-field passion in his DNA," wrote ESPN's Greg Garber.
You've heard of "six degrees of separation," a concept that says two people on Earth can be linked by about six acquaintances. Here's the six degrees of separation in the circle of coaches between Harbaugh and Gillman.
"One of Gillman's assistants in the early 1960s was Al Davis, who became head coach of the Raiders in 1963," wrote Garber. "Bill Walsh's first professional job came as the Raiders' running backs coach, and he later credited Gillman and Davis as significant influences.
"During his tenure as 49ers head coach, Walsh made Mike Holmgren – in his first NFL job – his quarterbacks coach. After Holmgren got the head position in Green Bay, Andy Reid left the college ranks to become part of his first staff. When Reid got his first head-coaching job, in 1999 in Philadelphia, he wisely retained John Harbaugh as special-teams coach from the staff of predecessor Ray Rhodes."
The Owners have yet to vote on it, but NFL Commissioner Rodger Goodell indicated the NFL Draft will be scheduled in May this year.
Goodell said the NFL doesn't "see any other choice" but to move it back because of a scheduling conflict at Radio City Music Hall, where the draft is traditionally held.
"Next year Radio City is bringing on a spring event which I think the focus is on Easter. It extends to a much later date and interferes with the date that we normally hold the draft. At this late stage for us to do it the right way, we don't see any other choice but to move the date. We're looking to see if we can do it as early as May 8th, 9th or 10th to the 15th, 16th or 17th of May."
But Sports Illustrated's Peter King doesn't like the idea, and he isn't buying the rationale.
"I live in New York City. There are other venues. Lots of them. It's ridiculous to trot out that excuse," King wrote. "To say the league couldn't find another place at Madison Square Garden or the Barclays Center in Brooklyn or any one of a score of other options in New York is insulting to the intelligence of any thinking person. Say what it is: three more weeks to hype the most ridiculously overhyped event on the NFL calendar. Three more weeks for spring-programming-starved NFL Network to be relevant. And less time for NFL coaches, GMs, scouts and coaching staffs to be human beings and have family lives."