Linta Gloating With Dumb Move Comment?
Some fans have (incorrectly) blamed quarterback Joe Flacco's six-year, $120.6 million contract for the Ravens' roster purge this offseason, calling him selfish for not agreeing to a more cap-friendly deal.
But the agent who orchestrated the contract, Joe Linta, says the perception of his client is faulty because the Ravens could have locked up Flacco at a much cheaper price last August – long before becoming Super Bowl MVP.  
(I would also add the perception is misguided because Flacco does have a cap-friendly number this year at a reported $6.8 million. Plus, Ozzie Newsome and Co. decided to let go of many veterans before the playoffs had even begun.)
The two sides were reportedly only $1 million apart in the final year of a proposed five-year extension at about $16 million a year. Neither caved, and negotiations broke down.
The difference was "$1 million six years from now, in the base salary non-guaranteed money, and they walked away," Linta told USA Today's Jim Corbett. "It cost them $35 million. So I have no sympathy. None.
"I've never in my life seen a dumber move. I guess people can say, 'Well, Joe was dumb, too.' It could have been (dumb), God forbid, if he got hurt. But $1 million to Steve Bisciotti six years from now? That's like 100 bucks for you or me today.''
That's strong language because, as Linta pointed out, both sides were gambling. Linta and Flacco made a similar decision as Ravens brass – they walked away from the deal over $1 million too. If Flacco had gotten hurt, or underperformed, he could have been kicking himself knowing $1 million was peanuts in context of a proposed $80-85 million deal.
Either way, NFL.com says Linta could be coming across as "gloating" a little bit while defending his client, and The Baltimore Sun's Jeff Zrebiec believes the Ravens will notice.
"Linta had said that the Flacco negotiations, done primarily with Ravens Vice President of Football Administration Pat Moriarty, were amicable and professional," wrote Zrebiec. "However, his latest comments will surely get the attention of team officials. Linta currently represents four Ravens: Flacco, rookie fullback Kyle Juszczyk, center Gino Gradkowski and guard Antoine McClain."
In the video below, ESPN's Kevin Van Valkenburg struggled to find the upside to Linta criticizing his biggest client's employer.
Van Valkenburg called Linta's comments "strange," and said he might be trying to attract potential new clients who like "brash confidence."
Canty: Flacco is Better Than Eli
Some believe Chris Canty is ingratiating himself with his new teammate, but when asked whether Flacco or Eli Manning was the better quarterback, Canty didn't hesitate.
"Joe Flacco," the former New York Giant said.
"He won a Super Bowl and he's one of the best deep-ball passers in the NFL," Canty told Pro Football Talk.  "Take a look at the tape."
Of course, Manning has won two Super Bowls to Flacco's one. And Canty did give Manning props for coming up in "clutch situations when you've got to have that fourth-quarter drive."
Still, he likes Flacco better.
"He throws a beautiful deep ball, he throws it only where the receivers can get their hands on it," Canty said.  "You're talking about in the vertical passing game and they've got some vertical pass threats.  They got Torrey Smith.  They've got [Dennis] Pitta.  They've got [Ed] Dickson.  They've got some good weapons for him to use down the field."
Marcus Spears Stuck In A Ditch
What a frustrating Saturday for Marcus Spears during Memorial Day weekend.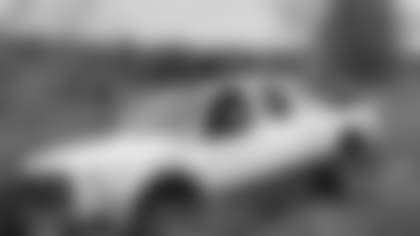 He was on his way to go fishing when his truck got stuck in a ditch for about 4.5 hours.
At first, Spears seemed patient with his unfortunate situation when he tweeted about it, but after two hours of waiting, he appeared frustrated and ripped Ford.
He'd wait another two hours, after the sun went down, until he got his trucked towed.
That. Stinks. Sorry, Marcus.
"No more ditch!!! Thank u all for the support!!" Spears tweeted after 9 p.m. to those who offered help and encouragement.  "Shout out to pro tow!!!! Got me outta this situation!! Grateful thank u lord."
Too cute … @TeamFlacco: Be sure to get the upcoming June issue of Chesapeake Family Mag@ChesFamily Thanks TeamFlacco [Twitter]