Young WRs Out To Prove Veteran Not Needed
The Ravens wide receiver corps is young.
And the young receivers would like to keep it that way.
The average age among the position group is 23.8, and the only player with more than four years in the league is Jacoby Jones.
After trading veteran leader Anquan Boldin, the perception is that the group needs another elder statesman, especially to compete for a starting role. General Manager Ozzie Newsome is already on record saying the team could use a veteran receiver. 
But the guys already on the roster are trying their best to make sure Newsome won't pursue one.
"Our goal is for Ozzie to feel comfortable enough with us that he doesn't have to go bring in a veteran," receiver Torrey Smith told NFLAM. "It's on us to go out there and make it happen, and for him to trust us and believe in us.
"We all go out there. We all work. We all push each other, and I think we'll be fine."
Smith expressed confidence in Tandon Doss, Jacoby Jones, David Reed, Deonte Thompson and LaQuan Williams, and believes they will help make the group successful in 2013.
Now they just need to make believers out of Newsome and Head Coach John Harbaugh.
Outsiders believe the young men will get the time to try to convert the higher-ups. The time to do so is now through perhaps the beginning of training camp.
"I do get the feeling that the Ravens want to give these young players a chance at the job," wrote ESPN's Jamison Hensley in a fan chat.
"I think they want to go with these young receivers in these offseason workouts and get them as many reps as possible," added The Baltimore Sun's Matt Vensel. "And then if they feel it is still an issue that they need to address, then maybe they can sign a veteran free agent during training camp or swing a trade like they did for Lee Evans a couple years ago. I think it's a very fluid situation."
If you're worried the team might lose out on a quality veteran by giving the younger receivers a shot at proving themselves, don't be, says our own John Eisenberg.
Asked to throw out a couple of receivers that could be released and serve as a potential upgrade, Hensley named Santonio Holmes and Steve Smith but added, "that's just high hope[s]."
Terrence Cody On Roster Bubble?
Ravens fourth-year defensive lineman Terrence Cody has been under a lot of scrutiny in Baltimore, with some saying he hasn't lived up to his 2010 second-round draft billing.
Cody lost his starting job last season to Ma'ake Kemoeatu while battling elbow and hip injuries (he reportedly had hip surgery this offseason).
And Vensel believes Cody could even be in jeopardy of losing his place on the team.
"Cody, who will be a free agent next spring, needs to convince the Ravens he still deserves a roster spot," The Sun blogger wrote about Ravens players that have the most to prove this season.
The Alabama alum will battle rookie Brandon Williams for the starting nose tackle position. The team also brought in Chris Canty and Marcus Spears to bolster the run defense.
While the front line has gotten crowded, would the Ravens really release a second-round pick in the final year of his rookie contract? Especially after having surgery? It would surprise me.
Ravens With Most To Prove
In addition to Cody, Vensel named five other Ravens that have plenty to prove this year:
WR Tandon Doss: "Doss, now in his third season, is getting his biggest opportunity to date to crack the top three spots on the depth chart."
C Gino Gradkowski: "[N]ow that [Matt] Birk is in retirement, the starting center spot appears to be Gradkowski's to lose. He will have competition."
FB Kyle Juszczyk: "With incumbent starter Vonta Leach steering clear of Baltimore as the Ravens hold voluntary workouts … Kyle Juszczyk is learning the offense and trying to convince the Ravens that he is also strong enough and physical enough to be a lead blocker for Ray Rice and Bernard Pierce."
LB Jameel McClain: "We know that McClain can play when healthy … [he] needs to convince the training staff that his neck has healed enough to resume live contact before training camp."
CB Jimmy Smith: "Smith will be competing for a starting spot. He couldn't beat out Cary Williams a year ago and Corey Graham is sure to put up a fight this year. … We'll see if he is finally ready to seize his opportunity."
What Will Ravens To Do With Extra Cap Space?
The Ravens salary cap will get some extra dollars this weekend.
The team will reportedly receive another $2.5 million in salary cap space from safety Bernard Pollard, who was released March 13 but was designated as a post-June 1 cut. It should bring the team to about $4 million total under the cap.
What will Ravens brass do with the extra dough?
"I don't know if they'll do anything with that immediately, but it does give them flexibility if they do need to sign a veteran wide receiver, a veteran inside linebacker or something like that," said Vensel. "They could potentially use that money to extend somebody like Dennis Pitta as well. I think they have some flexibility there and I'm sure they'll find a way to put it to use. This team is always against the cap because they want to spend to win."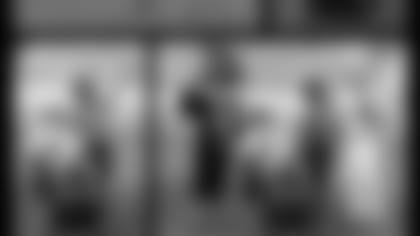 @orioles: The Orioles welcomed former @Ravens player O.J. Brigance & wife Chanda to throw out tonight's ceremonial 1st pitch. … It's ALS Awareness month & the #Orioles are teaming up "4 ALS", hosting the Brigance Brigade Fndn & 100 ALS patients, families & volunteers. [Twitter] * @jtuck9: Wednesday] [marked one year since I signed with the @Ravens. What a difference a year makes! #started * Hey Jamison! Who's the better linebacker: a healthy McClain or Dannell Ellerbe? "Ellerbe is better player. McClain is a better value, in terms of their contracts," the AFC North blogger wrote. [ESPN] * A cause of death was not determined Wednesday after an autopsy on the body of former Ravens quarterback Cullen Finnerty. He was found dead Tuesday in western Michigan.  The autopsy "ruled out anything real obvious," but more results could be available this week after further examination and tests. [Associated Press] * A life-threatening back issue is part of Brandon Williams' crazy journey to the NFL. [Carroll County Times]