Ozzie: We Could Use Veteran WR, Playing The Field
Ever since Anquan Boldin was traded to the San Francisco 49ers, Ravens brass has maintained it could fill his role with a committee of young players already on the roster.
And while that still remains true, General Manager Ozzie Newsome admitted for the first time that he could be on the lookout for a veteran wide receiver.
When asked if he had any more holes left to fill on defense, Newsome said he'd always take another good pass rusher or corner, but specifically pointed to the need on offense.
"We'll just play the field, and if there are some other good players that become available, then we will pursue those also. We need a … we could use a veteran receiver," Newsome told John Clayton on ESPN's Inside the Huddle. "And so we could possibly be looking out for that."
That doesn't mean the Ravens have given up on the younger talent. In fact, Newsome underscored the importance of giving some second- and third-year receivers a chance to shine before it is too late and another team picks them up in free agency after the Ravens spent the time to develop them.
"We understand, as in the case of letting Anquan go, that we got Tandon Doss, Deonte Thompson, LaQuan Williams and Tommy Streeter, and we need to find out whether those guys can play because we [if] wait until year four, where like [outside linebacker Paul] Kruger we got no chance of keeping them," Newsome said. "So if they play in their second or third year, we got a chance to keep them, but if we wait until their fourth year to play and blossom then we got no chance of keeping them."
David Reed is already in his fourth year, but he recently signed a new two-year contract with the team. Otherwise, the Ravens are still on target with the schedule Newsome laid out. Doss and Williams are heading into their third years of their four-year and three-year rookie deals, respectively. Streeter and Thompson just finished their rookie seasons.
As for potential veteran receivers, there's always a chance the player the Ravens eventually sign isn't even on the market yet. Newsome is known for picking up good value after a team is forced to cut a veteran because of a salary-cap crunch.
There is currently a productive veteran on the market that was a victim of a salary-cap purge: Brandon Lloyd. The Ravens have not been linked to Lloyd, but the demand for the NFL journeyman could pick up soon.
"I'd be surprised if he doesn't have a job in the next week or two," wrote Clayton. "He's got to be atop a lot of lists for available wide receivers. Even though he was considered a failure in New England last year, he still caught 74 passes for 911 yards. That's a lot of production."
Lloyd, 31, is a deep-threat receiver, not a slot receiver like Boldin. ESPN's Jeffri Chadiha believes the 2010 Pro Bowler would become a No. 3 receiver for the next team that picks him up.
The other top-ranked, unsigned receivers on ESPN's free agency tracker include:
Austin Collie, unrestricted, 75 grade
Laurent Robinson, cut, 74 grade
Randy Moss, unrestricted, 72 grade
Josh Cribbs, unrestricted, 71 grade
Steve Breaston, cut, 69 grade
Early Doucet, cut, 69 grade
Braylon Edwards, unrestricted, 66 grade
Why Elam Over Cyprien? Williams Even Better Than Thought
Assistant General Manager Eric DeCosta participated in a Q&A at the Baltimore Sun Sports Forum last night. He answered a wide-range of questions. Here are a few tidbits:
Ravens chose safety Matt Elam over Jonathan Cyprien in the first round because of his superior speed: "Cyprien is a player we thought would be an outstanding safety in the league. He's a little bigger than Matt, not quite as fast. Matt played against better competition than John. I think the biggest difference probably was speed, the speed factor."
Third-round pick Brandon Williams, a defensive tackle from Division II Missouri Southern State, is even better than the Ravens thought: "I was really impressed with Williams. We liked him on tape. We liked him at the Senior Bowl. Based on what we saw the last couple of days, he's probably even better than what we thought he was. I really think the guy has a bright future. He's an explosive kid, very, very athletic. He plays on his feet. He's got heavy hands."
How Ohio State outside linebacker John Simon (fourth round) compares to Jarret Johnson: "He's a blood-and-guts, relentless guy. We think he projects well to Sam linebacker. I'm not saying he's Jarret Johnson, but he has a similar skill set to a guy like Jarret Johnson. He'll be competing with some good players, Courtney Upshaw and Albert McClellan and guys like that. He's got the right mentality. We're excited about him as a player."
On expectations for outside linebacker Terrell Suggs after sustaining Achilles tendon and biceps injuries last year: "I think he's going to be back to his old self that we saw a couple of years ago. I was astounded and amazed at how he came back last year. I think you're going to see Haloti Ngata playing dominant football again and Lardarius Webb is going to come back and play great for us."
R. McClain Pleads Guilty To Tint Violation, Deserves Second Chance
Ravens linebacker Rolando McClain pleaded guilty to the window tint violation from his January arrest in exchange for a dismissed charge of providing false information to police by signing an expletive on the tint citation, according to The Baltimore Sun.
McClain was scheduled to be in court today to resolve the violation, but is no longer required after making an online payment of $186 to settle the fine, court costs and fees. He is still scheduled to be in court on July 9 to address his most recent arrest for charges of disorderly conduct and resisting arrest in Decatur, Ala., which occurred after he signed with the Ravens in April.
"I think this about McClain, he deserves a second chance," he responded. "If you asked him, he would probably admit to making some mistakes. We think he warrants a second chance."
DeCosta pointed to the team's mentors and leaders and the player development program, headed by Harry Swayne and O.J. Brigance, as assets in helping players along.
"We have a program in place for every single player who comes to Baltimore," DeCosta said. "We have an individual plan for every single player that gets mapped out before they come on campus. Some guys have different issues.
"It could be family issues. It could be academic issues, financial issues. It could be off-the-field stuff. It could be substance abuse. Just about every single player we have has something he needs help with and we could counsel him on. We have a whole bunch of people to help players."
Texans Reveal More Doubt On Reed's Return
When the Houston Texans first publicized last week that former Ravens safety Ed Reed had hip surgery, the team said he would be back by training camp.
But Texans Owner Bob McNair revealed a little doubt about that initial timeline when asked about Reed's status yesterday, saying the 34-year-old veteran may now miss a couple weeks of training camp after the "minor surgery."
"If it had been right after the season it'd have been different," Texans Defensive Coordinator Wade Phillips added, per the Houston Chronicle. "There's a little concern but the good thing about him is he's experienced it before, he's an experienced guy. You have no problem with him studying or knowing what you're doing. He's gonna spend all the time it takes off the field to get ready. I think Ed will be ready when it's time."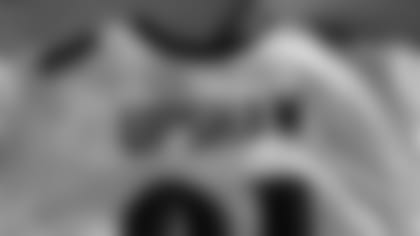 @RavensInsider: Eric decosta 'I don't think with john harbaugh you have to worry about complacency it's not in his dna' [Twitter] * @RavensInsider: Eric decosta said there were receivers ravens liked in draft but it just didn't stack up board wise for them to pick receiver early [Twitter] * Referring to the pic to the right … @334Upshaw41: I want to see a lot of these in M&T Bank Stadium [Twitter] * @OJBrigance: In just 3 days, we will visit Capitol Hill to encourage Congress to continue funding #ALS research. Follow along! @ALSPublicPolicy #ALSA13 [Twitter] * Michael Oher will still be under siege at right tackle [The Baltimore Sun] * @RavensSalaryCap: At roster 90-man limit, need to make room for McKinnie.... MT @RavensInsider Ravens are cutting UDFA RB Ray Holley, according to a source. [Twitter] * Is the Ravens' roster Super Bowl XLVIII worthy? [NFL.com]