Agent Says Joe Flacco Could Still Finish Playing Out Current Ravens Contract
Many people were surprised when the Ravens used a first-round pick on quarterback Lamar Jackson, but Joe Flacco's agent, Joe Linta, said neither he nor his client were among those people.
"It was very clear to us that they were going to take a quarterback at some point, whether in the first round, second round, third round, but nobody was surprised on our end, that's for sure," Linta told the B-More Opinionated podcast last week.
Linta said the quarterback depth chart and Robert Griffin III's small contract were clear indicators that the move would happen. He admitted that who the Ravens drafted was more of a "wow moment" than when they selected him because Jackson and Flacco are two very different quarterbacks.
"It was totally cool," Linta said. "They're allowed to run a business the way they want to run it. When they did the deals with us and those types of things, they run a good, clean business."
What will happen between Flacco and the Ravens in the future is more of a mystery, but again, Linta understands how contracts are built and is fully aware of built-in inflection points that could cause major changes.
He knew Flacco's first $120 million contract after Super Bowl XLVII would need to be re-worked three years in, and it was. And Linta also knows that 2019 is a critical year in Flacco's current contract because it's the Ravens' first potential "out year," in terms of dead money not exceeding cap savings if the two sides part ways.
"Of course, that's how these things work," Linta said.
But the way Linta looks at it, if Flacco plays out the rest of his contract through 2021, which he says is still a possibility, he will be considered "underpaid."
Flacco went from being the highest-paid quarterback in 2016, with a $22.1 million per-year average salary, to now the ninth-highest paid. He's soon expected to drop lower with the Green Bay Packers' Aaron Rodgers, Seattle Seahawks' Russell Wilson and others entering the final years of their contracts in 2019.
"If you look at the rest of his contract, depends on the performance, but he's obviously going to be underpaid the next three years relative to somebody that's doing extremely well," Linta said of Flacco. "I mean, how many Super Bowls have some of these other guys won?
"So, it's 'What have you done for me lately?' Joe's very aware that there has to be success on the field for any contract to be extended or continued. He's well aware of that. He's chomping at the bit to get out there and have a year where he's 100 percent healthy and there's no issues because, as you know, he's had a couple of health issues the last couple years. I think, from what I'm gathering from him, he's feeling better now than he has the last couple of years. So, I expect big things from him this year and everything will turn the other way again."
The other part of the equation is Jackson. Even if Flacco is having success, if the Ravens feel the rookie could perform at the same level, or better, at a cheaper price, they could make a change.
That said, Linta doesn't see Jackson's presence as an absolute sign that Flacco won't play out the next four years of his current deal.
"Just because they pick another quarterback, it doesn't mean that they're letting him off," Linta said. "Because if that were the case, they would've come out and said, 'OK, this is an open competition.' That type of thing."
Whether it's with the Ravens or elsewhere, the idea is for Flacco, 33, to keep playing for a long time. Quarterbacks have shown they can continue playing until they hit age 40, and then some. The New England Patriots' Tom Brady, for example, will turn 41 before the season starts. The New Orleans Saints' Drew Brees is 39.
"I don't think [Flacco's] competing with Brady or anybody else in that vein, but the last time I spoke with him about it, maybe earlier this year or late last season, 'Well, hey man, I love it. I want to keep playing,'" Linta said. "I think the vision is to keep playing five, six, seven years. I mean, until you get up in the morning and you either can't do it or you don't want to do it, you want to do it because the whole process is very intoxicating."
NFL Executives Grade Ravens' Offseason Moves
ESPN talked to more than a dozen "decision-makers" from around the league about all 32 teams' offseason moves, including coaching changes, free-agency transactions, draft maneuvering and "shocking revelations."
After compiling everyone's thoughts, the Ravens got a B-plus for the entirety of their offseason work. The high marks largely came because of their choice to draft Jackson, which represented good value at No. 32 overall.
"And [it's] a chance to reap the rewards of inexpensive labor at the QB position," wrote ESPN's Mike Sando. "It won't happen this season, but it could happen once Eric DeCosta replaces Ozzie Newsome as GM in 2019 as part of a succession plan announced in February."
The Ravens are 40-40 since Flacco was named Super Bowl MVP, and his lucrative contract gave the Ravens' front office a thin margin for error elsewhere on the roster.
"They let really good players walk out the door because they don't want to pay them -- like Ryan Jensen this offseason," an exec told Sando. "If I were Baltimore, I would have let him walk too, but you are losing a quality starting-level center, so they have to fill in, and you need rookies to develop. Those rookies haven't developed frequently enough of late, and now, all of a sudden, you have holes. Maybe they will be able to take the next step forward."
Marshal Yanda Is the Only Raven to Make PFF's Top 50 Players
Pro Football Focus (PFF) has been slowly releasing its top-50 players for 2018, and now that the top-10 has been revealed, we see that Ravens All-Pro guard Marshal Yanda was the only Raven to make the list.
Yanda came in at No. 9 overall despite missing almost the entire 2017 season after he injured his ankle in Week 2.
"Yanda has outstanding NFL tape at three different positions along the line (both guard spots and right tackle) and has only surrendered one sack since the start of the 2015 season. Yanda remains one of the most underrated players in the game because he plays an unglamorous position, but there are few more consistent, and consistently outstanding players in the league today."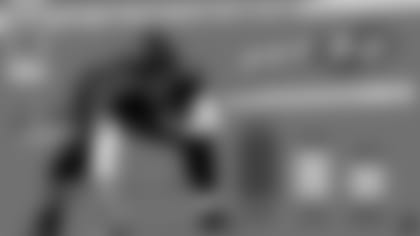 Bobby Engram's Son Commits to Wisconsin
Ravens Wide Receiver Coach Bobby Engram surly had a proud father moment last week after his son, Dean, verbally committed to play for the Wisconsin Badgers.
The 5-foot-9, 160-pound Gonzaga High product (Washington D.C.) is listed as a three-star prospect by just about every major recruiting site, including 247Sports, ESPN and Rivals. He can play either wide receiver or cornerback for the Badgers.
Congrats to the Engram family on such an important milestone.