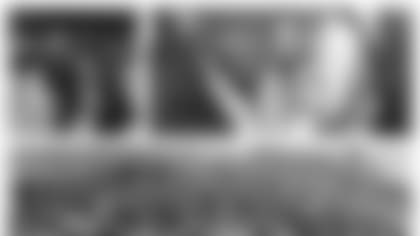 If Leach is let go, he will become the ninth departed player that started in Super Bowl XLVII (Leach, Anquan Boldin, Matt Birk, Ray Lewis, Dannell Ellerbe, Ma'ake Kemoeatu, Cary Williams, Ed Reed and Bernard Pollard). No reigning world champion has lost more than five starters the following season, according to the Elias Sports Bureau.
With Leach reportedly set to make $3 million in 2013 (salary-cap hit of $4.33 million) and the Ravens drafting Kyle Juszczyk in the fourth round, the news of the 10-year veteran's impending departure didn't come as a shock. Juszczyk's reported salary cap hit this season is $480,146.
"This doesn't come as much of a surprise. Actually, the only surprise is that this didn't come sooner," ESPN's Jamison Hensley wrote. "The Ravens traded wide receiver Anquan Boldin in March after he refused to take a pay cut from his $6 million salary, so it was only a matter of time before Baltimore decided to reduce Leach's $3 million salary."
Once rookie Matt Elam is signed and Leach is let go, the Ravens will reportedly be about $5.37 million under the cap.
LEEEEEEEEEACH and his hard hits will surely be missed by Ravens fans, but the fullback leaves with fond memories. Leach thanked the fans and Ravens organization via Twitter with the pictures to the right.
Russell Says He'll Try Out For Ravens. Would He Fit In?
However, the team has not confirmed a workout, and The Baltimore Sun's Aaron Wilson reported that no tryout is scheduled at this time. "Of course, that could always change," Wilson added.
This isn't the first time a Ravens tryout for Russell has been rumored, and it's making people wonder if the former No. 1 overall pick would fit in with the Ravens. Joe Flacco, Tyrod Taylor and Caleb Hanie are already on the roster.
"While I'm not endorsing the Ravens signing Russell, I can't say this development surprises me," wrote Hensley. "The Ravens don't have established backups behind quarterback Joe Flacco. Tyrod Taylor has completed 18 passes in two NFL seasons, and Caleb Hanie has four career starts in five NFL seasons."
While Russell is considered by most as the biggest draft bust in NFL history, CSNBaltimore.com's Clifton Brown says that a simple workout to explore Russell's potential would do the Ravens "no harm." A workout is a far cry from a signing.
General Manager Ozzie Newsome has shown a history of at least considering all possibilities of improving the roster, and has made bold moves when the risk was low but the potential reward was high. See Rolando McClain, another so-called Oakland draft bust, as an example.
The Ravens have enjoyed five years of mostly injury-free quarterback play. Flacco hasn't missed a single start since entering the league in 2008 and is considered one of the league's most durable.
But if Flacco were to suffer an unfortunate injury that forced him to miss a game or more, are Taylor and Hanie the men to help lead Baltimore to a sixth-straight postseason berth?
"[T]here is no guarantee the Ravens could win with either Taylor or Hanie," Brown wrote. "And if the Ravens cannot win without Flacco, even a short-term injury could cost them a playoff spot. … As a starter, Russell was a bust. But as somebody's backup, maybe Russell could be a bargain."
Russell went 7-18 in his three seasons with the Raiders and battled weight issues. He has dropped 50 pounds and showed off a big arm in his "solid" Bears tryout Friday. He was the highest-rated player former Ravens head coach Brian Billick* *had ever seen on the team's draft boards.
"We will see if the 27 year old actually shows up in Baltimore for a workout," wrote The Sun's Matt Vensel. "This could be speculation with the intent of driving up interest in a player long removed from the NFL. But if he does, my advice is to keep an open mind but expectations extremely low."
Ravens Rookies Snaps Rank 17th In NFL
The Ravens were fortunate to get big contributions from their 2012 rookie draft class in their run to the Super Bowl, with guard Kelechi Osemele, outside linebacker Courtney Upshaw and running back Bernard Pierce taking a bulk of the rookie snaps.
The team that used their rookies the most was the Cleveland Browns, using quarterback Brandon Weeden and running back Trent Richardson as two starters on offense. The Browns gave their rookies 26.4 percent of the snaps.
Here's how some of the Ravens rookies' snaps  were divvied out during the regular season, per Vensel:
Osemele: 93 percent of the team's offensive snaps
Upshaw : 65 percent of the team's defensive snaps
Piece: 20 percent of the offensive snaps
That's not to mention kicker Justin Tucker, who kicked all the Ravens' field goals, nailing 30 of 33 during the regular season and 4 of 4 in the playoffs.
"[H]ow far would the Super Bowl champions have gone without the contributions they got from their fine rookie class in 2012?" asked Vensel.
Impressed With Reed's Attitude, Good For Long-Term Relationship
Not all the Ravens Super Bowl players made it to the White House and ring ceremony last week, for varying reasons, but one person that did make it despite not being re-signed was Ed Reed.
The future Hall of Famer's wide smile could be seen from a mile away, and he showed no feelings of bitterness after ending his 11-year career in Baltimore.
"I do give Ed Reed a lot of credit for taking part in both," wrote The Sun's Jeff Zrebiec. "[W]hen he hit free agency following the Super Bowl, the Ravens didn't exactly beat down Reed's door to re-sign him, allowing the safety to agree to terms with the Houston Texans in March. Reed is a proud man and he did a ton for the organization and the Baltimore community. It would have been easy for him to be bitter and perhaps he is a little, but that wasn't evident last week when he was around his former teammates and smiling ear-to-ear.
"At the ring ceremony, Reed witnessed former teammates Michael McCrary, Matt Stover, Jamal Lewis, Peter Boulware and Jonathan Ogden get Super Bowl rings and owner Steve Bisciotti pledge to give the team's Ring of Honor members rings going forward. It would be fitting and appropriate for Reed to have that same relationship with the organization after he retires and last week was a good step toward that."