Why Cut Leach Now? Something Up Ozzie's Sleeve?
The timing of Vonta Leach's release is "a little curious," says Jeff Zrebiec.
The Ravens released the three-time Pro Bowler just more than a month before training camp, which usually isn't much time for a free agent to* *find a new team that has the cash and need (although you'll see below that Leach is drawing plenty of interest).
But it's not like Ravens brass was holding on to Leach out of spite, wrote The Baltimore Sun reporter. After all, the 10-year veteran was a beloved figure in the locker room and the coaches loved his team-first attitude.
So why make the move now?
"The obvious answer is ultimately, the Ravens decided that they needed the salary cap space more than Leach and it just didn't make sense for essentially a part-time player to take up $4.33 million in cap room," Zrebiec wrote. "Still, the pending move does spur some questions …
"Perhaps, General Manager Ozzie Newsome has an acquisition up his sleeve that has been kept quiet. The Ravens still could use some depth at wide receiver, linebacker and safety."
With Leach off the books, the Ravens are now reportedly about $6.5 million under the cap. They still have one draft pick left to sign, first-round safety Matt Elam, which will push the cap number down to a little more than $5 million.
That's a decent amount of cash, especially in June when the league is firmly in bargain season. Quality players are still looking for a home before training camp opens next month. For example, linebacker Daryl Smith, the Jaguars' all-time leading tackler, signed with the Ravens last week for just a reported $1.25 million.
"It's a great time to shop for deals, and my guess is the Ravens aren't done," our own John Eisenberg wrote. "Having battled a tight salary cap situation all offseason, they could be even more interested than usual in bringing in useful players at the right price."
Eisenberg named quarterback JaMarcus Russell and receivers Brandon Lloyd and Austin Collie as potential targets.
Of course, Newsome may not have a specific target in mind. Organizations often like to enter training camp and the season with financial flexibility in case of injuries. The Ravens could also use the money to extend the contract of a player such as tight end Dennis Pitta.
And while paying $3 million to a part-time player at a position that is fading in the NFL was almost certainly a factor, the timing of Leach's cut also coincides with the Ravens' ability to get a good look at their fourth-round draft pick Kyle Juszczyk. After a few weeks of practice, the team has a better idea of whether he's capable to take over the starting fullback role.
"[The Ravens] wanted to keep [Leach] and thought they'd be able to work something out," wrote Zrebiec. "If they didn't, they would have made the move immediately after they drafted Harvard's Kyle Juszczyk in the fourth round in April. However, as they got closer to training camp, the Ravens' top decision makers ultimately put more value on salary cap space than Leach's skill set.
"It's also important to point out that the team has had several weeks now to evaluate Juszczyk. If they didn't think he could handle the role, they wouldn't have made the move."
Leach Moving On Quickly, Teams Showing Interest
When the Ravens announced Leach's release, Newsome left the door open for the fullback to return after he's explored the free agent market.
At this point, a Leach return doesn't appear likely as several teams are reportedly showing interest.
Leach is scheduled for a visit with the Miami Dolphins, and the Denver Broncos and Kansas City Chiefs may also make a play for the fullback, reports USA Today's Mike Garafolo. The Star-Ledger reported the New York Giants have "reached out" to Leach.
For Leach to return, these teams would have to offer less than the Ravens. According to Garafolo, Ravens executives were asking for roughly a $1 million pay cut, which he could have made back via playtime and Pro Bowl incentives.
If Leach had his way, he would return to the Houston Texans, where he played from 2006 to 2010 and led the way for running back Arian Foster.
"My first choice would be to come back to Houston," Leach told KRIV-TV, per NFL.com. "I know the offense. I know all the guys there. So obviously that would be my first choice so I can go back there and finish my career where it started to blossom.
"That would be a storybook ending."
Reed Thinks Brady Slide Kick Caused Hip Injury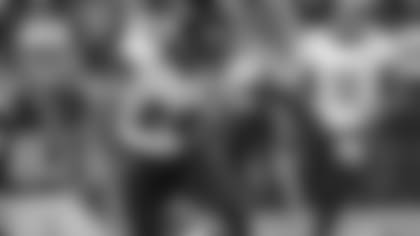 Remember this image (to the right)?
It's Tom Brady sliding to avoid a sack in the AFC championship last season, but he stuck up his leg to supposedly protect himself and ended up kicking Ed Reed. In so doing, he may have caused Reed's controversial hip injury and subsequent surgery that the future Hall of Fame safety underwent after he signed with the Texans this offseason.
"Only play I can look at is when I got kicked by a certain quarterback, but even then I played in the Super Bowl and you saw what happened there," Reed said, per The Houston Chronicle. "Even then I had two MCL sprains, a second degree one in the left in the Super Bowl in the first quarter and played through that. So if you've got any questions about my heart and how I play and how I work (that's your answer)."
Reed spoke with Houston media for the first time since undergoing surgery, and detailed the timeline of his injury. There's understandable consternation about Reed's injury in Houston, and many are curious as to when he discovered the injury since the Texans did multiple MRIs during his initial free agent visit.
Brady was fined $10,000 by the league for unnecessary roughness due to his high slide kick, but Reed didn't show any ill-will at the time. The Patriots quarterback exchanged texts with Reed, and he understood Brady was trying to protect himself.
It appears Reed still harbors no bitterness for the play. After his comments to Houston reporters went viral yesterday, Reed tweeted, "Brady a cool dude not blaming him football a contact sport injuries happen!"
Rolando McClain Going Back To School At Alabama
Former Ravens linebacker (for about a month) Rolando McClain told Newsome that he was retiring from the NFL last month. He wanted to focus on "getting [his] personal life together." At the time, McClain wasn't sure what was in store for him.
But it looks like he's now going back to school at his alma mater.
"(McClain's) gone back to school. He's with us now," Alabama Head Coach Nick Saban said Tuesday at an Athens, Tenn. Area Chamber of Commerce benefit dinner, per USA Today.
McClain retired from the NFL at the young age of 23 after winning the Butkus Award and a national title with Alabama. He played three seasons with the Oakland Raiders, who selected him eighth overall in the 2010 draft.
The Ravens signed McClain in April after his release from Oakland. He was arrested and charged with disorderly conduct and resisting arrest shortly after his signing.
Cam Cameron Got Super Bowl Ring
Despite parting ways with the Ravens just before the team's playoff run, the organization sent a Super Bowl ring to former offensive coordinator Cam Cameron.
Cameron, now the offensive coordinator at LSU, tweeted a picture of his ring with the words, "Thank you, Baltimore.
"Honestly, it meant a lot," Cameron told The Baltimore Sun. "I'm very appreciative of the people in Baltimore and obviously the leadership of the Ravens for that gesture. It meant a tremendous amount. It meant a lot to my family."
Cameron plans on giving his ring to his stepfather, former football coach Tom Harp.
"He'll get it. I always said the first one of those I ever got, that he would get it," Cameron said. "He's 85 years old and he never had one, so he's got one now."
Bernard Pollard got his ring too after skipping the White House visit and ring ceremony. He tweeted, "Say whatever you want to say about me just remember to call me CHAMP too!"
Are the Ravens underrated?  KC Joyner can't believe the defending Super Bowl champs have 30-1 odds of winning the Super Bowl this season. Those odds are tied with the Giants for ninth place, putting three teams Baltimore beat in the postseason ahead, including the 49ers, Broncos and Patriots. "[I]t is impossible to ignore the fact that the defending Super Bowl champions are not getting anywhere near the respect level their title says they should be receiving," Joyner wrote. "While the Ravens may not be the next dynasty, it is an egregious error to say that this club's chances of garnering a second consecutive Vince Lombardi Trophy are this poor." [ESPN]
@Matt Vensel: I asked John Harbaugh why he didn't tag along with his younger brother and father for a recent taping of "Judge Judy."… John Harbaugh: "I'll say the same thing Jim said when I did the Tough Mudder: 'I was trying to make my team better.'" He had a big grin. [Twitter]
@baltsunsports: Ravens Insider: Ravens' Arthur Brown, Albert McClellan making progress after offseason surgeries [Twitter]
@ravens: Haloti Ngata says he plans on battling for DPOY honors this year. [Twitter]
@gerrysandusky: After the Ravens practice today Joe Flacco said he didn't recognize 90-percent of the guys on the field. [Twitter]
@ravens: John Harbaugh's new T-shirt given to the entire team: Ability is God-given. Prowess is earned. [Twitter]