Who Are The Next Ravens To Get Paid?
Joe Flacco, Ray Rice, Jameel McClain* *and Lardarius Webb are some of the latest Ravens to get hefty contracts.
Who's next in line to get paid?
You can be sure Ravens cap guru and chief negotiator Pat Moriarty will be hard at work over the next month working to answer that very question.
A burst of extensions are historically completed across the league during training camp and right before the season begins. The Ravens could be in that mix if Moriarty and players' agents can get on the same page.
These players could strike a deal with the Ravens as early as before the start of the 2013 season, or if they can't agree to a deal, could make big bucks on the free market next season. One has the potential of getting hit with the franchise tag, says La Canfora.
However it works out, Dennis Pitta, Michael Oher and Corey Graham will likely get hefty contracts over the next 12 months, barring injury, says La Canfora. Here's his analysis of each:
TE Dennis Pitta (entering final season of four-year rookie contract)
"Joe Flacco's favorite target will make about $2M this season on his RFA tender, but the Ravens know he's worth much more. Pitta is another potential franchise tag guy a year from now but Baltimore will try to get something done more long-term first."
T Michael Oher (entering final season of four-year rookie contract)"They tried Oher on the left side several times, but it's clear that he no longer belongs on The Blind Side. He should be a highly-paid right tackle, though the sides were not close when comparing projected figures a year ago. He will make $3.8M this season and the Ravens have rarely let top draft picks walk."
CB Corey Graham (entering final season of two-year contract)"Emerged as a key factor in their Super Bowl season and if he beats out former first-round pick Jimmy Smith for a starting spot, Graham won't be making $2.1M for long. With Cary Williams gone in free agency and Lardarius Webb coming off a second ACL tear, Graham is a vital part of this defense."
Tight end Ed Dickson, receiver Jacoby Jones and defensive linemen Arthur Jones and Terrence Cody are also among those who are entering the final year of their contracts, but La Canfora did not name them as players who he thinks will get big deals this year.
Per CBA rules, teams can't begin contract extension talks with players from the 2011 draft class yet, but La Canfora indicated that receiver Torrey Smith could make his list next year.
Ellerbe Trying To Pull Ray Lewis Move
Linebacker Dannell Ellerbe has returned to Miami after enjoying the Ravens' Super Bowl ring ceremony and White House visit. But he's waiting for the perfect moment to show off his new bling to teammates.
Ellerbe wants to use it "to pull some motivational magic from his pocket," says USA Today's Jim Corbett, similar to the man Ellerbe once thought he was going to replace – Ray Lewis.
"A couple of guys around here asked to see my Super Bowl ring," Ellerbe told Corbett. "It's locked up right now. ... But I'm going to bring it out when the time is right.
"I'm going to pull a Ray Lewis move and show these guys where we're trying to get. ... Ray waited until the time was right to show the young guys on the Ravens what we were all working toward."
Ellerbe called his new elaborate jewelry an "11-table ring," referencing former New York Giants defensive end Michael Strahan's comment that his ring's shimmering diamonds could be seen from only 10 tables away inside a restaurant.
The 27-year-old veteran signed a five-year deal with the Dolphins this offseason, reportedly worth $35 million dollars.  He said he thought he would stay in Baltimore to become the next Lewis, but Ravens brass didn't make an offer close to the Dolphins.
"The Ravens were all I knew, and I was supposed to be the guy who replaced Ray," Ellerbe said. "I wanted to be a part of leading a defense to a championship. [Dolphins] Coach Philbin told me, 'However you want to lead, by example or being vocal or however just be that leader, that's up to you.'
"I feel we have championship potential here. It's just can you get the guys to focus and win those close games. ... In order to make those plays when it counts, you have to have that chemistry. You have to have guys who want to work with and for each other, and I see that here."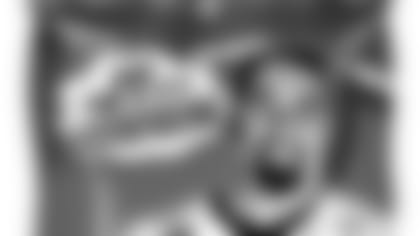 Flacco's Purple Power Energy Drink
If you're looking for Flacco's energy drink, just head down to your local Royal Farms. And while you are there, you can also pick up some of Haloti Ngata's Crab Curls with Cheese. Both products come from Home Team Snacks, who explained how they got two of the biggest Ravens to endorse their goods.
"After Haloti, his family and friends, tried the unique Crab Curls, there was one conclusion, 'They're DELICIOUS!!' the website states, adding that a percentage of sales go to Ngata's foundation.
"Whether it was luck, good timing or just meant to be, Home Team Snacks signed Super Bowl XLVII MVP Joe Flacco! Team Flacco really liked the idea, as well as, the donations on every sale going to the Team Flacco Foundation."
Elam Inks Deal With Under Armour
First-round draft pick Matt Elam signed a multi-year endorsement deal with Baltimore-based Under Armour, and will now wear the company's footwear, gloves and performance gear during NFL games and practices, according to The Baltimore Sun.
"I am very honored to join the elite Under Armour family and partner with the fastest growing apparel brand in the world," Elam said. "Under Armour's commitment to cutting-edge products will help me perform at my best."
Last year, Under Armour signed a 10-year naming rights agreement with the Ravens, officially naming the training facility in Owings Mills the Under Armour Performance Center. CEO Kevin Plank and Ravens Owner Steve Bisciotti are good friends.
Suggs Puts Name On LGBT Pride Month T-shirt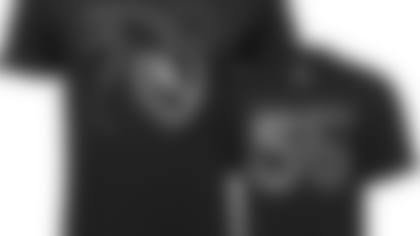 The NFL Players Association has launched a One Team Pride Shirts T-shirt line, and Terrell Suggs is among a group of football players who have put their names and rainbow jersey numbers on it.
The shirts were created to raise awareness for equality. Proceeds from the shirts benefit Athlete Ally, a nonprofit organization seeking to promote inclusion and tolerance in sports.
Suggs, who recently said he would welcome a gay teammate, isn't the only Raven to lend his support to the cause. Former Ravens Donte' Stallworth, Domonique Foxworth and Brendon Ayanbadejo all have their names donning the "Pride Shirt." Ayanbadejo has been an outspoken gay-rights advocate.