Who Practices Harder? Lewis vs. Smith
Ray Lewis and Steve Smith Sr. are both legendary for their intensity, hard work and dedication – and not just when a game's on the line.
Teammates and coaches will tell you that nobody brings it harder than these two men, even in the middle of June. You never had/have to worry if either would return from time off out of shape or overweight.
So it may be splitting hairs, but ESPN's Jamison Hensley compared each man's practice intensity after seeing Smith with the Ravens in organized team activities.
Fans rarely get to peel back the curtain and view Ravens practice, but Hensley has been covering the team for nearly 15 years and has watched countless players in countless practices, and here's what he observed:
"[Smith] runs every drill at full speed, which rubs off on his fellow wide receivers and tests the Ravens' cornerbacks," Hensley wrote. "The Ravens have had intense players in the past like Ray Lewis and Anquan Boldin, but neither practiced at this level during their last few years with the team." 
I don't think that's an intended slight on Lewis or Boldin. Hensley was largely illustrating Smith's passionate attitude and work ethic to readers that are still getting to know the new Raven. If Smith is anywhere in the neighborhood of Lewis' intensity, watch out.
Future Hall of Fame quarterback Peyton Manning observed this of Lewis as a respected opponent for many years: "His intensity and passion, it's real. I've always kind of kidded: Ray is just as intense and passionate in the fourth quarter of the fourth preseason game as he is in the first quarter of a playoff game. It's real. That's pretty special and that's pretty unique. Some guys can turn it on in big games. He always has it on."
The Denver Post's Mark Kizla once asked Brandon Stokley which player he'd be smarter to tick off: Lewis or Manning. Stokley was a former teammate and opponent of both greats.
"Well ... I don't know," Stokley said. "I think I wouldn't want to make either one of them mad. On the football field, they're both the type of player that seems like the madder they get, the better they play."
Ravens Defensive Coordinator Dean Pees had that exact sentiment when his defense faced Smith as a Carolina Panther over the years.
"The first thing I told the defensive backs in the room was, 'Look, don't get him mad. He plays a lot harder when he's mad. Just leave him alone. Let a sleeping dog lay,'" Pees said Tuesday.
And in true Flashback Friday fashion, let's take a look at one of Lewis' famous workouts, and Smith's first practice as a Raven.
Suggs Only Raven On Forbes Top 100 Earners
He barely made it too, coming in as the 96th best earner.
According to Forbes, Suggs will make a total of $17.6 million in 2014, with just $200,000 coming from endorsements and the rest coming from salary.
"Suggs signed a five-year, $28.5 million contract extension with the Baltimore Ravens in February that included an $11 million signing bonus," the website wrote. "Suggs has racked up a team-record 94.5 sacks in his 11 years in Baltimore, which ranks seventh among all active NFL players. No. 55 won the AP Defensive Player of the Year award after the 2011 season."
Some may be wondering why quarterback Joe Flacco or Haloti Ngata aren't on this list, seeing as they have higher salary cap figures in 2014.
The answer likely lies within signing bonuses.
Suggs' $11 million bonus boosts his number this year, but Flacco was No. 13 on the list last year after getting a reported $29 million signing bonus. Ngata was No. 12 on the list in 2012 after signing a five-year deal and getting a reported $25 million signing bonus.
Forbes' top 10 highest-paid athletes are below, with only one NFL player cracking the list in Atlanta Falcons quarterback Matt Ryan, who also got a new contract this offseason.
Floyd Mayweather ($105 million)
Cristiano Ronaldo ($80 million)
LeBron James ($72.3 million)
Lionel Messi ($64.7 million)
Kobe Bryant ($61.5 million)
Tiger Woods ($61.2 million)
Roger Federer ($56.2 million)
Phil Mickelson ($53.2 million)
Rafael Nadal ($44.5 million)
Matt Ryan ($43.8 million)
CSNBaltimore.com has been collecting fan votes to select the best players from the division at each position to come up with a 2014 All-AFC North team.
The results have been tabulated, which may be a bit biased since the voters were mostly from Ravens nation. Thus, along with the voter results, Clifton Brown also put together his own all-division team.
Ravens fans clearly prefer their quarterback over any other in the division. Flacco got 64 percent of the votes, with Ben Roethlisberger getting just 32 percent.
The running back and tight end positions were tight, however.
Ray Rice (38 percent) edged out Le'Veon Bell (31) and Giovanni Bernard (28). And Dennis Pitta (26) came in behind Jordan Cameron (31) and tied Heath Miller (26).
Below are the results. And if you want to compare it to Brown's selections, click here.
OffenseQuarterback: Joe Flacco*Running backs: Ray Rice, Le'Veon Bell Wide receivers: A. J. Green, Josh Gordon Tight end: Jordan Cameron Tackles: Eugene Monroe, Joe Thomas Center: Alex Mack *Guards: Kelechi Osemele, Marshal Yanda
DefenseEnds: Chris Canty, Carlos Dunlap*Tackles: Geno Atkins, Haloti Ngata Outside linebackers: Vontaze Burfict, Terrell Suggs Inside linebackers: Daryl Smith, Karlos Dansby and Lawrence Timmons tied for second Cornerbacks: Lardarius Webb, Joe Haden *Safeties: Matt Elam, Troy Polamalu
Special TeamsKicker: Justin Tucker
Punter: Kevin Huber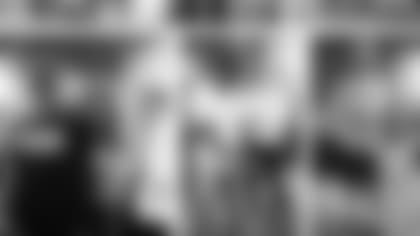 @TorreySmithWR: RT @iamQUAN: #tbt Superbowl fun with my boys @TorreySmithWR @Tandondoss digital12 ....gotta get back man [Instagram |Twitter]