Minicamp In Books, Here's What Stood Out
Except for the rookies, the Ravens' offseason is officially in the books.
Here's what we learned, per The Baltimore Sun's Aaron Wilson and Jeff Zrebiec, CSN's Rob Carlin and ESPN's Jamison Hensley.
Of the guys who made a positive impression this offseason, Jimmy Smith "is at the top of the list." -Zrebiec
Don't underestimate what the experience of making big plays in the Super Bowl did for Smith. And now he's leaner, quicker and an all-round different guy. (More on Jimmy from Ryan Mink later today.)
"Daryl Smith![](/team/roster/daryl-smith/a5e066b5-35e8-4509-815f-447f651fdbad/ "Daryl Smith") could salvage the middle of the Ravens' defense." - Wilson
Ray Lewis, Dannell Ellerbe and Rolando McClain are all gone. Jameel McClain still needs medical clearance on his spinal cord contusion to play. Smith, a 10-year veteran and Jaguars' all-time leading tackler, is motivated for a bounce-back season after missing most of last year with a hernia injury.
"No [receiver] has really jumped out as the clear No. 2 or No. 3 option behind [Torrey] Smith." - Wilson
The Ravens named Jacoby Jones as the starter across from Smith, but added that he will be pushed by the younger receivers.  The wide consensus is that Tandon Doss has good hands and route-running, but doesn't wow you. Deonte Thompson has the most speed and has been the story of the offseason. Reed is dangerous after the catch, but is prone to injury. LaQuan Williams can't be forgotten. Streeter is still raw. Rookie Aaron Mellete needs time to develop. Overall, the group is athletic and fast.
"The No. 2 receiver storyline may be overblown for Baltimore." - Hensley
Hensley said that the Ravens' naming of Jones as the second starting receiver shouldn't have come as a surprise, considering the Ravens picked up a $1 million roster bonus to keep him on March 16, five days after the Anquan Boldin trade. Boldin was set to make $6 million, Jones will reportedly make $4 million. Besides that, Hensley says there's a chance that the No. 2 receiver won't even be among the top four in receptions this season. Torrey Smith, Dennis Pitta, Ray Rice and Ed Dickson could all notch more catches.
Haloti Ngata![](/team/roster/haloti-ngata/9225ada6-37a5-4b66-9776-1b6e4df2fb50/ "Haloti Ngata") "has to be a little bit of a concern." – Zrebiec
With a knee injury still nagging him from the Super Bowl, Ngata isn't in the kind of shape he'd like. All eyes will be on him when training camp open in six weeks, and onlookers will be curious to see if he's in shape. Ngata was mostly on the sideline during minicamp because of his knee. And considering that injuries have plagued him the last two years, Zrebiec says Ngata's condition is concerning.
"Chris Canty![](/team/roster/chris-canty/1631b814-cc8a-43d1-b9d7-a5e25d0e5af7/ "Chris Canty") could be a force upfront." – Wilson
The 6-foot-7, 317-pound defensive lineman has the size and mobility to be a playmaker. One play that stood out this week was an impressive leaping interception of Tyrod Taylor at the line of scrimmage that he almost returned for a touchdown.
Brandon Williams![](/team/roster/brandon-williams/7a528eef-dd5c-4b37-84be-c3bdd8c841c9/ "Brandon Williams") is "massive, but not fat," and has lots of athleticism. - Wilson
The Ravens are high on the third-round pick, who is even better than they thought when they discovered him at Division II Missouri Southern.
Terrell Suggs and Elvis Dumervil "is now one of the best tandems in all of football." - Carlin
Suggs is clearly thinner, quicker and more humble than a year ago. He's taking his job to become the new leader of the defense seriously. And he's "ecstatic" to partner with Dumervil, who is more business-like than Suggs. Dumervil got a smile across his face when asked about working in tandem with Suggs.
"Matt Elam![](/team/roster/matt-elam/2dbb8951-b74c-4c36-a70a-3dd88dc9a711/ "Matt Elam") hasn't given the Ravens any buyer's remorse." - Wilson
The Ravens used a coveted first-round draft pick on Elam, and he is exactly as advertised (more on that later today from Garrett Downing). 
Undrafted free agent rookies that stood out? CB Moe Lee, TE Matt Furstenburg  and DE Will Pericak – Zrebiec
Lee has made eye-catching plays, Furstenburg has a real shot of making the team and the Ravens gave Pericak a pretty big bonus for a rookie free agent.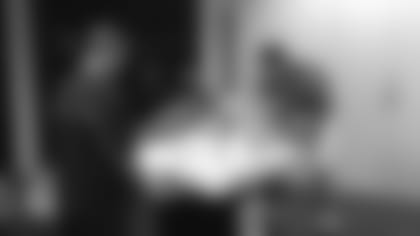 Cool Joe has a "full-blown" addiction.
It's not any of the usual suspects. No, no, it's … bubble hockey? Whaaat? 
Apparently sweaty (and presumably nasty-smelling) Flacco came straight off the practice field yesterday and didn't bother taking a shower or even taking off his jersey before starting to play.
Whatever floats your boat, Joe. Hey, I can't knock it. I've been known to spend hours at the foosball table.
After Contract, Austin Suddenly Has Too Many 'Cousins'
Former Dunbar High School star Tavon Austin officially signed his first NFL contract, reportedly worth $12.75 million.
Now the eighth-overall pick is having trouble with all his new "cousins" in Baltimore that want a piece of his new money.
"Just people," Austin told the St. Louis Rams' website. "Everybody expects a lot of things from you as far as money. Everybody wants to be around you. My phone doesn't stop ringing now. It feels like they're counting my bank account now. So that's probably the hardest thing for me right now, just people.
"I've got a lot of cousins now. The whole [city of] Baltimore is my cousin now. We're going to just try to keep focused and let my mother and all of them handle it."
New Bag Policy? About Time
The NFL and the Ravens announced a new policy that limited the size and types of bags fans will be able to bring into stadiums.
The purpose of the new policy is to make a safer environment while also expediting fan entry. (More details here.)
"No more unbelievably long lines at the gate while the security guard goes through herds of people's carry-on garbage," they wrote. "What a relief. The last thing a fan wants to endure after hours of tailgating is to stand behind Eunice, Betsy and Uncle Ron while they have their merchandise inspected. Outta the way, please! In case you haven't noticed, we're here to watch a game. And after all that tailgating, we gotta make a pit stop."
Backup running back Damien Berry was arrested Tuesday on a failure to appear warrant stemming from a charge of driving with a suspended license, according to The Baltimore Sun. He has several traffic violations, per the report.
Berry was released on his own recognizance Wednesday. He was given an Oct. 10 court date.
He wasn't seen by Wilson during the last two days of mandatory minicamp. The Ravens are aware of the situation.