Ravens Not Pursing Veteran WR For Now
Torrey Smith and the other young Ravens receivers get their wish … at least for now.
Ravens brass isn't "planning to pursue" a veteran wide receiver, including Brandon Lloyd and Austin Collie, according to The Baltimore sun.
The report notes the Ravens could change course and decide to explore the market later, but right now the focus is on evaluating the current receivers on the roster and giving them an opportunity to prove themselves.
"The Ravens' hope is that at least a few of their receivers grow into expanded roles after the offseason trade of three-time Pro Bowler Anquan Boldin to the San Francisco 49ers," wrote Aaron Wilson.
The receiver market is thin at this point, with Lloyd and Collie leading the group. It also includes Randy Moss, Chaz Schilens, Chad Johnson, Laurent Robinson, Deion Branch, Jabar Gaffney and Mike Sims-Walker.
This may be an indication that the young receivers are accomplishing their offseason objective.
"Our goal is for Ozzie to feel comfortable enough with us that he doesn't have to go bring in a veteran," Smith said last month. "It's on us to go out there and make it happen, and for him to trust us and believe in us."
Without the ability to see the receivers in action, some fans feel anxious about replacing Boldin with an unproven receiver. By all accounts, however, the young players have had a solid offseason even though no* *one stood out as the clear frontrunner.
Wide Receivers Coach Jim Hostler gave a breakdown of the wideout competition in the video to the right, highlighting the unique traits of those in battle.
Overall, the group is characterized by its blazing speed. Smith is the clear top receiver and Jacoby Jones is the current No. 2, but will be pushed especially by Tandon Doss and Deonte Thompson.
Doss and Thompson both had impressive minicamps, but are different players. Doss has good hands and route-running ability but generally doesn't "wow." He seemed to run with the first team the most during camp and appeared to get the most catches. Thompson is the fastest and is a finisher. He is no slouch at running routes either. He's had the most media buzz during the workouts.
You also can't forget about David Reed, who makes plays after the catch but needs to stay healthy, and LaQuan Williams, who also adds value on special teams. 
Woodley Won't Take Back Flacco CommentsRemember when Steelers outside linebacker LaMarr Woodley said on national television that Joe Flacco would never "in his lifetime" go to the Super Bowl? That was back in 2011.
But Flacco not only went to a Super Bowl, he won it and was named the MVP.
That doesn't mean Woodley will recant his comments.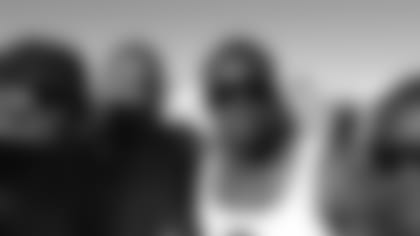 "I don't take it back at all," Woodley told ESPN's Jamison Hensley. "As a player on any team, you're never going to say your rival is going to win the Super Bowl. That's knocking you out of the tournament that year. Somebody on their team pretty sure would say that as well. That's the nature of what it is. A lot of people don't understand. They're going to take it the way they want to take it."
Sure, that's true. Baltimore fans would flip out if a member of the Ravens team said the Steelers would win the Super Bowl. But that's not the point. Flacco did win, and that's a fact. Acknowledging Flacco proved him wrong in the past wouldn't mean Woodley is losing his competitive edge or conceding that Flacco will win the Super Bowl again … after winning the AFC North … for the third time in a row … since Woodley made his (incorrect) prediction.
But it seems as though Woodley is still cool with at least a few Ravens. That's him chillin' between Smith and Ravens safety James Ihedigbo in Las Vegas over the weekend, per Smith's Instagram account. While the animosity of rivalries usually doesn't seep into players' personal lives, it's still a little weird seeing a Raven with his arm around a Steeler, even on a Vegas vacation.
Vote: Harbaugh vs. Tomlin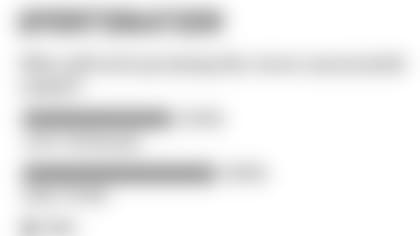 As of this morning, more people believe the Steelers head coach will win that distinction. A SportsNation poll has Tomlin leading Harbaugh 54 to 42 percent of more than 9,000 votes.
Harbaugh and Tomlin have similar career numbers.
Harbaugh: 5 years, 1 Super Bowl, 2 division titles, 3 AFC title berths, 63-30 record (.677)
Tomlin: 6 years, 1 Super Bowl, 3 division titles, 2 Super Bowl berths, 68-36 record (.654)
"Where Harbaugh has separated himself, in my opinion, is the past four years," says Hensley. "The Steelers have missed the playoffs in two of the past four seasons and haven't won a postseason game since beating the New York Jets in the AFC championship game in January 2011. Over that same span, the Ravens went to the playoffs each year and won seven playoff games, including four on the road."
Hensley, who wrote earlier this month that Harbaugh could become the NFL's next great coach, is looking for more fan votes and comments on the topic before declaring a winner next week.
Schlereth: Ravens Won't Make Playoffs
According to ESPN's Mark Schlereth in the video below, the Colts and Ravens will fall short, meaning the Broncos, Patriots, Texans and Bengals will make it.
And guess who will take the Ravens' spot in the postseason. Yes, the Steelers.
Schlereth believes Baltimore has lost too many Super Bowl defensive starters to be considered for the playoffs. The analyst had to use a "cheat sheet" to name six of the defense's losses, but the cheat sheet did help with getting Cary Williams and Bernard Pollard's names right (that's never happened to me before #sarcasm).
Harbaugh Bros Compete Even On Father's Day
These guys just can't help themselves.
Everything's a competition – even for their father's love.
John Harbaugh admitted that he and his brother, Jim, would each try to get their dad, Jack, on the phone first to wish him a happy Father's Day. They don't stop there; they do it for all major events.
"There's always a race," John Harbaugh said, per The Sun. "Birthdays, there's always a competition of who can get to the phone call first. Believe me, my dad does keep track. He keeps track. I have East Coast ties, so it should be an advantage there."
"With his towering height and impressive wingspan, defensive lineman Chris Canty is one of the most imposing players on the Ravens roster," wrote Wilson. "Canty had a dominant minicamp, disrupting passing lanes and shoving offensive linemen into the backfield. He looked explosive and showed no lingering effects from a knee injury that bothered him last season."  [The Baltimore Sun]
You'll have to be patient to really know if fullback Vonta Leach's blocking can be replaced … "Gauging rookie fullback Kyle Juszczyk's ability as a blocker will have to wait until training camp, but Juszczyk, as advertised, looks to be a versatile player with the capability to be a threat as a pass-catcher," wrote Matt Zenitz. [Carroll County Times]
"The one first-teamer who consistently made plays for Joe Flacco in minicamp] was Pitta," wrote Matt Vensel. "Flacco targeted Pitta often, knowing he could loft the ball up for grabs and chances were the tall tight end with soft hands would come down with it. The defense did notice that Flacco was looking at Pitta perhaps [a little too frequently because they picked off a couple of passes intended for Pitta this week." [The Baltimore Sun]
Rice is ready to take the leadership baton from Ray Lewis. "A leadership role is something I definitely don't mind taking upon now, because I was mentored by one of the greatest leaders probably ever to play the game in Ray Lewis," Rice said. [USA Today]
@ravens: Congrats to @RAVE_TV for winning yet ANOTHER Emmy for their sports feature "Tunnel Vision." Watch it now! [Twitter | BaltimoreRavens.com]
@lwebb21: Thanks to @ellerbe59 @bynestime56, Courtney Upshaw and Trovon Reed for supporting me at my football camp [Sunday]. [Instagram]
@adamschefter: Only our boss, @tunasweasel, could get lost going to Ray Lewis' house and wind up at Cal Ripken's house. #unwelcome [Twitter]
@elamvselo: Too many people responding My Father Day text with a "Same 2 U" text, don't jinx me, I'm running to get a vasectomy right nie [Twitter]
@torreysmithwr: Someone tell @mspear96 to take me wild boar hunting in Texas...he's holding out haha [Twitter]
@jameelmcclain: "@MichaelOher: Having a good time at @pkruger99 cares event with @JameelMcClain @Artj97 @Haloti_Ngata92 and everybody else! Good times!"whoop [Twitter]