Smith's Mug In Pittsburgh, New Under Armour Ad
Imagine walking into your favorite Baltimore-area Dick's Sporting Goods store to buy the latest Ravens apparel, and right above the purple and black T-shirts is a giant picture of quarterback Ben Roethlisberger.
That sick feeling you are imagining appears to be a reality for Steelers fans who are forced to view a massive poster of receiver Torrey Smith in a Dick's located in Pittsburgh.
Just above black and gold Pittsburgh T-shirts, which don't appear to be Steelers gear but share a likeness, is a huge poster of the Ravens receiver.That image can only remind the city of Smith's devastating, game-winning catch at Heinz Field in 2011.
Smith retweeted a Twitpic from @bigzee98 showing the scene.
If you haven't already, you'll start to see a lot more of Smith's mug (the dreads version) in Dick's Sporting Good's stores, the football headquarters of Under Armour, as the company rolls out a new ad campaign with the third-year receiver.
Highlighting the campaign is this intense "I Will" commercial that Smith shot during the season at the Ravens' practice facility, named the Under Armour Performance Center (I'm seeing a theme here).
"Get better! That's. Your. Job," the commercial declares. "Cause now that you've been to the top, roll a parade float. Everybody's after what you got. So you better strap on your Armour and get ready for a fight."
Doss Leading Ravens' WR Battle?
The Ravens' wide receiver battle for the starting spot opposite Smith largely won't be decided until training camp.
But if you had to choose one person that has the edge heading into camp, who would it be?
The word on the street indicates that Tandon Doss holds a slight lead. The Indiana product, who was hand-picked by quarterback Joe Flacco, has had a standout offseason.
"In today's NFL, you really have to look at it as if there are three starting wide receivers, and I'm sure the Ravens will use their three-wide sets a fair amount in 2013," wrote The Baltimore Sun's Matt Vensel, who said we can assume that Smith and Jacoby Jones are the top two receivers.
"From there, it's a wide-open competition, one that should be one of the most exciting of the summer. The two frontrunners for the third wide receiver spot are Tandon Doss and Deonte Thompson. David Reed is also in the mix. If I had to handicap it now, I would give Doss the slight edge heading into camp."
Our own John Eisenberg isn't so sure that Jones will wind up being the No. 2, and thinks Doss has a legitimate shot at it.
"No player has a wider window of opportunity than third-year wide receiver Tandon Doss," Eisenberg wrote. "I think it remains to be seen whether the coaches really elevate Jones to No. 2 and lessen his duties as a returner, where he was so effective in 2012. If Jones ends up as a returner/No. 3 receiver again, Doss could start. He made some plays in minicamp but still needs to prove himself."
Ravens When They Were Kids
The Baltimore Sun has a fun photo gallery of some Ravens when they were young. You can find the full gallery here, but just to whet your appetite, below are a couple of Joe Flacco, Ray Rice and Jonathan Ogden (my favorite).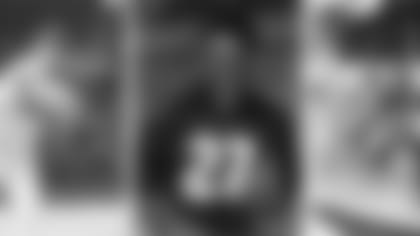 Leaving Baltimore Hasn't Mellowed Pollard
"Switching teams has not mellowed former Ravens safety Bernard Pollard," wrote CSNBaltimore.com's Clifton Brown.
That's because the outspoken veteran is in the news again for some tough comments he made and wrote in his new home of Tennessee.
Pollard taped a hand-written message to his locker at the Titan's facility that reads: "Goal – Super Bowl, Mission – Kill!!!"
When asked about using such a powerful and ominous word to describe his mission, Pollard wasn't apologetic.
"Our goal is the Super Bowl and our mission is to kill," Pollard told the Tennessean. "And if someone doesn't like it, then who cares? I really couldn't care less. It is not our responsibility to make anyone else happy, to please you, to care about you."
Pollard, who signed a two-year deal with the Titans after he was surprisingly cut from the Ravens' Super Bowl squad this offseason, was asked about those who would criticize him for using harsh language. Pollard says those people are "fools" to think he is using the literal definition.
"I don't care what they have to say," Pollard said. "If they feel like we're going to carry guns and knives and try and stab people and try and kill them, shame on you. You are an idiot,'' he said. "For us, when we say kill, we want to go out there and knock the (heck) out of people, we want to hit you. And for me, we're going to help you up because I'm going to knock you back down. I have been at plenty of pee-wee football games where I have seen my son, my daughter, and you hear parents, you hear women, white, black, Hispanic, Chinese, Japanese, telling their sons, 'Kill them! Telling their daughters, Kill them!'
"Do I believe they mean kill them? Literally kill them? No. So if you have never played this game before and you want to take that and run with it, go ahead. Shame on you. You're a fool. But for us, that is just the mentality you have to have and that's not going to change."