Think Flacco's Overpaid? Check Out Kaepernick's New Deal
If you think Joe Flacco got a big contract, wait till you see Colin Kaepernick's new deal. And he LOST to Flacco in Super Bowl XLVII.
The Ravens have been criticized for overpaying Flacco, but it's time to quit that line of thinking.
With a year on his rookie contract remaining, the San Francisco 49ers struck a new deal with Kaepernick totaling $126 million for six years and a whopping $61 million in guaranteed money (although more details on that here).  That is the most guaranteed money of any NFL quarterback, including Tom Brady and Aaron Rodgers.
Since Flacco signed his contract only 15 months ago, he has watched seven quarterbacks surpass him in guaranteed money.
   QBs Guaranteed Cash
Colin Kaepernick
$61 million
Matt Ryan
$59 million
Tom Brady
$57 million
Drew Brees
$55 million
Tony Romo
$55 million
Aaron Rogers
$54 million
Jay Cutler
$54 million
Joe Flacco
$51 million
What's crazy is not only did Kaepernick get more than Flacco, but the 49ers signal caller hasn't come close to Flacco's success.
"At least when the Ravens broke out the checkbook, Flacco had won 54 regular-season games," wrote Hensley.
That's more thantriplethe career wins than Kaepernick has at 17.
On top of that, Flacco also had a Super Bowl win and MVP honor before signing. He had nine playoff wins and the distinction of becoming the first starting quarterback in NFL history to make the playoffs in each of his first five seasons. 
"Based on that, you could argue that the Ravens got Flacco at a bargain," Hensley wrote.
Check out the side-by-side comparisons of the two below at the time of the signings, according to multiple reports:
*
Flacco
Kaepernick*
Contract
6 yr(s)/ $120M
6 yr(s)/ $126
Average Salary
$20.1M
$20.9M
Guaranteed
$51M
$61M
Best Passing Season
3,817 yards
3,197 yards
Wins
54
17
Playoff Wins
9
5
Super Bowl Wins
1
0
Super Bowl MVPs
1
0
This isn't to say Kaepernick shouldn't have gotten paid. Of course the 49ers had to pay him.
This is just the landscape of the NFL, where quarterbacks are paid top dollar and each contract exceeds the last. Teams know they have no chance of winning without a capable quarterback.
That's why when the Andrew Lucks and Russell Wilsons of the world are up for extensions, they'll likely surpass Flacco, Kaepernick and the others before them too.
"It's amazing how contracts escalate in the NFL, especially for quarterbacks," Hensley wrote. "Sure, Flacco certainly wasn't worth the money last season, when he threw a career-worst 22 interceptions and failed to lead the Ravens to the playoffs for the first time in his career.
"But, when you look at what quarterbacks are being paid these days, the Ravens were only paying market value for Flacco last year."
Flacco Drops To No. 58 In Top 100, Criticized For Being Too High
The NFL Network is revealing its Top 100 Players of 2014, as voted on by the players, and Flacco dropped from No. 19 after winning the Super Bowl to No. 58 after an 8-8 season.
With the Top 100 focusing less on career achievement and more on the mantra, "What have you done lately?" few would argue that Flacco should have some sort of fall. Perhaps not even Flacco himself would argue (if he cared about this sort of thing, which he doesn't).
Flacco threw a career-high 22 interceptions last season to 19 touchdowns. That was the second-most picks in the league, only behind New York Giants' Eli Manning.
But even with a 39-spot drop, analysts hotly debated whether Flacco was still rated too high.
At No. 58, that puts Flacco as the 10th-best quarterback on the list with the top nine still to be revealed. But he was ranked higher than Kaepernick and the Dallas Cowboys' Tony Romo, which was not a popular final result among the NFL Network analyst crew in the video below.
"He's the 10th best option [at quarterback]?" asked Dave Damesheck in the video below. "Absolutely not. That's ridiculous."
Assuming among the nine quarterbacks that will be ranked ahead of Flacco will include Aaron Rodgers, Peyton Manning, Tom Brady and Drew Brees, there will be some other big-name starters that won't make the list.
One of the following won't make the top 10: Ben Roethlisberger, Andrew Luck, Philip Rivers, Matt Ryan, Cam Newton and Russell Wilson.
"Each one of those quarterbacks is superior to Flacco," wrote NFL.com's Chris Wessling.
Below is the No. 58 reveal video for Flacco, plus Marshal Yanda's reveal at No. 55. Dude is a BEAST!
Mobile users tap "View in Browser" to watch the videos.
Jimmy Smith On Verge Of Breakout Season
As starting cornerback and former first-round pick Jimmy Smith enters his fourth NFL season, he could be on the verge for a breakout year, says The Baltimore Sun's Mike Preston.
Smith picked off Flacco at the 20-yard line of practice yesterday, and took it back for a score and a Mr. Olympic pose.
"The Ravens and Smith would like to see more of those big plays in 2014," wrote Preston.
"If Smith can force more turnovers, there is a Pro Bowl in his future. As he enters his fourth season, it could be his breakout year which is the main reason the Ravens exercised his option in April that will pay him $6.898 million in 2015."
The NFL is ditching Roman numerals for the upcoming Super Bowl.  Now, Super Bowl L will be Super Bowl 50. The change is only a one-year thing. [CBSSports.com]
@goodsportsinc: Huge thanks to @Ravens CB @LWebb21 for helping us donate $15K of equipment to the Webster Kendrick BGC! #playmatters http://t.co/fvl4X1D1lH [Twitter]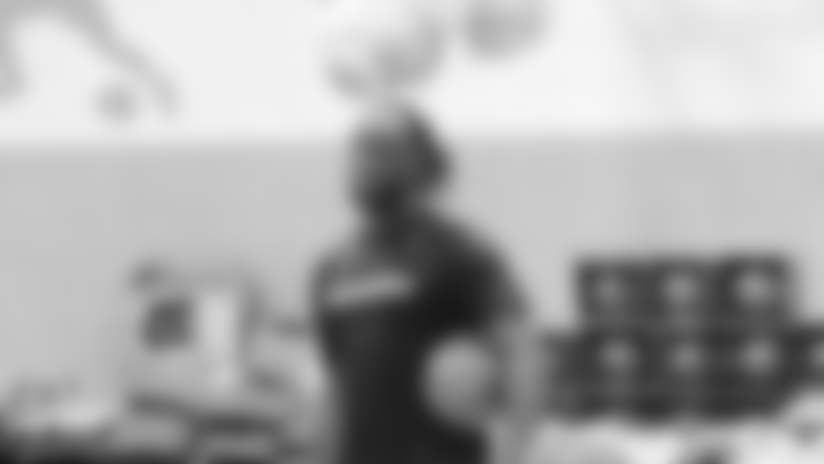 @Nestor [WNST]: Guess who made it to Baltimore Ravens practice today?  #JennStrong #BmorePositive  [Twitter]