Joe Flacco Puts On Touchdown Clinic
It was raining touchdowns yesterday, courtesy of quarterback Joe Flacco.
Or as Baltimore Beatdown's Matthew Stevens phrased it, Flacco was "slaying the sixes."
During a red-zone portion of 11-on-11 drills in Monday's Organized Team Activities (OTAs), Flacco threw touchdowns on back to back … to back plays. That's three consecutive throws, and three consecutive catches in the end zone.
Tight end Crockett Gillmore caught two, and then Flacco found wide receiver Marlon Brown wide open over the middle. Gillmore was impressive on his two receptions, going over the top of linebacker Arthur Brown to reel them in.
In fairness to the secondary and pass defenders in general, they are asked to back off receivers during these non-contact drills so it's a little harsh to say they looked "silly." That said, Flacco deserves credit for putting on a clinic.
While the sky is the limit for the eight-year veteran, quarterback Matt Schaub apparently hasn't inspired confidence among reporters in his short time in Baltimore.  If Flacco were to be injured and miss a game for the first time in his career, Schaub would be called upon.
"Schaub was the complete opposite of Flacco all day long," wrote Stevens.
During his snaps, Schaub threw some inaccurate passes and two of them wound up in the hands of the defense. One was tipped to cornerback Quinton Pointer, who likely would have returned it for a touchdown in a game. The other went directly into the arms of linebacker Zach Orr.  
"After having a few mediocre to bad practices in front of media, the Ravens might have a dilemma on their hands with Schaub," Stevens wrote. "[T]he Ravens were hoping that Schaub could step in if needed to win a few games in the event Flacco had to miss time. Right now, I'm seeing the Schaub that lost his job in Houston [rather] than the one that was a playoff-caliber player."
Would You Rather: Matt Ryan or Joe Flacco?
Can we just declare an end to this debate?  At least until Falcons quarterback Matt Ryan wins more playoff games?
Unless that happens, Flacco has the clear upper hand.
CBSSports.com is running a series called "Would you rather," in which writers compare two NFL players and decide which one they'd take as their franchise player. Comparisons include pass rushers Von Miller and Justin Houston, receivers Alshon Jeffery and Mike Evans,  cornerbacks Richard Sherman and Darrelle Revis, and of course, Ryan and Flacco.
Their passing numbers are similar, but Ryan is clearly the leader in yards and touchdowns. Meanwhile, Flacco knows how to win games in January. Ryan has one postseason win, while Flacco has 10 and a Super Bowl ring.
   
JOE FLACCO
MATT RYAN
   Yards
25,531
28,166
   Completions
2,213 / 3,657
2,508 / 3,916
   Completion Percentage
60.5%
64.0%
   Touchdowns
148
181
   Long
80 yards
90 yards
   Interceptions
90
91
   Fumbles
12
11
   Pass Rating
84.8
91.1
   Pass AVG Pass Rating
7.0 yards
7.2 yards
   Completion AVG
11.5 yards
11.2 yards
   Sacks
241
188
"So, who ya got?" asked CBSSports.com's Ryan Wilson. "Cop-out: You can't go wrong with either. Our answer: We're taking Flacco. We can live with ups and downs during the regular season because we know who's showing up in the playoffs."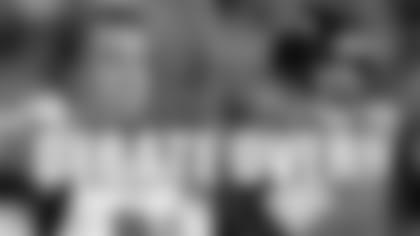 Suggs Joining 10 NFL Players On Game Show 'Family Feud'
Set your DVRs.  This should be amusing.
You can't go wrong when combining one of my favorite game shows with the most entertaining Raven.  Suggs and Steve Harvey will be the perfect comedy combination.
Suggs will participate in an AFC vs. NFC battle on The Feud, even joining forces with despised Steelers wide receiver Antonio Brown. Below are the representatives from each conference:
-        Steelers WR Antonio Brown
-        Jets C Nick Mangold
-        Ravens OLB Terrell Suggs
-        Chargers TE Antonio Gates
-        Broncos DE DeMarcus Ware
-        49ers TE Vernon Davis
-        Packers RB Eddie Lacy
-        Cardinals DE Calais Campbell
-        Bears RB Matt Forte
-        Panthers OLB Thomas Davis
Just to get you in the "Family Feud" mood, here's a clip that is sure to make you laugh out loud.
Video Evidence That Suggs Was A (Fast) High School Running Back
Suggs retweeted this footage over the weekend to prove to former teammate Ray Lewis that he was telling the truth.
The pass-rushing monster that we have come to love was once a high school running back, and he was fast, too. Check out the footage below as Suggs races past linebackers and safeties on his way to pay dirt.
No worries, Ray. I wouldn't have believed it myself unless I had seen it.
And, by the way, this play wasn't a fluke. According to his Wikipedia page, Suggs set the Arizona Class 5A record for rushing yards in a game with 367 in 1999.
Tyrod Taylor's Amazing One-Handed Catch
Where were these amazing one-handed catches when quarterback Tyrod Taylor was in Baltimore? I don't recall seeing any fingertip grabs like this.
Taylor recorded a single catch during his four-year career with the Ravens. He rarely got on the field as Flacco's understudy. Maybe he should have tried a different angle and petitioned for more time as a receiver since Flacco never missed a game.
Elam Off To Great Start, But Has To Prove It With Pads
Defensive Coordinator Dean Pees' tone was strong.
He seemed to want everyone to know that former first-round pick Matt Elam's hard work to bounce back from a down year is paying off so far in OTAs.
"Best camp he's had, bar none. Not even close," Pees responded when asked about the safety. "I expect big things out of Matt. I really do."
Pees also noted he'll know more once the players are allowed to have contact in practice. CSNBaltimore.com's Clifton Brown concurs, and says the real proof will be when the pads come on.
"Expected to be a starter and a physical presence in the secondary, Elam has missed far too many tackles and has been caught out of position too many times," Brown wrote. "Competing with Will Hill for the starting strong safety spot, Elam is facing a potential make-or-break season with the Ravens.
"Elam is still only 23 years old, and it takes some young players longer to make the transition to the NFL. The Ravens have been waiting for Elam to realize his potential. We'll see if a good start to OTA's leads to a better season."