McNabb Says Rice Fumbles 'Way Too Much'
When asked which NFL "superstar" would take a step back in 2013, former Eagles quarterback and NFL Network analyst Donavan McNabb named running back Ray Rice.
First, he believes Bernard Pierce will eat into Rice's touches.
Second, McNabb says Rice is a fumbler.  
Let's take a look at McNabb's claim.
Rice only fumbled the football once last regular season, and it did not result in a turnover. That's especially impressive when considering Rice was one of the league leaders in touches.
Rice got slippery hands in the playoffs, however, where he coughed up the ball three times. He lost two fumbles in the wild card playoff in a 24-9 win over the Indianapolis Colts. Thanks to the Ravens defense, neither of Rice's turnovers in that game resulted in points for the Colts.
After the uncharacteristic game for the Pro Bowler, Rice declared, "I'm not a fumbler.
"I'll take both of [those fumbles] on the chin, I don't know if I want to say it – but I saved my worst game for today. That'll be the last time I address me fumbling. It won't happen again."
Rice fumbled one more time in the third quarter of the Super Bowl on the Baltimore 24-yard line, and it led to three points for the 49ers.
So would Rice's unusual turnover stretch result in "a step back" next season?
To me, if he takes a step back at all, especially in terms of stats, it would be because he and Pierce are a great 1-2 punch, not because of fumbles.  
Elam Not Hiring Agent, Could Save Money
After toying with the idea, first-round draft pick Matt Elam isn't planning on hiring an agent to negotiate his rookie contract, according to Aaron Wilson of The Baltimore Sun.
Despite not having representation, the report indicated that Elam will finalize his contract with the Ravens before the start of training camp on July 21.
Under the NFL slotting system, there is little wiggle room for negotiations and Elam is slated to sign a four-year, $6.767 million contract that will include a $3.301 million signing bonus. Elam is getting advice from his older brother, veteran NFL safety Abram Elam.
"Although it's rare for a player not to hire an agent, the new Collective Bargaining Agreement makes agents a lot less important than they used to be for rookies," wrote ProFootballTalk.com's Michael David Smith. "If Elam were to pay the maximum allowable commission of three percent of that to an agent, he'd be giving up $203,010. So he'll save a nice chunk of change by declining to hire an agent.
"That is, he'll save a nice chunk of change if he doesn't do anything foolish and sign a contract that has clauses he doesn't understand, costing him the ability to earn all the money he's entitled to earn. That's always a risk, and it's the reason most players are willing to hand over a significant commission to an agent even if there really isn't any negotiation to be done at all."
Watch Out For WR David Reed
When debating who will become the Ravens' Nos. 2 and 3 receivers, David Reed is usually mentioned as an afterthought.
Jacoby Jones, Tandon Doss and Deonte Thompson seem to be the main contenders, but you have to watch out for Reed, says CBSSports.com's Jason La Canfora.
In an offseason where the Ravens made headlines for releasing players left and right, Reed got a new contract. That says something for the fourth-year veteran, especially if he can stay healthy.
"It wasn't that long ago that many on the Ravens' coaching staff were very high on receiver David Reed," La Canfora wrote. "He was seen as a potential special teams difference maker, and the heir apparent to Derrick Mason as a possession receiver. Since then, he's flamed out as a return man with fumbling issues and struggled with injuries and for playing time.
"But at a time when the team was cutting players all over the place, Reed got $2 million to stay. Seems to me he will get a good chance to move up the receiver pecking order with Boldin gone. This looks like his last stand and I wouldn't be shocked if he takes advantage of it."
Rice Loving WWE's Monday Night Raw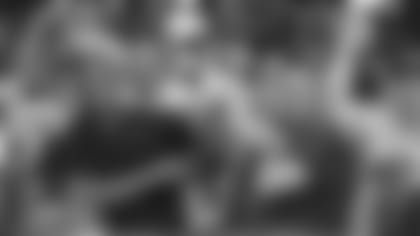 WWE's Monday Night Raw visited 1st Mariner Arena this week, and while Torrey Smith was super bummed he had to miss it due to wedding planning, Rice got up close to the action and appeared to enjoy every minute of it.
"There's Ray Rice, the running back who runs over the Cleveland Browns regularly," announcer Michael Cole said.
Check Rice out flexing his muscles for TV cameras.