Tree Falls On Jimmy Smith's House
Severe storms and gusty winds swept across the Baltimore-Washington area this week, knocking out power lines and toppling trees across the region.
One of those trees fell on cornerback Jimmy Smith's house.
Smith posted a video of the damage to his home, saying "I think we had a damn tornado hit my house yesterday. How do you get rid of a fallen tree on your house? Please tell me."
Luckily, Smith didn't mention any injuries occurring during the incident, and seemed somewhat upbeat considering the circumstances. He was simply focused on cleaning up the damage.
Instagram followers immediately responded to Smith with offers for assistance and advice.
Smith was one of thousands of Marylanders who were affected by storms. At one point Tuesday night, more than 40,000 homes in Baltimore County were left without power, according to WJZ.
There were reports of wind gusts reaching 50 to 60 miles per hour.
The Battle of the Beltways was even affected. The second game in the series between the Nationals and Orioles was canceled, with the makeup game scheduled for Aug. 4.
Four Teams Inquire For Andre Johnson Trade. Ravens One?
Many are speculating the Ravens may have been one of those teams.
Johnson, a seven-time Pro Bowler, has told the Texans he would rather play for another team, according to NFL Media's Ian Rapoport. Part of his issue stems from a disagreement revolving around a $1 million workout bonus.  Additionally, Johnson doesn't want to be a part of the rebuilding process in Houston after finishing 2-14 last season and hiring a new coaching staff.
Knowing of Johnson's unhappiness, four teams called about a trade, but the Texans are not interested, according to Rapoport.
The two sides could always find a way to work things out (Texans could guarantee a 2015 roster spot, or give him the $1 million, or he could play for no one in 2014), but now analysts are speculating who the four interested teams could be.
"When reports link a player to multiple unnamed teams, there's a good chance there aren't as many unnamed teams as reported.  Or any," wrote ProFootballTalk.com's Mike Florio. "But let's suspend disbelief for now and assume at least four NFL franchises would be interested in giving up one or more draft picks for a 33-year-old receiver due to make $10 million this year and $11.5 million in 2015.  Who would, could, should those teams be?"
Florio, along with Larry Harstein (CBS Sports) and Marc Sessler (NFL.com) believe the Ravens may have been one of the teams. Of course, there are no sources linking the Ravens. The writers are simply using Johnson's connection with Offensive Coordinator Gary Kubiak for reasoning.
The Ravens already have one their most talented receiving corps in franchise history, but Johnson's a hard guy to resist. And Kubiak knows how to use him, as Johnson was the NFL receiving leader twice with Kubiak.
"The natural connection between Johnson and new Ravens coordinator Gary Kubiak makes Baltimore a logical landing spot," wrote Sessler. "The team's passing attack was a snoozefest last season, but the combined powers of Torrey Smith, Steve Smith and Johnson would turn the Ravens into one of the AFC's more dynamic air attacks."
Yes, a Smith-Smith-Johnson trio would be amazing, but the potential problem with that is the Ravens would potentially have to trade Torrey Smith in order to land Johnson, says Florio. Not to mention, the team would somehow have to clear cap space to take on Johnson's $10 million salary.
"[T]hey'd probably have to be willing to ship someone like Torrey Smith to Houston in order to get Johnson — and that probably wouldn't be a good idea," wrote Florio.
Smith is a 25-year-old receiver who keeps getting better and has yet to enter his prime. He will reportedly only count $1.08 million against the cap in 2014, unless he agrees to a contract extension before the season.
To borrow a phrase from former Ravens Head Coach Brian Billick, trading Smith for a more expensive 33-year-old receiver "doesn't seem prudent."
Future Power Rankings: Ravens No. 10
An ESPN panel of experts – John Clayton, Mel Kiper, Louis Riddick and Mike Sando – teamed up to project how NFL teams will fare over the course of the next three seasons (2014-16).
They rated every team in five categories: roster (excluding quarterback), QB, draft, front office and coaching. The results were then averaged and weighted to create a Future Power Ranking list. 
The Ravens came in at No. 10 overall.
"GM Ozzie Newsome maintains a sterling reputation although the Ravens plummet in the future rankings compared with where they've stood in recent seasons," Sando wrote. "Baltimore continued to rank first in the front-office category, but the Ravens dropped a combined 36 spots in the other four areas, the fifth-largest combined drop in the league. That includes falling 13 spots to No. 19 in overall roster (non-QB) and 10 spots to No. 17 at QB, even though Joe Flacco remains the starter." 
The Ravens came in behind nine other teams (from No. 1 to 9): the Seattle Seahawks, Green Bay Packers, San Francisco 49ers, Denver Broncos, New England Patriots, New Orleans Saints, Pittsburgh Steelers, Philadelphia Eagles and San Diego Chargers.
"All you have to do is look at the past two seasons to see the level of Flacco's impact," Hensley wrote. "The Ravens won the 2012 Super Bowl when Flacco was at his best, putting together a Joe Montana-like performance through the playoffs (11 touchdowns, no interceptions). The Ravens failed to make the postseason for the first time last year under Flacco, when he struggled through his worst season (including a career-high 22 interceptions)."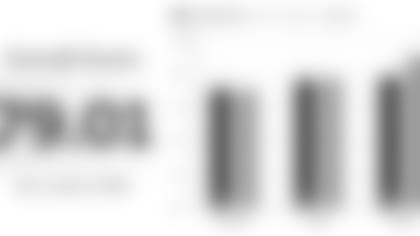 @TorreySmithWR: Anniversary dinner with @LibraLadii_ and TJ (It's really tomorrow but whatever) [Twitter]
@RavensCommunity: Nominate a worthy youth group that betters Baltimore for the @Ravens Honor Rows program, presented by @MandT_Bank! [Twitter]
Running back Lorenzo Taliaferro prepares for his first NFL training camp with a* *stop in South Carolina. The former Coastal Carolina is back on the Grand Strand. [CarolinaLive.com]
Fellow running back Bernard Pierce is grinding too. Big competition going on … @ djbryant13:* *Great 2nd workout with the homie @bp_30 great intense workout. [Instagram]