Flacco's Brother Exits Baseball To Pursue NFL Dream
Former Orioles draft pick Mike Flacco has decided to give up his professional baseball career in order to pursue football like his older brother.
His older brother is of course Joe Flacco, Ravens quarterback and Super Bowl XLVII MVP.
The younger Flacco enrolled at Division II University of New Haven, where he will play tight end, according to Mike Garafolo of FoxSports.com.
Flacco's got the size and raw talent, but he's also 26 and hasn't played football since high school.
"He's 6-foot-6, 250 [pounds] and can run. You can use those guys," New Haven Head Coach Pete Rossomando told FoxSports.com. "We worked him out, we were able to watch him run around. He's very raw and he needs some seasoning to get to that next level.
"But if he does the things we ask, the sky is the limit for him."
Last year Flacco struggled within the Orioles' minor league system and, per the report, has been toying with the idea of switching to football since that time. A trade to the Boston Red Sox may have been the final push he needed to quit baseball. Watching his older brother succeed also seems to be a motivating factor.
"I want to be there with him," Mike said of his brother in January. "I see everything he's doing on the field and off the field, I want to do the same things. … I've got to find my own ground. I know all of Joe's success may help me, but at the same time I have to find what I want to do."
The clock is ticking on Mike's chances to pursue his NFL dream.
Rossomando said Mike could graduate in two years "if he pushes it," since he has already completed two semesters of college. That would put him at 28, which in NFL years, is already middle-aged. Per Garafolo, Mike thought about trying to go straight to the NFL, but decided to go to college first. He wants to earn a degree.
"Realistically, it'll be an uphill climb to the NFL for a 26-year-old who's just starting college football now," ProFootballTalk.com's Michael David Smith wrote. "But when Mike Flacco wants to see whether he can fit into an NFL passing game, he has a pretty good quarterback to put him through the paces."
Expect More Two Tight-End, Single-Back Sets?
The Ravens have the talent to make the switch with tight ends Dennis Pitta and Ed Dickson.
The Ravens lined up in two tight-end sets for only 215 plays last year, fifth lowest in the league, per Clayton. With Boldin in the slot, only one tight end was needed.
If Clayton is right about more two tight-end sets, that could also mean that The Baltimore Sun's Matt Vensel is correct in predicting the Ravens will also be in more single-back sets next season. With two tight ends on the field, the fullback is usually sent to the sidelines.
Under Offensive Coordinator Jim Caldwell, Vensel sees that happening even more.
"[T]he Ravens released All-Pro fullback Vonta Leach, the NFL's best blocking back, and replaced him with fourth-round pick Kyle Juszczyk, who was more of a receiving threat in college than a blocker," Vensel wrote. "But Leach was already getting phased out of the offense last season, playing just 22 offensive snaps in the Super Bowl.
"Plus, the Indianapolis Colts often used single-back sets when Caldwell was the quarterbacks coach and during the three years he was their head coach. But was that Caldwell's call, quarterback Peyton Manning's or both?"
Jimmy Smith Has Tools, Mindset For Big Leap
Even though injuries plagued the first two years of his career and he struggled to adjust to the NFL, Ravens former first-round corner Jimmy Smith is still a prototypical physical, press-man corner.
His size, talent and mindset this offseason are enough for NFL.com to place Smith at No. 21 on its list of players that could "make the leap" in 2013. Chris Wesseling believes there are still signs that Smith could live up to his first-round billing.
"Prior to the injury, Smith struggled at times in coverage but showed his trademark physicality as a rare cornerback willing and able to lay the wood on opposing ball carriers and receivers," Wesseling wrote. "Although Smith's first two seasons have been a mild disappointment, coach John Harbaugh still is convinced he's 'really special' and will be 'a great player in this league.'"
Smith will have some obstacles in his way.
First, he has to battle Corey Graham for a starting role opposite Lardarius Webb, assuming Webb's ACL is healthy. Second, as Harbaugh pointed out, Smith still needs to be tested a lot more. When he was in college, opposing quarterbacks rarely threw his way. Third, he needs to stay healthy.
But Smith is healthy now, he shed 10 pounds this offseason, and he's coming off an impressive Super Bowl performance. All reports coming out of minicamp and team activities are that Smith is focused and has improved his work ethic.
"Smith has the physical tools and the mindset to meet the Ravens' expectations, but he's yet to prove reliable as a starter, much less a shutdown cornerback," Wesseling wrote. "The coaching staff isn't going to play favorites in the battle with Graham, but they certainly hope Smith makes good on the first-round investment."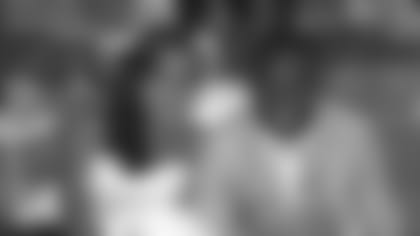 @TorreySmithWR: The beautiful @libraladii_ aka Mrs. Smith [Twitter/Instagram] * The Ravens' 11th-seeded championship ensemble has made it to the third round of the "Greatest Uniform in NFL History" bracket. Baltimore took down the two division rivals – the Browns and Bengals – and will now take on the Steelers No. 2 seed in the Sweet 16. As of this morning, the Ravens are up 42,691 votes to the Steelers' 30,768 votes. [NFL.com] * Bernard Pollard wants the Titans locker room to be more like the Ravens locker room by spending more time together on and off the field. "It is something we did in Baltimore, and it's something I'd like to see develop here," Pollard said. "If we're going to be the team we say we want to be, if we want to be a successful close-knit team, if we want this to be a brotherhood, then we all have to be on one accord. Getting together and doing those extra things is going to allow us to know each other better personally, and it's going to give us that feeling when we're going out there to fight, we know who we are fighting for, we know who we are fighting with."  [The Tennessean] * Instead of replacing Ray Lewis at middle linebacker, Dannell Ellerbe left for a bigger payday in Miami. Why? "At the end of the day, it's all about making a name for yourself and going somewhere where you can start your own legacy," Ellerbe said. "I just feel like that's where I was at in my career. I got the blessing from Ray. It don't matter what anybody else thinks." [The Baltimore Sun] * @Ravens: The NFL supplemental draft has concluded without any of the 6eligible players being selected. [Twitter] * @ElamVsElo: I play my first league game in less than a month & I can't explain how FRANTIC I am, it's MANDATORY that I be legendary..! [Twitter] * The Recycling Campaign created the PSA below that was filmed at M&T Bank Stadium. The design of the campaign is to promote recycling as a way to give garbage another life. For example, the aluminum cans featured in this video could one day become a part of a stadium. [YouTube]