Webb: Ready Or Not, Here I Come!
Ever since cornerback Lardarius Webb injured his knee in Week 6 last season, the five-year veteran has been cautious about setting expectations for his return.
Webb also posted an Instagram video of himself at the beach talking about his final break before training camp, confidently declaring, "Yeah, I'm ready."
Coincidently, a source told The Baltimore Sun that Webb remains ahead of schedule in his recovery from his torn anterior cruciate ligament (ACL) and is "making significant progress" in rehab.
The report also noted that a Week 1 return versus the Denver Broncos has not been ruled out.
Count Defensive Coordinator Dean Pees as one who is excited about the return of Webb after a major defensive overhaul this offseason. The team is counting on him to provide leadership and a shutdown presence as he enters the second year of a reported $50 million contract.
In case you missed it, BaltimoreRavens.com checked in with Webb to see how his rehab was coming along and learned what his goals are for 2013.
Ravens 19th-Most Valuable Sports Team In World
The Baltimore Ravens are the 19th-most valuable sports franchise in the world, according to Forbes' annual list.
The Super Bowl champions are worth $1.157 billion to Owner Steve Bisciotti, up from $1.09 billion last year. Despite the increase in value, the Ravens dropped one spot from their No. 18 ranking last year. The publication noted that M&T Bank's 15-year naming rights deal is worth $75 million.
European soccer clubs occupied the top three spots on the list: Real Madrid ($3.3 billion), Manchester United ($3.17 billion) and Barcelona ($2.6 billion).
The Ravens were the 11th-most valuable NFL team, and 30 of the 50 teams on the list were NFL franchises.
The other NFL teams ranked ahead of the Ravens are:
No. 5:Dallas Cowboys ($2.1 billion)No. 6: New England Patriots ($1.635 billion)
No. 8: Washington Redskins ($1.6 billion)
No. 9: New York Giants ($1.468 billion)
No. 13: Houston Texans ($1.305 billion)
No. 14: New York Jets ($1.284 billion)
No. 15: Philadelphia Eagles ($1.26 billion)
No. 16: Chicago Bears ($1.19 billion)
No. 17: San Francisco 49ers ($1.175 billion)
No. 18: Green Bay Packers ($1.161 billion)
Flacco Gets Back Up After Willis Collision
OK, so the Fox Sports 1 commercial starring quarterback Joe Flacco, 49ers linebacker Patrick Willis and a host of other athletes probably wasn't as "epic" as the sports network has been touting, but it's still pretty cool.
The spot opens with Flacco grimacing as he takes a nasty hit from the 240-pound linebacker.
It goes on to highlight several other athletes getting knocked down, only to get back up to conquer their opponents. As such, Flacco gets the best of Willis later on by throwing a touchdown pass on the run to win the game.
Ngata, Jones Bring Crazy-Good Versatility
ESPN highlighted 10 AFC versatile players who provide their teams with play-calling flexibility, and two Ravens made the list.
Receiver Jacoby Jones and defensive tackle Haloti Ngata have skill sets that not only allow their coaches to get creative with schemes, but also let them fill more than one role.
Jones is an explosive playmaker at both returner and wide receiver. He scored three times last season on kickoff and punt returns and also came up huge in the playoffs as the No. 3 receiver.
Now, Jones could become the No. 2 receiver, which would diminish his role on special teams, but the Ravens have the flexibility of tweaking his load at each position because of his versatility.
"Jones' speed and big-play ability give him a chance to be productive in multiple situations," ESPN's Gary Horton wrote. "The Ravens will devise some special 'packages' for him, which could include reverses and screens. The more touches he gets the better."
Let's count the number of positions the big and athletic Ngata can play: 1) defensive end in a 3-4 base, 2) nose tackle in a 3-4, 3) defensive tackle in a 4-3, 4) edge rusher in pass-rush situations and 5) fullback in goal-line situations.
For a 6-foot-4, 300-pound lineman, that type of versatility is almost unheard of. Now if he can just stay healthy for an entire season.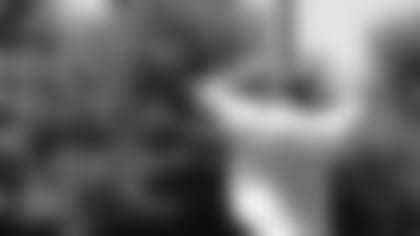 R.I.P. Roxy … @Artj97: Burying my dog Roxy was one of the toughest thing I ever had to do. Came home after my workout to find her dead from choking [on] a stick. [Twitter] * @BryantMckinnie: Was suppose to leave 4 L.A. 2day for the ESPY's but choose to stay & not miss any workouts this week. Last full week b4 camp. [Twitter] * Gino Gradkowski's main competition (and that dude's legs are huge) … @aqshipley: Just got that good run in! Ran 7 200 yard sprints with 1:30 off! Real good run! #ravens [Twitter] * @mspear96: Grind session! Shoot I'm getting hype about football #RavenNation stand up [Twitter] * @TheRealJacoby12: Big thanks to the @ESPYS crew for my @ESPYgiftbag I can't wait to use my @quiznos gift card and @Beachbody DVD  haaaa #espygiftbag [Twitter] * The Ravens' 2013 championship jerseys have made it to the Elite 8 of the "Greatest Uniform in NFL History" bracket. Baltimore took down its entire division in the previous three rounds. Now the Ravens (73,221 votes so far) take on the Oakland Raiders (58,284). Oakland already took down Baltimore in the AFC throwback bracket. Vote now. [NFL.com] * Former Ravens quarterback Marc Bulger joined Big Break NFL, a Golf Channel reality television program where former NFL athletes play alongside aspiring professional golfers. [The Baltimore Sun]