Jaws Shocks By Ranking Flacco Over Brees
Well that was unexpected.
Ron Jaworski's popular and well-respected "Jaws' QB Countdown," continued on ESPN's "SportsCenter" yesterday, and he shocked a few people by ranking Ravens quarterback Joe Flacco ahead of Saints gunslinger Drew Brees.
It's still unknown where Flacco will fall on the list, but he's definitely above Brees, who was nominated for "Best Record-Breaking Performance" at the 2013 ESPYs for breaking Johnny Unitas' record of consecutive games with a touchdown pass last season (54 games).
Flacco, Aaron Rodgers, Peyton Manning, Tom Brady, and Matt Ryan are all still left to be ranked.
Football Focus' Gordon McGuiness and The Baltimore Sun's Matt Vensel debated on Twitter just how high the Super Bowl XLVII MVP could climb up the list. Last year, Flacco ranked No. 9 on Jaws' list.
@PFF_Gordon:  Jaws has Flacco above Brees in his QB rankings. The media still hates Flacco though, right Baltimore?
@mattvensel: I knew that Jaworski, a Philly guy, loved Joe Flacco, but wow.
@PFF_Gordon: If he has him above Brees, I could see him having him as high as 2. Can't have him higher than Rodgers, surely?
@mattvensel: No way. He believes that many of Joe's throws were contested because his receivers and he raves about his toughness. … I'd bet that would be two of the things he highlights and I guarantee he says "barrel of the gun" when discussing
@PFF_Gordon: As in, if he had better receivers they wouldn't have been contested?
@PFF_Gordon: I think that's harsh on the receivers. Boldin might not get much separation through speed, but got himself in decent positions. … Definitely can't say Torrey Smith and Jacoby Jones didn't get separation though.
Fantasy: Where To Draft Flacco?
There's a burning fantasy question team owners are asking themselves this season.
Will Flacco finally have a breakthrough season in the stats department?
While Flacco has a reputation for making fantasy owners pull their hair out with inconsistent performances week to week, two factors indicate Flacco could put up steady, big numbers.
First, his historic postseason run last year, tying Joe Montana's NFL record with 11 touchdowns passes and zero interceptions. It would be unfair to expect Flacco to pick up where he left off, but anything that resembles that run would be big.
Second, his improved statistical output once Jim Caldwell took over as offensive coordinator. In the seven games after Caldwell started calling the shots, Flacco threw 15 touchdown passes to just one interception.
"There is reason to believe that while he may still drive you mad with some single-digit scoring weeks, Flacco will be better this season and could crack the top eight quarterbacks in points," wrote Vensel.
"Finally, fantasy players' faith in Flacco will be rewarded."
Top eight might be wishful thinking considering Flacco ranked 14th in scoring on NFL.com (234.88 points) among fantasy quarterbacks last year, and he has only cracked the top 10 once in his five-year career, in 2010. ESPN projects Flacco at No. 15.
But maybe Vensel, who covers Flacco on the local level and knows the quarterback well, sees something that the national guys don't.
"Flacco is not an elite fantasy option – think studs like Aaron Rodgers, Drew Brees and Tom Brady – and he might not be as productive as second-tier guys like Peyton Manning and Cam Newton," Vensel wrote. "But if he picks up where he left off in the playoffs, he could be a mid-round steal that outscores fellow quarterbacks like Tony Romo, Matt Ryan and Matthew Stafford."
The bottom line: most fantasy leagues have drafted Flacco between the ninth and 11th rounds, depending on the size of the league. Vensel advises you don't take him before the eighth round.
Can Rice Notch Fifth-Straight 1,000-Yard Season?
With the anticipated emergence of backup running back Bernard Pierce, can Pro Bowler Ray Rice still notch his fifth straight 1,000-yard season?
"Probably so, although Bernard Pierce will play a larger role," wrote CSNBaltimore.com's Clifton Brown.
"The bigger issue is whether the Ravens will have an improved running game. The Ravens averaged 118.8 yards rushing last season, ranking 11th in the NFL. That's pretty good, but the Ravens believe they can improve, and that Rice and Pierce can be the league's best rushing tandem."
While Pierce excited many with an impressive rookie campaign, Brown believes Rice is the better all-around back and is in the prime of his career at 26 years old.
"Caldwell believes it is important to give Rice a chance to establish his rhythm every week. Rice can turn any play into a big play, and that is not a dimension the Ravens want to lose," Brown wrote.
Ravens Best Dressed Couples At ESPYs
Rollingout.com dubbed two Ravens and their dates as some of the best dressed couples to grace the ESPYs red carpet yesterday.
Check out Terrell Suggs and his wife Candace, "who stunned in yellow." Then there was Jacoby Jones and his cute mom, Emily London Jones.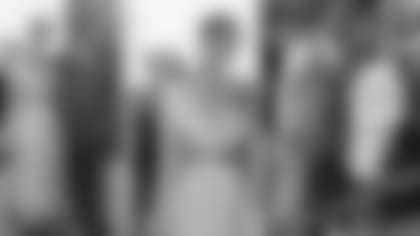 Lewis' Under Armour Ad – Extended Version
I've posted the 60-second version of the Under Armour commercial that Ray Lewis directed, depicting young football players rushing to practice under the Baltimore skyline and competing for roster spots.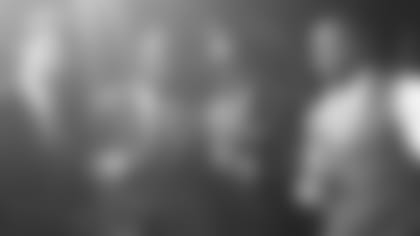 @torreysmithwr: BALTIMORE #espys digital_12 @MichaelPhelps [Twitter/Instagram] * @lwebb21: My United Way commercial to promote reading. I need volunteer readers to help TEAM WEBB!! #noHSdropouts [Twitter/Instagram] * @gdowning14: Joe Flacco said that with his new contract he and his wife bought a house in Baltimore to put down some roots. [Twitter] * Jacoby Jones and Chandler Parsons smack talk and throw down for the last remaining ESPY Gift Bag. [Funny or Die]