Story Behind Canty's Terrifying Facemask
Chris Canty's terrifying facemask has taken on a life of its own, complete with a personal Facebook page.
His teammates in New York called it "The Big Grille."
The crossing horizontal and vertical bars create nearly 25 little "windows" that won't even allow a small pinky to slip through. Cap it off with a fearsome dark visor, and Canty has created a look that amps up the intimidation factor at least 10 notches.
He's not the only NFL player to have one like it – Ray Lewis and Terrell Suggs had/have similar ones – but Canty believes he started the trend.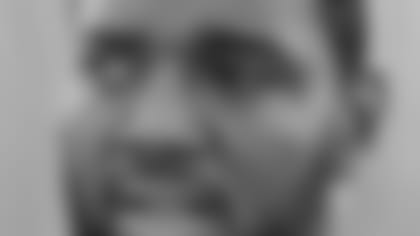 "I always say I should have gotten a patent on it," Canty has said.
But here's something Ravens fans might not know. Canty didn't start wearing the facemask to look hardcore when chasing down quarterbacks – even though he does.
No, he wears it because without it his football career would be over.
"Maybe I don't even see," he added while tapping the visor.
When people get the courage to ask if he's always had a lazy eye, Canty tells them the story from a January 2005 night when he was at a bar in Arizona with other NFL draft hopefuls. A fight broke out across the room, and Canty immediately headed for the door to avoid any trouble with the NFL Combine days away.
Then a beer bottle came flying his direction, and bam, hit him on the side of his face, causing him to fall. He awoke in a hospital room with his face bandaged, and knew quickly that something was serious by the look on doctors' faces.
"Any time they have to cut into your eyeball, it's not a small thing," Canty told New York Times writer Sam Borden. "It's not a small deal at all."
He had emergency surgery and several procedures followed. The injury and a knee operation cut his season short at Virginia, and he was later taken in the fourth round by the Cowboys when he was originally believed to be a first-rounder.
Canty's eye doctor told him his career could be over because of the potential of an opposing player poking his eye. That's when "The Big Grille" was born.
Of course, it took a few tries to perfect the facemask. At first he played with a visor that covered the length of his facemask, but he had a hard time breathing. A few versions later, he found a design that worked, even though he doesn't have perfect vision.
"It's good enough," said Canty, who has grown accustomed to finding opponents through a spider's web.
His production in the NFL has proven he's doing just fine.
And he's been able to find the positive in an otherwise challenging situation.
"You know, the ladies like the scars," Canty said.
UPDATE: Upshaw Has Lost 20 Pounds
Ravens second-year linebacker Courtney Upshaw has lost 20 pounds, trimming down to the 275-pound range, according to Aaron Wilson of The Baltimore Sun.
After Head Coach John Harbaugh called Upshaw out and attributed his "weight issues" to not eating the right kinds of foods and eating too much, Upshaw vowed that he'd drop the extra pounds.
Apparently he has made good on his promise.
"Courtney has been very consistent and has dropped about 20 pounds from 295 pounds and has been fluctuating between 275 pounds to 278 pounds," said Troy Jones, a head trainer and owner of Eldersburg training center TZ Sports. "He's been very dedicated. He has a great work ethic, he works extremely hard. He's a quiet guy. When Courtney makes up his mind, he doesn't hesitate. He'll pass the conditioning test. Courtney is very explosive."
Upshaw had a similar weight struggle last season after being drafted. He initially failed the Ravens' conditioning test, but he worked off the extra weight and responded with a strong season while playing at a listed 275 pounds. He played in all 16 games, starting nine, and notched 60 tackles and 1.5 sacks.
The outside linebacker attributed this offseason's weight gain to personal issues and admitted to not working out while he was in his home state of Alabama.
His trainer has put him through a series of football drills, sometimes working out twice a day, reports Wilson.
"You work on the energy system to drop fat and keep your nutrition pretty clean," Jones said. "We do a lot of speed and power work, sprints, change of directions, linebacker drills, overspeed group. We have them working with tires, sledge hammers and ropes, medicine balls. It's very high-energy."
With a little less than a week remaining before the start of training camp, could Upshaw put back on some of the weight? "No, absolutely not," Jones said. "Courtney has worked too hard to get where he's at right now. It would be crazy for him to put weight back on and sacrifice what he's accomplished in the past five weeks."
No Offer From Dolphins, Leach Still Open To Baltimore Return
Vonta Leach's agent has said his client is open to joining several interested teams, but believes Leach will wind up in Miami.
Only problem is Leach can't become a Dolphin without an offer.
The Dolphins organization decided not to extend an offer to the Pro Bowl fullback and will stick with what they have at the position heading into training camp, according to Armando Salguero of the Miami Herald. The team may consider Leach later if he is still available.
Leach does reportedly have another offer on the table from Baltimore, and he is still open to returning to the Ravens after being cut in June as a salary-cap casualty, according to Aaron Wilson of The Baltimore Sun.
"Of course, Vonta likes the Ravens," Vitolo told Wilson. "Why wouldn't he? Maybe he ends up back there. Who knows? Until it happens, there's no sense in pure speculation."
The Houston Texans, New York Giants and the Kansas City Chiefs have all reportedly shown in interest in Leach. The Dolphins are the only team he's visited.
When To Draft Ray Rice?
Even with talk that running back Bernard Pierce may eat into Ray Rice's carries this season, The Sun's Matt Vensel calls Rice "a sure thing" as a first-round draft pick in fantasy leagues.
Rice has run for at least 1,000 yards in four straight seasons, and he was sixth in fantasy scoring among running backs with 222.10 points last season, per NFL.com's scoring standards.
"How much will Bernard Pierce cut into Rice's workload?" Vensel asked.
"That remains to be seen. But all indications are that the second-year back out of Temple will receive more carries than he did in his rookie year, when he rushed for 532 yards and a touchdown on 108 carries. Rice will still be the lead back, but the question fantasy players should worry about is whether Pierce will steal goal-line duties from Rice like Willis McGahee and Le'Ron McClain did in the past. I'm guessing he will a little, but Rice should still be the guy there, too."
Bottom line: Because Rice is still an all-around workhorse as a receiver and running back, he's a lock in the first round. Some may be scared off because of Pierce, so if he drops to No. 6 or later, don't hesitate to pull the trigger, says Vensel. If you have a top-5 pick, it's almost a personal preference of which running back you'd like to take, other than Adrian Peterson. If he's there, take him first.