Showcasing Pierce's Burst, Speed, Vision
Running back Bernard Pierce is primed for a big year.
He came on strong toward the end of his rookie campaign last season, and the Ravens showed their trust by giving him 78 of his 108 carries in the final eight games of the season.
That increasing production, plus his unique combination of speed, power and field vision has NFL.com ranking Pierce at No. 33 on their "Making the Leap" list.
"There's a lot to like when you watch Pierce on film," wrote Dan Hanzus. "All the tools are there."
The "Around the League" writer pointed to three videos to showcase Pierce's talent.
In this first video, Pierce hits a small hole without hesitation against the Browns. He disappears for a second among giant linemen, and then shows an impressive burst as he is suddenly in the middle of the secondary, churning out what seemed to be an easy 16 yards. Don't blink as he hits the line, you might miss the play.
In this second video, Pierce gets to the next level of the defense again, this time against the Colts in the playoffs. On third down, all Pierce needs is 1 yard for the first, but he follows Vonta Leach through a small hole and then powers ahead. He gives a nice stiff arm to squeeze out another 10 or so yards for a total of 43.
In this final video, Hanzus highlights Pierce's sheer speed. The line gives him a rather large hole, and Pierce makes the most of it by absolutely smoking past three New York Giants defenders. The 78-yard run was the longest play from scrimmage for the Ravens last year.
Of course, one obstacle that could prevent Pierce from putting up crazy-good numbers this season is the "stud" in front of him, says Dan Hanzus. Expect the Ravens to continue to feed the rock to All-Pro starter Ray Rice, who says he is fine with sharing carries with Pierce because it will extend his own career as he heads into Year 6.
"If the running game gets off to a slow start with Pierce involved, there's sure to be grumbling that more Rice is the answer. Said grumbling could come from Rice himself," Hanzus wrote.  
"The Ravens have themselves a great problem. Their backfield consists of an All-Pro starter and a fast-rising backup. It's on offensive coordinator Jim Caldwell to get the most out of two productive players."
Vote For Greatest Uniform Of All-Time
Where do the uniforms of the Super Bowl Champion Ravens rank among the greatest of all-time? How about the Ravens' original ensemble from 1996?
That answer will come from fans voting in NFL.com's "Greatest Uniform in NFL History" bracket, which is comprised of all 32 teams' current look, plus one of Dave Dameshek's favorite throwbacks.
In the AFC uniforms bracket, the Ravens jersey is ranked No. 11, going up against the No. 6 seed Cleveland Browns in Round 1. If Baltimore can't advance past these yucky Browns uniforms then it may need to call in new designers. But the outlook is good, as the Ravens were up 4,395 votes to 1,679 when I checked this morning.
The Ravens No. 14-seeded throwback (1,197 votes) isn't fairing as well against the third-seeded 1963 Oakland Raiders (2,044).
And Damsheck's commentary isn't swaying any voters Baltimore's way.
"History has wisely chosen to ignore these charmless getups," Damshek said. "Black pants and hat, and purple jerseys combined to look less like a uniform than they do a bruise or a rejected Super Hero outfit. In other works, bleck!"
Ellerbe Says He's Not Recruiting Leach
Plenty of fullback Vonta Leach's former teammates supported him at his annual football camp in North Carolina, including quarterback Joe Flacco and linebacker Dannell Ellerbe, who left Baltimore for Miami this offseason.
Both the Dolphins and Ravens are interested in adding Leach to their rosters at a certain price, but that wasn't the reason for supporting his camp.
"Everybody thinks I'm out here recruiting man," Ellerbe said via the Lumberton Robesonian.  "I'm just supporting my local boy for a good cause.  It's going to be up to him where he chooses to play.  I don't cut the checks."
Leach has been recruited by several teams, including the Dolphins, Giants and Texans, but he has yet to make a decision for his landing spot. His agent has said that there is no rush in making a decision, and lots of executives are on vacation, extending negotiation time.
Mike Florio believes there is another reason for the lull.
"His delay in signing with a new team suggests that the offers aren't great," the ProFootballTalk.com analyst wrote. "That could, in theory, result in Leach returning to Baltimore for a lot less than what he was supposed to make — but roughly the same that he could get elsewhere."
@pff_gordon: As a side note to @mattvensel 's Flacco article: Wouldn't be overly shocked to see

Torrey Smith

![](/team/roster/torrey-smith/05382870-b235-44db-9b51-3d3ca0df2dd8/ "Torrey Smith") finish in the top 10 WRs in yards next year.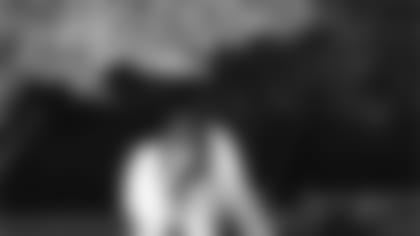 NFL wedding season continues, and congratulations to Ravens safety James Ihedigbo. @diggz32: It is Official!! Mr. & Mrs. Ihedigbo #whoot #salute benders55 #pictureperfect #bestnightofmylife... [Instagram] * Speaking of Ihedigbo, he's looking forward to the safety competition against rookie Matt Elam, who is the popular pick to become this year's starter. "I'm excited about the opportunity, and competition brings out the best in you," Ihedigbo said. "Matt's a great player and a great guy. I played with his brother, Abe, with the Jets. He comes from a great pedigree. I'm excited. At the end of the day, the best 11 players will be on the field. It's going to be fun. I'm looking forward to seeing what happens." [The Baltimore Sun] * The Ravens recently got their Super Bowl rings, and let's hope nobody finds themselves in a story like this: Odd stories of lost Super Bowl rings. [FoxSports.com]