2013 Expectations For Joe Flacco
Get the big contract. Check.
Get respect of the national media. Check.
Well, that is to say Joe Flacco has earned respect from at least one big-name NFL analyst. Ron Jaworski ranked Flacco as the fourth-best quarterback in the league, behind only Denver's Peyton Manning, New England's Tom Brady and Green Bay's Aaron Rodgers (not necessarily in that order).
Despite the Super Bowl MVP title and $120 million contract, Flacco naysayers aren't fully prepared to put him in the top 5 just yet.
Why? Because of Flacco's regular-season numbers. Flacco had the 12th-best quarterback rating last season (87.7), 14th-most passing yards (3,817) and 15th-most (tied) touchdown passes.
"It's hard for us say that Joe Flacco is a top 5 quarterback when you look at what he does through the regular season," Brian Dawkins said on ESPN's The Herd. "It's just hard for us to wrap our mind around it."
Dawkins admits that he'd rather take a quarterback that wins in the postseason (Flacco is 9-4 in the playoffs) over another that puts up big numbers in the regular season but doesn't win playoff games (say like, Matt Ryan). But if the six-year veteran is to become an unquestioned top 5 quarterback, Dawkins expects more.
"The way he plays in the playoffs, I expect for him to start doing that during the regular season," Dawkins says in the video below. "Because, listen, when you have a guy that bets on himself like he did last year and made the money that's he's made, you just listen to him in press conferences now, he seems to hold himself a little taller now when he talks. So he's expecting big things from himself."
Flacco's Dad: I'll Kick His Butt If He Changes
Flacco's dad has his own expectations after his son signed the $120 million contract.
Most importantly: stay grounded.
Ah, nothing like your dad to put things into perspective.
Mama Flacco is helping too.
Apparently the garage in Steve and Karen's Audubon, N.J., home looks more like a storage unit filled with Ravens jerseys, helmets and other memorabilia that Joe signs when he visits.
"People drop stuff off and I have crap all over my dining room table," Steve said. "My wife is like, 'I've got to cut people off.' It wasn't like we didn't get requests before [the Super Bowl], but it's been a little heavier this offseason."
According to Steve, his son signs hundreds of memorabilia pieces while visiting. Once he signs everything on his mother's infamous cluttered dining room table, she clears it out and starts all over again.
The Ravens quarterback admits it's a daunting task, but he really doesn't mind it. It's just one way he tries to stay close to his roots.
"Oh my God, my mom's table is crazy," Flacco said. "Every time I go over there, she's got to ask me to sign 25 things. But it's all good. It just shows how much people in the community support you."
Joe wants to stay focused on family. For example, he passed on an endorsement this offseason because he didn't want to leave his family to shoot a commercial in California.
"Listen, money helps out in the comfort level and the ability for my wife and I to relax," he says. "We're very fortunate in that respect, but the important thing in my life is my family — my wife, my kid, my parents, my brothers and sister and all my extended family.
"I think those things are as important as football."
Hall Shows Off Much Trimmer Body (Photo)
Bryan Hall has transformed his body.
The second-year veteran has been working this offseason to convert from defensive tackle to linebacker and he's down to 255 pounds from 300.
Hall has been working out with Courtney Upshaw, who has reportedly lost 20 pounds, at TZ Sports. He tweeted a picture of his shirtless self, showing off a new six pack, with some of his training buddies. Upshaw (to the far right) is wearing a long-sleeved shirt and baggy shorts, so it tough to see a big difference with his weight loss. As for Hall, the change is striking.
And I'm not the only one who was impressed with the results.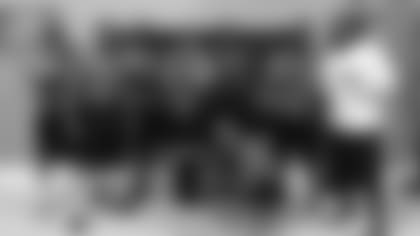 Webb 'Probably' To Start Camp On PUP
While cornerback Lardarius Webb should be healthy enough to start training camp active, the Ravens will "probably" initially place him on the physically unable to perform (PUP) list, according to Ian Rapoport of NFL.com.
By all accounts, Webb has had a positive recovery since tearing his anterior cruciate ligament (ACL) in Week 6 of last season, so this is considered an "extremely cautious" move. In the end, all it may mean is that the Ravens wait just a few more days before they work their star corner back on the field.
To be placed on the PUP during training camp is different from being on the regular-season PUP. If a player starts the season on PUP, then he must remain there for at least the first six games. In the preseason, a player can be activated from the PUP at any time, but he can't go on it once he's taken the field. Thus, it is always better to start camp on the PUP just to be vigilant.
Once he's given the green light, Webb will be ecstatic. He's already dubbed himself the "Comeback Kid," tweeting last week: "Ready or not here I come!!!"
Webb Sinks Half-Court Shot
Taking a break from his rehab schedule, Webb dazzled the crowd at Redskins' E.J. Bigger's charity basketball game.
Webb didn't participate in the actual game – a smart move considering his knee – but, dressed in street clothes, he took shot from half court.
Details Of Ravens' Standing Offer To Leach
Curious to know the Ravens' offer to Vonta Leach that led to his release?
It was $2 million in salary plus $1 million in incentives for 2013, per ESPN's Chris Mortensen. Depending on his play, there was potential to earn the entire $3 million he was set to earn prior to his release. Leach became a salary-cap casualty after not agreeing to a restructured deal.
According to Mortensen, the Pro Bowl fullback was skeptical that he would make back the $1 million in incentives under Offensive Coordinator Jim Caldwell, who used more one-back, up-tempo schemes. Leach's role was on the decline last season, seeing only 579 offensive snaps as opposed to 665 the year prior, per Pro Football Focus.
As of right now, the Ravens' offer still stands.
Count Terrell Suggs as one person that wants to see Leach back in his No. 44 purple jersey.
Did Reed Dupe The Texans?
Former Ravens safety Ed Reed had offseason hip surgery, and, according to the Houston Chronicle, "nobody has a clue" when he'll be ready to play.
Rumor has it that Reed duped the Texans when they signed him to a reported three-year, $15 million contract.
"Although the Texans have chosen silence and the perception of being duped over confirming that they were duped, the widespread suspicion in league circles is that they were duped," wrote ProFootballTalk.com's Mike Florio. "Specifically, that Reed knew he'd need hip surgery but didn't say anything about a condition that apparently isn't normally detected during a physical.
"So the Texans will have to wait and hope that Reed will be able to eventually make a contribution, while simultaneously biting their tongues regarding any possible internal belief that Reed failed to be as candid as he could have been about his hip before signing a contract."