Flacco Leadership Style Compared To Elway
It was a hilarious moment in the former Defensive Player of the Year's press conference Wednesday that drew plenty of laughter from media members.
"Joe is just 'Cool Joe,' and not all the time. He's not the most vocal," Suggs said. "But sometimes we may need that.  He may have to cuss somebody out. He may have to cuss me out."
Should Flacco follow Suggs' advice and become a more local leader?
SportsCenter's Mark Schlereth discussed the idea in the video below (mobile users tap "View in browser"), saying that you "never want a guy to be somebody who he is not."
Schlereth was a linebacker in the league for 12 seasons, and five of those years were with Hall of Fame quarterback John Elway. Schlereth had a front-row seat to Elway's leadership style, which was fully established by the time the two former Broncos came together to win two Super Bowl rings.
Schlereth said Flacco's leadership style is a lot like Elway's.
"John Elway never said boo," Schlereth explained. "The only time he ever raised his voice in the huddle is when we were running out of time and needed to get to the line of scrimmage. That was it. So he wasn't necessarily a real vocal leader, he was just great. And that's good enough."
Flacco doesn't have the Pro Bowls or passing numbers that Elway did, but he has a ring and a Super Bowl MVP honor and he knows how to win. Flacco's 62 regular-season wins are the most by a starting quarterback in his first six seasons in NFL history.
Schlereth said that leadership and chemistry are two of the most important intangibles in the NFL. It's what separates the players at this level, all of whom have ridiculous talent to even get here.
He quoted former Washington Redskins Joe Gibbs' saying: "Great talent will make plays in the first three quarters. Great character will win games in the fourth quarter."
Added Schlereth: "It's amazing the kind of power and chemistry you can develop as a team when you truly care more about the guy you play next to than you do about your own well-being. That to me is when great teams become championship teams. Great talent wins championships."
Both Flacco and Elway have won plenty of games late – both in the fourth quarter and late in the season. Elway was known as the "Comeback Kid" and Flacco has already orchestrated a whopping 19 comeback wins (17 regular-season games, two playoff games) in his six years.
Vocal or not, Flacco knows how to win.
"You got to be who you are," Schlereth said.
David Modell To File Charges For Disrespected Grave
David Modell, the son of former Ravens Owner Art Modell, plans to file charges on the Cleveland Browns fan who videotaped himself urinating on his father's grave.
The Baltimore County police are investigating the incident, according to The Baltimore Sun, to determine whether the act is a crime that breaks a statute regulating disorderly or indecent conduct in a cemetery.
Officers have seen the video of the man – only now known by his YouTube username BrownsFan4Life – to make such a determination. Police say it would be misdemeanor crime if the person is identified and if the case is pursued.
"We will file charges," David told The Baltimore Sun's Jon Meoli. "Absolutely [we] will file charges. Whatever we can throw at him, that's what's going to happen."
David noted that the grave location is also where his late mother, Patricia, was laid to rest. He called the act "incredibly distasteful, revolting, and mean-spirited."
"To some people, the man in that grave is Art Modell," David said. "But to me, my brother, my children, and my wife, that's their father. That's their grandfather. … Can any of your readers imagine, for one second, seeing someone do that to your parents' grave?
"The act is so offensive, and I'd like to publicly say, isn't enough enough? When is enough enough? It's a vile, piggish act of online cowardice by Mr. BrownsFan4Life."
The anger Clevelanders feel shouldn't have resulted in this, says ESPN's Jamison Hensley.
"[The incident] is the most classless act in sports history," Hensley wrote. "What kind of person would do something so disrespectful? Shouldn't someone have higher priorities in life? There is a line between being a fan and a fanatic. In the case of the unidentified Browns fan, he leaps over it. … Modell was not a murderer. He was not a criminal. He moved a sports team." 
"There was part of me that didn't want to write something more on this because you don't want to bring more publicity to this despicable act," he added. "But it's disturbing to see comments from readers who think this incident is funny and justified. … There's no argument it's a sorry commentary that a fan went to this length to do something utterly tasteless."
BrownsFan4Life does not represent all Browns fans.
"As a life-long Clevelander and as a guy that grew up a Browns fan, what happened there just embarrasses me," ESPN Browns reporter Pat McManamon wrote. "I think it probably embarrasses any reasonable Cleveland fan."
Suggs 'Smashed' Conditioning Test
The Ravens conditioning test is a bear, and not everyone passes it. Just ask Jacoby Jones, Terrence Cody, Rolando McClain, Courtney Upshaw and Bryant McKinnie.
Many players on the team had to take the conditioning test again yesterday as they reported for the first official day of training camp. And despite being away from Baltimore for the bulk of the offseason, Suggs owned the test.
Wide receiver Steve Smith also noted he passed the test, but said it wasn't easy.
"It was pretty tough," Smith told reporters Wednesday. "That's the whole purpose of it."
Head Coach John Harbaugh singled out Suggs the first day of minicamp in mid-June as one of the players clearly in shape despite staying away from voluntary practice and workout sessions.
"I can tell you this, the numbers were very good. You can tell he's been working very hard," Harbs said at the time.
On a day that New York Giants Head Coach Tom Coughlin was "pissed off" because his players were dropping like flies after suffering dehydration issues in the humidity and 85-degree heat, Harbaugh was able to praise his players for the type of shape they were in after they reported.
"It really looks like our team will be in really great shape, probably the best since 2008," Harbaugh said. "I'm really excited about the work our team has put in. I'm fired up about it."
Dumervil Saddened By Bowlen's Alzheimer's Disease
Linebacker Elvis Dumervil was saddened by the news about Pat Bowlen giving up ownership of the Denver Broncos due to Alzheimer's disease.
Prior to coming to Baltimore last year, Dumervil spent seven years playing for the Broncos, and he said Bowlen was a pleasure to work for. 
"It's a tough situation I'm sure for his family," Dumervil said. "He gave me my first start in the NFL, obviously being the leader there. Rewarded me a second contract. I'll be forever grateful. He helped impact my life, my family, for generations to come. He was a great guy. He always asked about my health when I was out for the year. He was always great to me. I was always grateful for that. When I heard about the news, obviously it was a sad day."
Pierce Cleared To Practice Without Restrictions
If Ray Rice is suspended, the Ravens officially have a healthy fallback option.
Running back Bernard Pierce said he was cleared to practice without any restrictions after offseason shoulder surgery.
"My shoulder definitely got a lot better," Pierce told The Baltimore Sun's Aaron Wilson. "I know that this is when the real grind starts. It was strenuous today, but overall it was definitely helpful."
Like Rice, Pierce had a down year in 2013 as the injury-laden unit ranked 30th in the league with a 2.9 yards per carry average. But with restored health and a new scheme under new Offensive Coordinator Gary Kubiak, Pierce is optimistic the group will return to form.
"The running game is definitely a lot simpler than what we had the year before," Pierce said. "We actually did this in college. I definitely like the zone scheme. I'm used to it. I got a knack for this kind of offense."
@ravens: The gang's all here! Welcome back to #Baltimore,@aceandsmitty (Steve Smith Sr.), @walknhitstick26 (Matt Elam), @brandonw_66 (Brandon Williams), Dennis Pitta, @torreysmithwr (Torrey Smith), and@mosley32rtr (C.J. Mosley)! #ravenscamp #ravens #ravensnation #boysareback [Instagram]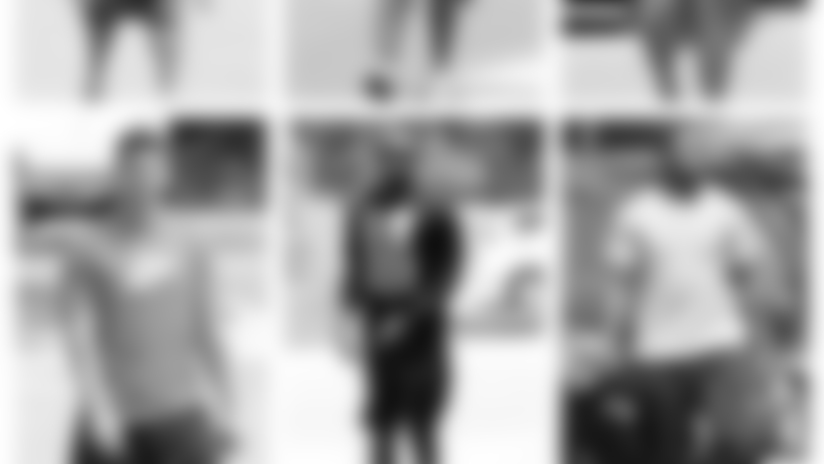 And this is too cute … @torreysmithwr: Special thanks to my amazing wife @libraladii for the video....made my day...both of y'all motivate me to be my best! Love y'all!! [Instagram]