Penalty! Bisciotti Golf Cart Nearly Hits Elam
Instead, he was dodging two intimidating men … and a golf cart.
Bisciotti, along with sidekick and future Hall of Famer Ray Lewis (who paid a surprise visit), playfully drove his golf cart onto the field to prevent Elam from reaching the end zone on the return. Elam had to display some fancy footwork to elude contact.
"In fact, Elam had to veer out of bounds on his return to avoid colliding with the golf court driven by Bisciotti," added The Baltimore Sun's Jeff Zrebiec. 
Oh, but John Harbaugh wasn't about to let the two culprits get away scot-free.
The head coach quickly put on his referee hat and ran over to Bisciotti and Lewis to give them a penalty for interfering with a live play. Our BaltimoreRavens.com cameras captured the priceless moment.
"[Bisciotti] tried to tell me that Matt Elam saw him all the way and he asked [Elam] why he almost tipped over his cart," Harbaugh told reporters. "Did you see that hard left? He was on two wheels there."
"Great reaction shot of Harbaugh," tweeted CSN Baltimore's Brent Harris. (Mobile users tap "View in browser" at the top of the page to view.)
And here are the two mischiefs with their sly grins.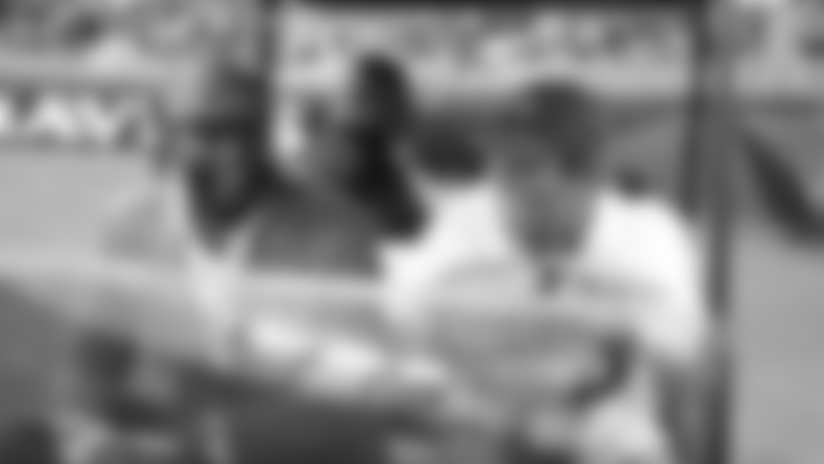 King: League Saw Additional Rice Video
MMQB.com's Peter King has been under fire after saying he "understands" the league's ruling for suspending Ray Rice for two games and docking him three pay checks (a ruling Rice officially did not appeal).
In a follow-up article to explain his point of view, King talked about a security camera videotape that has been rumored to exist for quite some time. He confirmed its existence and the surveillance video apparently shows what happened BEFORE Rice and his then-fiancée emerged from the elevator on the night of their domestic violence arrests.
While King said both the league and some Ravens officials have seen the tape, he could not confirm what was on the video, but it seemed to affect King's "understanding" of the league's ruling. 
Below is King's explanation:
"There is one other thing I did not write or refer to, and that is the other videotape the NFL and some Ravens officials have seen, from the security camera inside the elevator at the time of the physical altercation between Rice and his fiancée. I have heard reports of what is on the video, but because I could not confirm them and because of the sensitivity of the case, I never speculated on the video in my writing, because I don't think it is fair in an incendiary case like this one to use something I cannot confirm with more than one person. I cannot say any more, because I did not see the tape. I saw only the damning tape of Rice pulling his unconscious fiancée out of the elevator.
"I felt my best contribution to the discourse was reporting why Goodell gave Rice only a two-game ban and hefty fine. That is what I did. Should I have joined the chorus of those ripping the decision? Perhaps. I question myself on that, because I do think Rice should have gotten four games—regardless of what brought on Rice raising a hand to his fiancée. In retrospect, I would have added a paragraph or two to the story at the end about what I thought, because that is clearly what so many of you expect from me."
Brian Billick Analyzes Flacco, Interviews Harbaugh
Former Ravens Head Coach Brian Billick was in attendance at the open practice last night, working as a sideline reporter for the NFL Network.
It's not every day you see two former Super Bowl-winning coaches together, let alone two from the same team, with one interviewing the other. You can check it out below.
Billick, who was considered an offensive guru when hired by the Ravens, would have LOVED to have to tinker with the likes of Joe Flacco and his cannon of an arm.  But Billick missed out on that opportunity, as Flacco was drafted the same year that Harbs came to town.
On Monday, Billick had the chance to view Flacco's relationship with new Offensive Coordinator Gary Kubiak. Kubiak is Flacco's third coordinator in as many years, and Billick thinks the two will make a strong duo.
"Oh, I think it's a natural [fit]," Billick says in the video below. "The rumored lack of relationship between Flacco and Cam Cameron – Jim Caldwell, evidently it was better – but you are talking about Gary Kubiak. [He has] 14 years in the league as a quarterback. So now, there's going to be a natural way that these guys communicate. Joe Flacco's going to look at Kubiak – the guy calling the plays, the guy orchestrating the offense – and say, 'OK, this guy knows what I'm seeing. This guy knows what I've gone through.'
"So it's hard for me to imagine that they won't have that very-needed relationship that maybe didn't exist the last couple of times."
AFC North Crown Predictions
Who is going to win the very physical AFC North?
The Ravens are on a mission to rebound from their 8-8 finish last season. The Pittsburgh Steelers desperately want to return to the playoffs after a two-year hiatus. The Bengals are ready to defend their division crown. And the Browns have Johnny Manziel and Terrance West to help rejuvenate hope for a winning season.
If you're a wagering fan, sportsbook Bovada puts the odds on the Bengals defending the division title, with the Ravens and Steelers just a half-game behind. That's a strong sign that the AFC North will be a tightly-contested battle yet again.
Cincinnati Bengals - 2014 Regular Season Win Total
Over
9 (-115)
Under
9 (-115)
Baltimore Ravens - 2014 Regular Season Win Total
Over
8½ (-125)
Under
8½ (-105)
Pittsburgh Steelers - 2014 Regular Season Win Total
Over
8½ (-150)
Under
8½ ( 120)
Cleveland Browns - 2014 Regular Season Win Total
Over
6½ (-135)
Under
6½ ( 105)
Two NFL Network analysts were recently asked who will finish on top, and they gave two different answers. In the video below, Shaun O'Hara picks the Ravens while Heath Evans took the Steelers.
When Evans claimed that Flacco got paid like a $120 million quarterback, but never played like a $120 million quarterback, the entire panel quickly jumped down Evans' throat to correct him.
"Whether it's a waiver claim, trade or signing a free agent, the Ravens will probably have to make another move to improve depth at cornerback at some point," wrote Zrebiec. "They are just one injury away from a potential concern becoming a full-fledged problem." [The Baltimore Sun] 
"Much is made about Steve Smith's fiery and feisty demeanor but he did something subtle in last Thursday's practice that showed great leadership," Zrebiec wrote. "Smith was unable to haul in an end zone pass in which he was defended tightly by Chykie Brown. Smith angrily clapped his hands and started to head back toward the huddle but then he reversed course and went back to congratulate Brown for his defense and to talk about the play. It was just a small gesture, but Brown had been getting beat all day and that sort of thing can help a struggling player's confidence." [The Baltimore Sun]
"Cornerback Chykie Brown struggled mightily in the first week of camp," wrote Jamison Hensley. "After sitting out yesterday with a tweaked hamstring, he came back and broke up two passes. The extra rest may have helped him refocus mentally. His biggest mistake of the night was a defensive holding penalty." [ESPN]
"Joe Flacco continues to be the face of bad contracts for quarterbacks, and it's just wrong to continue this narrative," wrote Hensley. [ESPN] 
Keyshawn Johnson predicts a bounceback year for Ravens wide receiver Steve Smith Sr. [The Baltimore Sun]
"Don't quit your day job," says Zrebiec. "Ravens rush linebacker Terrell Suggs decided to have a little fun in practice, dropping back to field a punt. He probably regretted the decision. The ball went through Suggs' hands and hit his knee before bouncing away. Nose tackle Haloti Ngata then showed up his close friend by cleanly fielding a punt." [The Baltimore Sun]
@jeffzrebiecsun: Quietly has had a great start to camp. Looks much quicker than he did last two seasons.
@sportsugyRSR [Russell Street Report]: Rookie @MikeCamp_3 continues to catch everything thrown his way. #Ravens
@BriganceBrigade: Celebrate @OJBrigance's 45th birthday & get your tickets for his birthday celebration "Three Rings for O.J.!" [Twitter]
@BrentCSN: Torrey Smith just had leaping, one handed catch...if this was a game and not a prx would be maybe catch of the year  Wow! #RavensTalk [Twitter]
Steve Smith enjoyed his warm welcome at his "new home" at M&T Bank Stadium. [CSNBaltimore.com]