Neck Training Helping Ravens Avoid Concussions?
Scientific research suggests that a muscular neck can reduce the impact generated when a player is hit in the head. The bigger the neck, the better the shock-absorber it becomes for the skull.
That's why Ravens Strength and Conditioning Coach Bob Rogucki had his players doing neck exercises at least twice a week prior to every weight-lifting session, according to former Raven Brendon Ayanbadejo.
"We probably put more emphasis on the neck because of the concussion aspect that now is part of our daily life," Rogucki said at the third-annual Football Strength Clinic in Cincinnati, per FoxSports.com. "We want to minimize [the chances] and hopefully prevent, but you may not ever prevent it. The chance is always going to be there.
"If you can minimize and get them back on the field quickly, that's what we're looking for."
Rogucki saw three of his players return to the field just one week after suffering concussions last season. Wide receiver Torrey Smith, running back Bernard Pierce and tight end Dennis Pitta all passed the NFL's mandatory concussion tests to play the following game.
Many incoming NFL players have never done neck training during their college careers, which one NFL strengthening coach called "sad" and "inexcusable."
Rogucki educates his players on the neck and the importance of getting a full-body workout.
"Players are going to attack the front (of their bodies). They're not going to attack the back because they can't see it," Rogucki said. "They look in the mirror and say, 'I look pretty good. I'm going down to the beach.' They don't understand that in football it's really the backside of the body that's involved in a lot of activities of the game.
"I tell our guys we don't care as much about bench (press) and some other exercises. It's important that they can walk off the field without their head being strapped down to a (stretcher)."
Not everyone is completely convinced about the effect neck training has on concussions, and so the amount of attention it gets varies from team to team, reported Marvez.
"Exactly how much Rogucki's weight-lifting program helped players last season can't be scientifically quantified," Marvez wrote. "It's safe to say, though, that it definitely didn't hurt during Baltimore's championship run."
If the AFC North combined forces to take on all the other NFL divisions, who would make the roster and where would the all-star team rank?
He has the AFC North finishing third, behind the NFC North (Bears, Lions, Packers and Vikings) and NFC West (49ers, Cardinals, Rams and Seahawks).
Dameshek assembled a 22-man roster for the division, omitting special teams players and the fullback position in favor of three wide receivers, and the Steelers have the most players making the cut with nine. Following the Steelers are the Bengals (six players), Ravens (five) and Browns (two).
The team Dameshek, an unabashed Steelers supporter, created is below. Where did he go wrong?
OFFENSE
Quarterback: Ben Roethlisberger
Running back: Ray Rice
Wide receivers: A.J. Green, Torrey Smith, Antonio Brown
Tight end: Heath Miller
Offensive tackles: Joe Thomas, Andrew Whitworth
Guards: Marshal Yanda, Kevin Zeitler
Center: Maurkice Pouncey
DEFENSE (3-4) Defensive ends: Michael Johnson, Geno Atkins
Defensive tackles: Haloti Ngata
Outside linebackers: LaMarr Woodley, Terrell Suggs
Inside linebacker: Lawrence Timmons, Vontaze Burfict
Cornerback: Joe Haden, Ike Taylor
Safeties: Troy Polamalu, Ryan Clark
Ray Lewis: 'I'm Ready To Tackle The Mountain'
Ray Lewis' climb of Mount Kilimanjaro has begun.
The goal of his climb is to raise awareness of and money for clean water in East Africa. Lewis is joined by Doug Pitt, a goodwill ambassador in Tanzania and brother of actor Brad Pitt, and retired Pro Bowl Chicago Bears defensive lineman Tommie Harris.
"We're all here for the same thing – to make our world a better place," Lewis says in this TackleKili video. To serve people that's [more] unfortunate than us. Every step of that mountain, no matter what pain you're feeling, throw away that pain because [of] somebody you will be able to help along the way.
"I'm ready to tackle the mountain."
And I'm ready to see Lewis do his squirrel dance once he reaches the summit. I'm not sure if that is in his plans, but I'm sure a video of him performing at the top of the 19,340-foot mountain would attract plenty attention to his worthy cause. The people want to see it, Ray.
Prior to his journey, Lewis and his team gave hearing aids to children in a nearby village. It was just another way to help people in the region through the TackleKili mission for World Serve International and Pros for Africa.
Lewis was clearly touched by the experience.
Roethlisberger Irked By Ravens' Championship
Ravens' arch nemesis Ben Roethlisberger admitted he didn't like watching the Ravens lift the Lombardi trophy last season.
The Steelers quarterback, who underwent offseason surgery on his knee, wants to use that bitter feeling as motivation to beat the defending champs in the upcoming season.
"Anytime we don't win the Super Bowl it motivates you," Roethlisberger told 7msport.com, per CSNBaltimore.com. "But especially someone in the division, someone like Baltimore. The Steeler-Baltimore rivalry is one of the best in all of sports. For them to win it kind of motivates us to come out this year and be as good as we can be.''
@artj97: Best investmentI've made all year! Costly but well worth it. Lol A better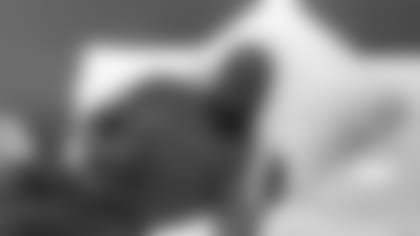 tomorrow starts with a great night's sleep. [Twitter]
Linebacker Jameel McClain will hold a free football and fitness clinic Saturday at the Reisterstown Regional Park at 10 a.m. [The Baltimore Sun]
Speaking of Jameel, how is he feeling as he rehabs his spinal cord contusion? "I'm doing good, I'm doing great," McClain said. "I'm running around full speed, working out, lifting weights with no problems, nothing on my end. I can do everything. Everything is positive on my end." McClain and the Ravens are cautiously optimistic that he will be ready for training camp. [The Baltimore Sun]